Shopping Cart
Your Cart is Empty
There was an error with PayPal
Click here to try again
Thank you for your business!
You should be receiving an order confirmation from Paypal shortly.
Exit Shopping Cart
Calling Scotland's 841,000 Catholics to unite as one voice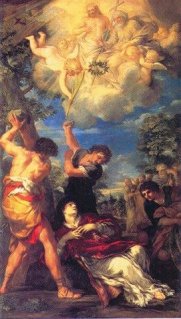 Sunday's First Reading (Acts 7: 55-60)
'Stephen, filled with the Holy Spirit, gazed into heaven and saw the glory of God, and Jesus standing at God's right hand. 'I can see heaven thrown open' he said 'and the Son of Man standing at the right hand of God.' At this all the members of the council shouted out and stopped their ears with their hands; then they all rushed at him, sent him out of the city and stoned him. The witnesses put down their clothes at the feet of a young man called Saul. As they were stoning him, Stephen said in invocation, 'Lord Jesus, receive my spirit.' Then he knelt down and said aloud, 'Lord, do not hold this sin against them'; and with these words he fell asleep.'
While sitting at my desk at work earlier this week a conversation about religion was struck up among my colleagues.  Religious chat is generally taboo these days and where it does exist it tends to take the form of an attack on whatever religion happens to be in the spotlight.  This time it was the Catholic faith; my faith.  I was asked to explain the Catholic Church's belief in the Eucharist.  No easy task in a very secular environment I can assure you.  But I tried my best to explain it in terms acceptable to the ears of my audience.
My colleagues listened to what I had to say and once I had finished a stony silence followed.  This was followed soon thereafter by a change of subject, diverting away from the ridiculous notion that a piece of bread and a cup of wine could be turned into the body and blood of a two thousand year old Jew.  The truth is, my colleagues probably felt not only confused but also a little uncomfortable by all the body and blood chat.  And I can assure you that I most certainly felt uncomfortable with having to explain it to a cynical crowd. 
Yet our discomfort at explaining our faith can never match the discomfort that must have been experienced by the Christian martyrs.  In today's first reading St Stephen shows incredible courage as he stands before a cynical crowd and tells them that he has seen 'heaven thrown open' and that he has also seen 'the Son of Man sitting at the right hand of God'.  Despite knowing that such words would likely lead to his death he was still not afraid to speak them.  And he even echoed the words of Christ on the Cross when he begged God to forgive those who were killing him.  Like any human being in that situation he would have been absolutely terrified, but he never once denied his faith in order to save his earthly life.
It's not easy to talk about our faith to others.  We can feel embarrassed, afraid, and even silly.  But thankfully the UK is not like the world St Stephen lived in.  It is a place where, despite some arguments to the contrary, people are generally free to talk openly about their faith.  We must not be afraid to use this freedom, but to do it sensibly and proportionately.  Our world needs a message of love, mercy and peace; a message that was so profoundly illustrated in the words and actions of St Stephen just before his death.  We can give the world hope with our message; a message that comes in the shape of one man….Jesus Christ.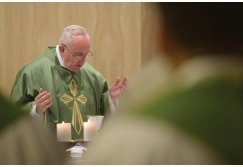 Pope Francis has urged people to more consistent in their faith, even to the point of martyrdom.  During his morning homily at Casa Santa Marta on Thursday the pope described the true Christian witness as someone who is "consistent" in what he says, what he does, and what he has received, namely the Holy Spirit. 
He continued: "It is the witness of our martyrs today – so many! – chased out of their homeland, driven away, having their throats cut, persecuted: they have the courage to confess Jesus even to the point of death.  It is the witness of those Christians who live their life seriously, and who say: 'I can't do this; I cannot do evil to another; I cannot cheat; I cannot lead life halfway, I have to give my witness'.  And the witness consists in saying what has been seen and heard in faith, namely the Risen Jesus, with the Holy Spirit that has been received as a gift."
The pope then went on to say that the Church today "needs witnesses, martyrs.  These are the witnesses, that is, the saints, the saints of everyday, of ordinary life, but life [lived with] consistency; and also the witness 'to the end', even to death.  These are the lifeblood of the Church; these are the ones that carry the Church forward, the witnesses who attest that Jesus is risen, that Jesus is alive, and they bear witness through the consistency of their life, with the Holy Spirit they received as a gift."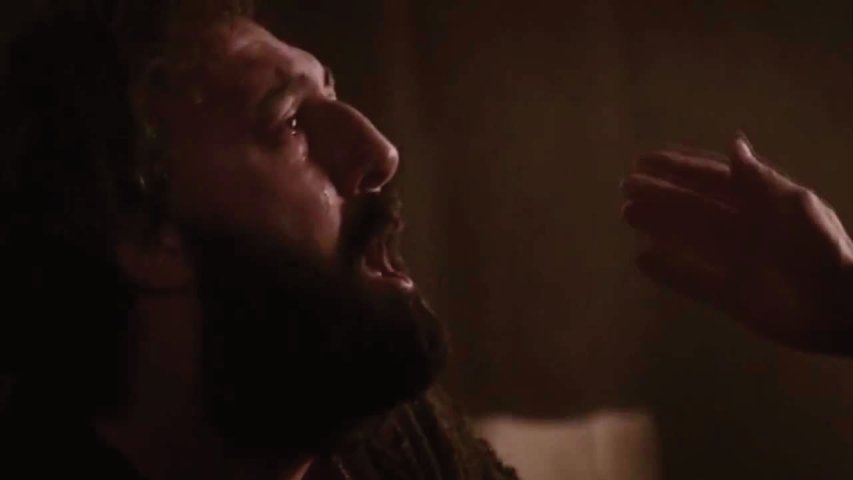 From today's Gospel:
'Simon Peter said, 'Lord, where are you going?' Jesus replied, 'Where I am going you cannot follow me now; you will follow me later.' Peter said to him, 'Why can't I follow you now? I will lay down my life for you.' 'Lay down your life for me?' answered Jesus. 'I tell you most solemnly, before the cock crows you will have disowned me three times.''
This small passage from today's Gospel follows on nicely from our reflection on yesterday's Gospel when we compared the simple love Mary had for Jesus in needing to be close to him with Martha's need to be on the go.  In being so preoccupied Martha missed out on precious quality time with Jesus, a mistake Mary was not prepared to make.
And today we have Peter, one of Jesus' closest disciples, claiming that he would lay down his life for Jesus.  That, you would think, is a step up from the love shown by Mary.  And it is.  And Peter would, of course, eventually become a martyr for Christ in Rome.  But for now Jesus has an unfortunate surprise for Peter.  He tells him that he is going to deny him.  Imagine your best friend, or even your spouse, telling you that they know you will betray them in some way.  You, like Peter, would be very disappointed to hear such news!  But then don't we betray people every day, denying their true value as fellow human beings and children of God?  Don't we gossip, complain and criticise other people behind their back on a regular basis?  These are human weaknesses and no human is exempt from them.  Even St Peter fell into this trap!  So, in that sense, we are in good company.
But, like St Peter, we are called to greater things.  We are called to overcome our human weakness and realise the hurt caused by some of our actions.  How can we forget the look on Peter's face in Mel Gibson's The Passion of The Christ when he heard the cock crow?  How can we forget the way he then rushed to the feet of Mary and sobbed uncontrollably as he clung to her garment, realising how foolish and weak he had been?
We are all capable of moments of weakness in our lives, even to the point of mistreating or even denying those most precious to us.  The next time you fall into this trap look for the comforting arms of your mother Mary, just as Peter did, and seek reconciliation with Jesus in the Sacrament of Confession.  This is how we can overcome our weakness and become saints.  If Peter can do it, so can we.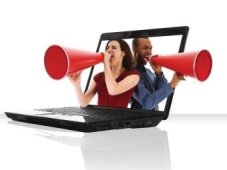 Do you speak openly about your faith to others?  Are you not afraid to be frank about how your religion shapes your moral code?  Do you even go as far as to try to bring others round to your way of thinking on social media sites such as Facebook and Twitter?
In the New Evangelisation just a few years back, Pope Benedict XVI encouraged us to get out into the world to preach the Good News of Jesus Christ.  And he wanted us to use every available platform at our disposal in order to do this.  He used the humble but powerful image of a mustard seed from the Gospel, suggesting that if used effectively a small seed of faith has the potential to bring people to God.  His words were: "I have a mustard seed, and I'm not afraid to use it".  In today's age we are blessed to have social media forums like Facebook to speak more openly about our faith and to tap into a seemingly infinite knowledge base.  While social media can often be a curse there is no doubt it has opened up new avenues of opportunity for spreading the Gospel.
Yet, while some people seem content to do this, many more are not.  In today's secular relativist world it is undoubtedly a big challenge for people to spread their faith by means of social media.  There is fear of criticism and mocking.  There is also fear of offending people or of compromising long-held friendships.  It is a significant problem for our faith and our Church.  And it is an even bigger problem for Jesus. 
While new age beliefs are thrust onto social media at an astounding rate, somehow managing to gather almost unanimous support in the process, Jesus is left to feed off the few scraps that are left.  People would rather post and read quotes about being true to oneself and looking after number one rather than the horrific thought of making love of God and neighbour our priority.  Quotes from famous authors or even the Dalai Lama have the potential to be of untold worth, but their value often pales in comparison to the Word of God or quotes from the Saints.
The Christian message is a tough one because it asks us to put ourselves in third place, behind God and all those around us.  It also asks us to take up our cross on a daily basis and follow Jesus, accepting the suffering that this will inevitably bring.  It also expects us to toe the line on controversial issues such as abortion and same-sex marriage.  It is, in all respects, a challenge of great proportions.  But it is not without its rewards.
And as if this challenge wasn't difficult enough we are also expected to take Jesus' message of love and mercy to all people.  Not just one or two, but to everyone.  Had Jesus not called the Disciples to his side and taught them his message, what hope would there be?  Had the Disciples not then taken that message of Jesus to others, what hope would we have today? 
You see our faith is a faith of action, full of energy and enthusiasm, drenched in positivity and hope.  We can't just settle for our own evangelisation or the evangelisation of those closest to us.  This is not the Christian way.  We must be prepared to carry Jesus and his Gospel message to as many people as we possibly can through our life.  We need to put Christ at the centre and be his voice to all nations, all peoples.  To be truly Christian we must do as the disciples did and carry Jesus and his message to all people, be it on social media, the internet, on the phone, or in person.  Had the disciples failed to do this we would have no Jesus in our lives.  Imagine how empty that life would be? 
Remember, your duty to spread the message of Jesus Christ is not just limited to the people close to you.  In fact, it isn't just limited to the entire human population of our world in your lifetime.  Like the disciples, your witness will hopefully carry the message of Christ well into the future so that another 2000 years from now people are talking about the great disciples of this time and how without their powerful witness the faith would be dead. 
Jesus told the apostles to "Go into the whole world and proclaim the Gospel to every creature".  We need to be disciples for Christ in today's world.  Let the future generations rave about your willingness to speak up for Jesus and how you never shied away from openness and honesty about his loving and merciful message.  Let your children and grandchildren see you stand up for something that will bring eternal life to millions and millions of people!  And remember, you don't need to be a great orator or writer to evangelise.  As Pope Francis has said:  "We evangelise not with grand words, or complicated concepts, but with the joy of the Gospel, which fills the hearts and lives of all who encounter Jesus".  So don't worry, let the joy of the Gospel speak for itself!
The phrase 'do not be afraid' appears often scripture.  It is a strong, powerful message from God about how we must feel when it comes to our faith.  In doing Christ's work and spreading his message we have no need to be afraid.  He is on our side!
Here's the challenge: let your life be a life of evangelisation.  Don't be afraid to share Christ's message with other people.  Let your work reverberate down through the generations where it has the potential to bring millions of lives to eternity with God.  Don't keep good news to yourself.  Use your mustard seed.  Evangelise.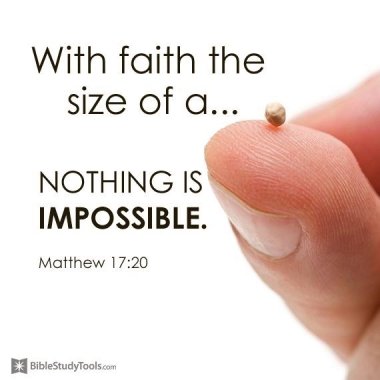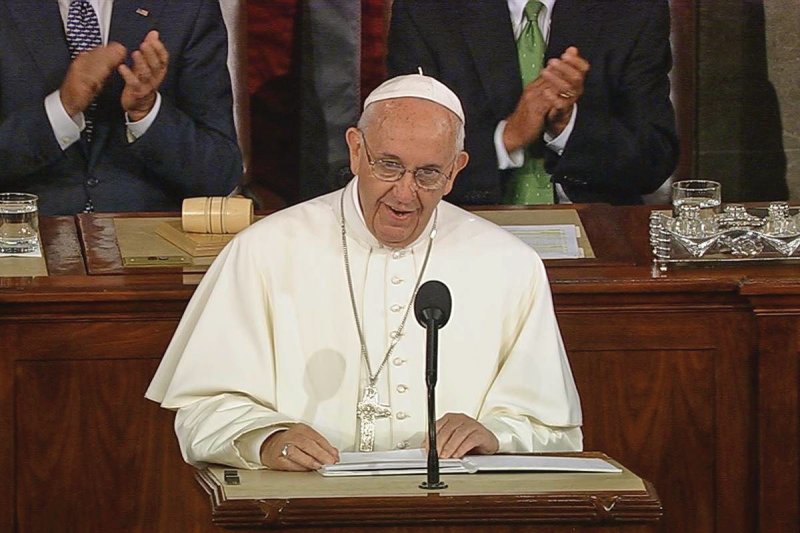 The pope received several standing ovations in Congress
Pope Francis, in his historic address to US Congress, has urged the world to follow Christ's Commandment of love.  The pope used the opportunity to tackle critical issues such as the dignity of human life, the death penalty and the refugee crisis.  He also addressed recent attacks on marriage and family life, and his concerns that the very basis of the family and marriage is being called into question. 
Here are the main quotes from the pope's address to USC ongress this afternoon:
Pope Francis on the golden rule:
"Let us remember the golden rule: do unto others as you would have them do unto you."
On the dignity of human life:
We must "protect by means of the law, the image and likeness fashioned by God in every human life."
We must recognise the "transcendent dignity of the human being".
"The golden rule [to do unto others as you would have done unto you] also reminds us of our responsibility to protect and defend human life at every stage of its development."
On the family:
"The family should be a recurrent theme….how essential the family has been to the building of this country.  I cannot hide my concern for the family which is threatened, perhaps as never before from within and without.  The very basis of the family and marriage is being called into question."
"I can only reiterate the importance and, above all, the richness and the beauty of family life."
"I would like to call attention to those family members who are most vulnerable, the young.  Their problems are our problems.  Our young people are precious."
"We live in a culture that threatens young people not to start a family."
On the death penalty:
"Let's abolish the death penalty here and everywhere. No punishment should exclude hope or the possibility of conversion."
On politics and society:
"Preserve and defend the dignity of your fellow citizens in pursuit of the common good."
"We are all worried by the disturbing social and political situation of the world today."
"It can be no more us vs them. We must confront every kind of polarisation. Our response must be hope and healing, peace and justice."
"Safeguard religious freedom, intellectual freedom, and individual freedom.  We must be specially attentive to every type of fundamentalism."
"Politics must be used to build the common good."
"It's my duty to build bridges and help all men and women to do the same."
"We have to ask ourselves: why are deadly weapons being sold to those who plan to inflict untold suffering on individuals and society?"
"It is our duty to confront the problem and stop the arms trade."
On the elderly:
The elderly are the "storehouse of wisdom".
On the refugee crisis:
"We must view them as persons, seeing their faces, listening to their stories, and try to respond as best we can."
On poverty:
"The fight against poverty and hunger must be fought constantly and on many fronts, especially in its causes."
On business:
"Business is a noble vocation, especially in its creation of jobs to the common good."
On the environment:
"I'm convinced that we can make a difference, I'm sure."
"We have an obligation to our future generations. The time is now."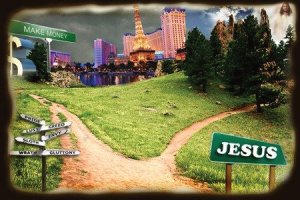 We must take the narrow path to Christ
Today's First Reading (1 Timothy 6:2-12):
'This is what you are to teach the brothers to believe and persuade them to do. Anyone who teaches anything different, and does not keep to the sound teaching which is that of our Lord Jesus Christ, the doctrine which is in accordance with true religion, is simply ignorant and must be full of self-conceit – with a craze for questioning everything and arguing about words. All that can come of this is jealousy, contention, abuse and wicked mistrust of one another; and unending disputes by people who are neither rational nor informed and imagine that religion is a way of making a profit. Religion, of course, does bring large profits, but only to those who are content with what they have. We brought nothing into the world, and we can take nothing out of it; but as long as we have food and clothing, let us be content with that. People who long to be rich are a prey to temptation; they get trapped into all sorts of foolish and dangerous ambitions which eventually plunge them into ruin and destruction. 'The love of money is the root of all evils' and there are some who, pursuing it, have wandered away from the faith, and so given their souls any number of fatal wounds.
But, as a man dedicated to God, you must avoid all that. You must aim to be saintly and religious, filled with faith and love, patient and gentle. Fight the good fight of the faith and win for yourself the eternal life to which you were called when you made your profession and spoke up for the truth in front of many witnesses.'
It's hard for Catholic people to remain true to Jesus Christ and the Traditions of the Catholic Church, especially in this day and age when religion is often frowned upon for one reason or another.  Yet that doesn't make it any less true or relevant.
St Paul's letter to Timothy encourages us to remain true to Christ and his teaching and to remain true to the teaching of the Church he himself founded; the Roman Catholic Church which continues to exist to this very day.
St Paul warns us about those who stray from this teaching, and in true St Paul style, he doesn't mince his words!  He says that those who do things differently to that taught by Christ and his Church are "simply ignorant and must be full of self-conceit – with a craze for questioning everything and arguing about words."  Isn't it interesting that St Paul should specifically refer to arguments about words?  Consider the abortion debate and how pro-choice activists often try to use words and phrases to argue that abortion is okay. They use (albeit wrongly) terms such as 'embryo', 'foetus', 'collection of cells' and 'personhood' to try to make their point. Consider how Pope Francis' words are so often used against him by those who misinterpret him or those who fail to understand his bigger message.  Other examples of this can be found in debates around contraception and the redefinition of marriage.
The tragedy of all this is that Catholic people, including myself, continually stray from Christ's teaching and the teaching of his Church.  I fall into the traps of the secular relativist society and I become that ignorant person full of self-conceit that St Paul is referring to. But thankfully Christ and his Church give me the Sacrament of Reconciliation where I can go and be forgiven for straying from the Truth.
At the end of the day, there will be many times in our lives when we will stray from the right path. But the key is to turn back, as the prodigal son did, into the loving arms of the Father.  While we may turn our back on Him there will never be a time when He turns His back on us.  He is always standing there, watching and waiting for us to return; to return to the path of Truth which He himself created when He gave us His only Son and gave us His Church.
Brother and sisters, we must do as St Paul says and "Fight the good fight of the faith" by speaking up for the truth with love, patience and gentleness before all people, even when it makes us feel a little uncomfortable.  Remember, it is unlikely we will ever be made to feel as uncomfortable as the early disciples who suffered immeasurable pain, including death, in standing up for the Truth.   
And even though we may well feel a little uncomfortable we must remember that we were not made for this world; that our destiny is in Heaven to be one with the Father, with Christ our Saviour, our Blessed Mother Mary, and with all the Saints and Angels.  Surely that is worth fighting for?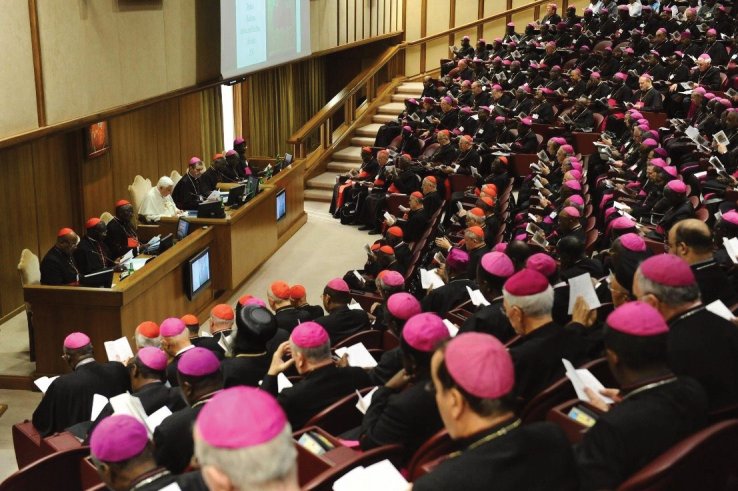 The TFP Student Action Group has set up a petition asking Pope Francis to reinforce Church teaching on marriage and the family at the upcoming Synod in Rome.
The petition has been started in response to some Bishops and also the mainstream media who are trying to force through change to fit with what society perceives as truth, as opposed to what Christ and his Church teaches as Truth.
Attacks on the family have been coming thick and fast over the last fifty or sixty years and this most basic yet most cherished aspect of life which has served us so well for so long is slowly being eroded to nothing.  Consider contraception, a moral evil which has perhaps served as the catalyst for so much evil that has followed since.  Consider abortion, where millions of innocent lives are destroyed every year across the world, all in the name of 'choice'.  And then there is the redefinition of marriage, a recent phenomenon where God's very own definition of marriage between one man and one woman has been torn up and thrown to the wind.  Add to that the ever increasing push to remove terms such as 'father' and 'mother' out of circulation and you have the most horrifying and testing time for the family unit since time began.
And what have we done about it?  What do we have to show for our efforts to stop these evils?  Pretty much nothing.  Nada.  1.2 billion Catholic people supposedly live on this earth and yet we struggle to uphold some of God's most basic truths, His most basic instructions. 
And the worst of it?  So many of our own brothers and sisters are defying God's Truth and supporting these concepts.  Contraception is seen as a necessity, abortion is seen as someone else's choice, and the redefinition of marriage just seems like the right thing to do. They say: 'to hell with what God and the Church might think, Jesus was a nice guy and he would want us to give the thumbs up to preventing procreation, to killing innocent babies and condoning sexual activity between people of the same sex.'   
Yes, Jesus would just love to see the ruination of the family unit; after all he didn't care a jot about his stepfather Joseph and his mother Mary!
No, Jesus is God.  And Jesus held firm to the Truth he himself gave to the world.  His manner of holding firm to the Truth is something we can and should take note of; full of love, compassion and kindness.  But also firm and determined.  Firm in the Truth he came to earth to reveal to us and which he subsequently entrusted to his Church, and determined to never let the devil have his way by destroying that Truth.
Brothers and sisters, please consider joining hundreds of thousands of Catholics who, like Jesus, are determined to hold firm to the Truth.  Will you be strong in your faith and reject any notion of allowing evil to creep into our society?  Are you prepared to let nothing stand in the way of you being true to God, just as the saints did? 
Let us rise determinedly as one body in Christ to protect his Truth and to allow the family to flourish.  Mother, father, brother, sister; this is God's divine plan.  
Please join a growing list of religious and civil leaders by signing the petition and let's encourage the Holy Father and the Bishops to remain faithful to God and His Church.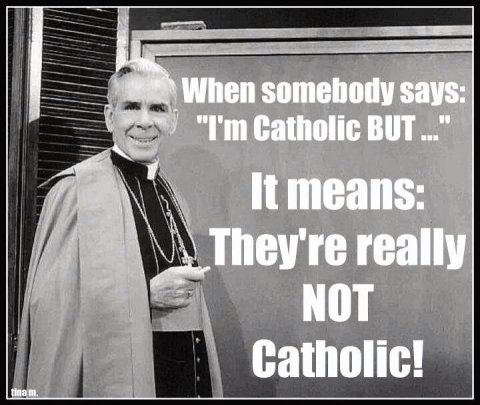 Venerable Fulton Sheen
Isn't it fair to say that our Catholic faith is under attack from many angles in our world today?  The growth of relativism, aggressive secularism, and even attacks from within our own ranks, by people who suggest that Church teaching is wrong on certain matters.
In my own experience it is becoming abundantly clear that more and more self-proclaimed Christians (especially Catholics) are attaching less and less importance to the role of faith, and ultimately Christ, in their lives.  It brings to mind a quote of Venerable Fulton Sheen when he said "When somebody says: 'I'm Catholic but…' it means: they're really not Catholic!"  There are so many examples of people saying 'I'm Catholic but…' in our world today.  Indeed it is a daily occurrence on social media forums.  'I'm Catholic but I don't go to Mass'; 'I'm Catholic but I don't go to Confession, I just go direct to God'; 'I'm Catholic but I don't think we should interfere with a woman's choice when it comes to abortion'; 'I'm Catholic but I believe that same-sex marriage is okay because two people love each other'.
And while those who propagate the view 'I'm Catholic but…' don't seem to care much for the effect it has on the more traditional, conservative Catholic lay people around them; they don't seem to appreciate the effect this has on the one who really matters….Jesus Christ.
It is often difficult to comprehend certain Truths taught by the Catholic Church; the Church's stance on homosexual acts perhaps being the most relevant example.  Nothing seems to stoke the flames as much as this issue. And even when the natural law, Sacred Scripture or the Catechism of the Catholic Church is quoted in defence of the Church's position, it still isn't enough to eradicate the view that the Church is out of touch and living in the past.
Yet what is the Church? Is it really a bunch of decrepit old men as is often argued?  Certainly not.  The Church is an assembly brought together by the Word of God, forming the People of God; a people nourished and sustained by the Eucharist.  And by receiving this nourishment from Christ's Body we too become the Body of Christ.  The Church is the community of believers in Christ and his Truth.  It is a people, stemming from Peter and the apostles through the ages to the present day.  It is a people charged with the task of not only proclaiming the Truth but protecting it so that it may continue to live on through time, penetrating the hearts of countless peoples through the ages.  And perhaps the most important component of the Church is its head; for it is Jesus Christ who is head of the Church.  Not the pope, not the Bishops nor her priests.  No, it is Christ; for it is Christ who formed the Church and it is Christ who promised to be with the Church until the end of time so that the gates of hell would never prevail against her.
When he formed the Church Jesus promised to be with her forever; and he remains with her to this day. And his Truth continues to exist to this very day because it has been protected by his Church.  Just think of the apostles and how they, as a relatively small number, carried that Truth with them, taking it to everyone they met so that they might come to know Christ as they knew him.  Think of how they changed hearts and minds with this Truth and how they were even prepared to take it to their excruciatingly painful deaths.  Yet despite this, the Truth continued to penetrate time, through the early Church Fathers, the Saints, and through converts to the faith.  And so it continued on and two thousand years later it remains with us today; that same Truth proclaimed by Jesus Christ and his apostles.  And it is here because he promised it would be here. Jesus promised to be with his Church, and so his Truth lives on; protected and preserved by a people who love him and who trust completely in him.
While it can be incredibly difficult to live a life of faith in today's world, especially a life of faith in a Catholic sense, we must remember that we are preserving the Truth of Christ, the one who created us and who loves us more than any other.
Another beautiful way to look at the Church is to see her as Christ's bride.  She waits for him to return to earth so that they, the bride and groom, can be completely united as one.  If we let go of the Truth there will be no bride waiting for Jesus at the end of time. That is why it is so important for us to be true to our faith, every last bit of it.  I have heard it said that the rib taken from Adam to create Eve was symbolic of Christ and the Church.  That is how close Christ is to his Church!  And when Christ died on the Cross on Calvary and his side was pierced by the roman soldier, the significance of Adam's rib became even more apparent.  For in the blood and water which poured forth from Christ's side came his forgiveness; a forgiveness that he would soon thereafter charge to his disciples and to his Church.  And the first person to fully appreciate the significance of the blood and water pouring from Christ's side and who proclaimed him to be the 'Son of God'?  The Roman soldier Longinus (now St Longinus) who pierced his side.  Many claim that he was the first convert to the Christian faith.  So, the Church, the creation of which was foretold by the removal of Adam's (Jesus) rib to create Eve (the Church), can now be seen pouring out of Christ's side and reaching out to his created people, calling them to conversion and to come to know the Truth.
St Longinus would never dream of saying 'I'm Catholic but….'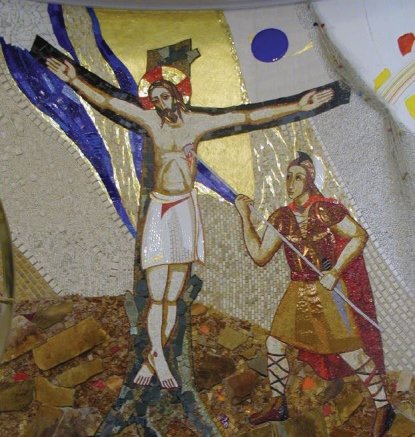 Longinus pierces Christ's side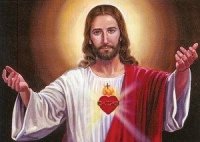 Only this man has the power to save us
Sunday's First Reading (Acts 4:8-12):
Filled with the Holy Spirit, Peter said: 'Rulers of the people, and elders! If you are questioning us today about an act of kindness to a cripple, and asking us how he was healed, then I am glad to tell you all, and would indeed be glad to tell the whole people of Israel, that it was by the name of Jesus Christ the Nazarene, the one you crucified, whom God raised from the dead, by this name and by no other that this man is able to stand up perfectly healthy, here in your presence, today. This is the stone rejected by you the builders, but which has proved to be the keystone. For of all the names in the world given to men, this is the only one by which we can be saved.'
Only Jesus Christ can save us.  Only Jesus Christ can save us. Only Jesus Christ can save us. Only Jesus Christ can save us…. 
Has it sunk in yet?? It's quite incredible to think that each one of us can be saved from sin and death and brought to eternal life.  It's even more incredible to think that all this is achieved through one man!  Can you imagine being that one man?  Can you imagine if you were the key to Heaven; the key to eternal life?  Wouldn't it be quite a responsibility?  It certainly would; but it would be worth all of that responsibility to see wave after wave of people coming back to you because they trust in you and because they believe in you and believe in the Church you founded. Yet conversely, wouldn't it be so sad to know that not all of your created people are coming back to you?  Wouldn't it be sad to be rejected by your very own creation?  Rejected despite coming to earth to spread the message of a perfect love; rejected despite performing miracle after miracle to help the poor and the needy; rejected despite suffering greatly at the hands of your oppressors who humiliated you and abused you before nailing you to a cross; rejected despite rising from the dead and revealing yourself to those close to you who then took that great news to the ends of the earth.  After all of that and still you are rejected!  How breathtakingly sad must that be for Jesus? 
It would seem that no matter how often we are told Christ is the only way to God and the only way to salvation, we still don't quite take it in.  Even Jesus himself told us that he was the way, the truth and the life and that nobody can get to the Father except through him; yet many still doubt.  So here is St Peter, the rock upon which Christ's Church is built, telling us once more that Christ is the only one who can save us. 
So, are we prepared to really let this sink in?  And even more importantly, are we prepared to take this message to the ends of the earth no matter what?  You see, we can't possibly just keep this to ourselves or within the confines of our families and close friends.  An increasingly aggressive secularism tells you to keep it to yourself, but Jesus tells you to take it to the ends of the earth!  So let's get out there and tell the world that Jesus is the only way!  It is Jesus Christ, the most perfect, most beautiful, most glorious, most incredible man who ever walked this earth who can give us the gift of eternal life.  It is the most precious Jesus, that man who took on unbearable pain on our behalf, who is the key to our salvation.  Trust him, love him and surrender to him.  And encourage others to do the same.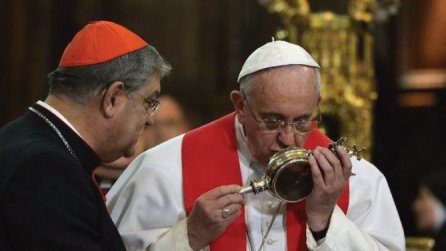 Pope Francis reacts to the miracle
Isn't it intriguing that the world pays little attention to supernatural miracles?  For example, if you were to put a no-hoper with the voice of a sick frog on the 'The Voice' and they ended up winning the coveted reality TV show's top prize, the world would proudly announce it to be a "miracle".  However, witnessing the sudden liquefying of the blood of a near 2,000 year old man or the sudden transformation of a communion wafer to real flesh is something that is given little attention.
Perhaps the most disappointing thing is that it is not only mainstream media and sceptics outside Catholicism who are guilty of ignoring such miracles.  Indeed the number of Catholic people who pay little heed to these miracles is quite voluminous.  It sadly means that God's visible intervention in our daily lives here on earth simply goes unnoticed.  Didn't that happen before, around 2,000 years ago?  You know, with the one they called Christ? 
Indeed, aren't those sceptics among us, especially the ones of a Catholic persuasion, simply following in the footsteps of the Sanhedrin in Jesus' time; rejecting any notion of God coming to earth and influencing our world.  They might ask: Why should I believe it?  God coming to earth to reveal Himself?  God making the scientifically impossible happen?  Are you mad?  But then, who would have thought a woman could conceive a child without sexual relations?  Who would have thought water could be turned to wine in an instant?  Who would have thought bread could be turned to flesh, and wine to blood?  Who would have thought a man could rise from the dead? 
God has been performing miracles for thousands of years, and He continues to perform them to this very day. In fact, you are a miracle!  You are a gift from God to this world. Without His intervention you wouldn't be here.  And without His intervention you wouldn't have the chance to take your place in Heaven for all eternity.  The Eucharist is another daily miracle given to us by God.  Indeed it is Jesus Christ truly present in all the tabernacles of the world; body, blood, soul and divinity! 
The reported miracle of St Januarius in Naples at the weekend is just one in a long list of God coming to earth to reveal His true power.  The fact that Pope Francis was present for the miracle has perhaps nudged it slightly more into the spotlight than would normally be the case (after all, this miracle of St Januarius has been taking place for years!).  But it gives us an opportunity to stop and consider how we feel about such miraculous events.  Why aren't we shouting from the rooftops and telling people about these great happenings? Why don't we tell the world that God has revealed Himself yet again and encourage them to believe?  Are we perhaps sceptical?  Does it just seem a bit too far-fetched?  If so, why?  Do we outright reject the supernatural?  Will we simply not be satisfied until we hear of authentic scientific evidence confirming that no scientific explanation can be given for the 'miracle'?
There are a lot of questions for us to consider when it comes to miracles such as this.  But consider this….what if the children of Fatima had simply rejected their vision of Our Lady as nonsense?  What if St Bernadette did the same at Lourdes?  And St Juan Diego in Guadalupe?  And what about the disciples when Jesus rose from the dead?  What if they simply considered it all to be scientifically impossible and thus false? 
Our role as Catholic people is to spread the Good News throughout the world.  This means taking the Gospel out into our daily lives and living out our faith in love for God and neighbour.  But it also means being full of joy, and what better excuse to be full of joy than to know that God still interacts with His people by performing miracles before our very eyes?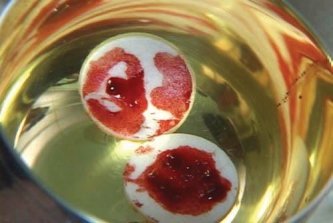 The Eucharistic miracle of Buenos Aires

 


 

Don't let the doubts creep into your mind.  Those doubts come from a sinister source; a source that does not want you to believe in God and His work.  Instead, be open to God's great power and just enjoy knowing that His presence is near!  Bask in the wonder of God's glory and His unbroken covenant with His people, with you!  He wants you to know that He is there for you!  Not one person is forgotten by God.  We are all His children and He wants us to experience His presence, His love.  It is for this reason that miracles happen.

0

/