Shopping Cart
Your Cart is Empty
There was an error with PayPal
Click here to try again
Thank you for your business!
You should be receiving an order confirmation from Paypal shortly.
Exit Shopping Cart
Calling Scotland's 841,000 Catholics to unite as one voice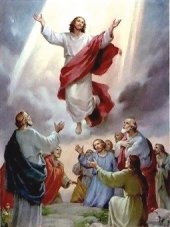 From today's Gospel (Matthew 28:16-20):
'Go, therefore, and make disciples of all the nations; baptise them in the name of the Father and of the Son and of the Holy Spirit, and teach them to observe all the commands I gave you.  And know that I am with you always; yes, to the end of time.'
These words of Jesus must have been a great comfort to the disciples.  Not only does he give them specific instructions to convert all people and nations to the Christian faith, he also tells them that he will be with them to the end of time.  
Think of the disciples not only as a group of individual men, but as a body.  Together, they are a body.  Together, they are the Church!  And in this short passage, Jesus tells us that he will be with the Church until the end of time.
Through trials and tribulations, and through dark times, we must always remember that Jesus is with us, he is with his Church and he will never abandon it.  On this day of the Ascension, a Holy Day of obligation where all Catholic people must attend Holy Mass, take some time to ponder these words of Jesus.  And if you aren't sure about whether or not you are really going to go to Mass today remember that where the Church is, Jesus is.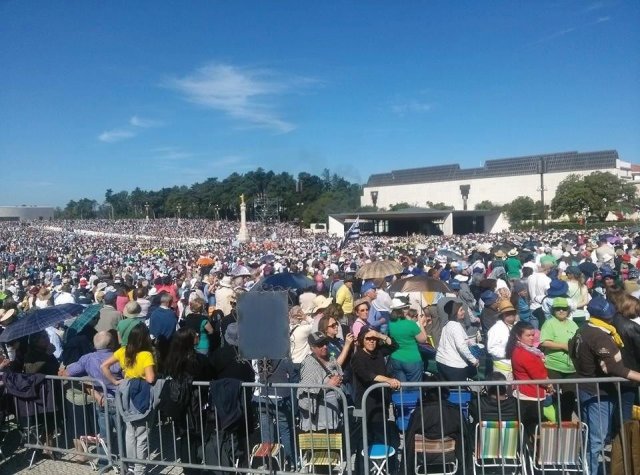 Sheep following the Good Shepherd in Fatima today
From today's Gospel (John 10:22-30):
'The sheep that belong to me listen to my voice;
I know them and they follow me.
I give them eternal life;'
In today's Gospel Jesus is once again emphasising the great gift he has given us: the gift of himself so that we may have eternal life.  Jesus was crucified, died and rose again to save us from sin and to show us that he really is the Son of God.  Those who listen to him and believe in him are truly blessed.  Look at St Paul who, on the road to Damascus where he fully intended to persecute Christians, was met by Christ and suddenly realised that he was wrong to deny the Christian faith.  In that moment St Paul became one of Christ's sheep and was granted the gift of eternal life. 
Do we consider ourselves sheep belonging to Christ?  Are we prepared to listen to his voice and follow him? 
We are so blessed to have so many ways to interact with Jesus.  We have the glory of Holy Mass, we have prayers and devotions, we have the Word of God, and we have simple quiet time in the presence of Jesus, especially in the Blessed Sacrament.  These are all opportunities to interact with Jesus and to listen to his voice. 
Listen and follow….two simple acts of witness to Christ.  We are asked today to listen to Jesus and to follow him and in so doing we may be blessed with the gift of eternal life.

Today's Gospel (Luke 1:26-38):
'The angel Gabriel was sent by God to a town in Galilee called Nazareth, to a virgin betrothed to a man named Joseph, of the House of David; and the virgin's name was Mary. He went in and said to her, 'Rejoice, so highly favoured! The Lord is with you.' She was deeply disturbed by these words and asked herself what this greeting could mean, but the angel said to her, 'Mary, do not be afraid; you have won God's favour. Listen! You are to conceive and bear a son, and you must name him Jesus. He will be great and will be called Son of the Most High. The Lord God will give him the throne of his ancestor David; he will rule over the House of Jacob for ever and his reign will have no end.' Mary said to the angel, 'But how can this come about, since I am a virgin?' 'The Holy Spirit will come upon you' the angel answered 'and the power of the Most High will cover you with its shadow. And so the child will be holy and will be called Son of God. Know this too: your kinswoman Elizabeth has, in her old age, herself conceived a son, and she whom people called barren is now in her sixth month, for nothing is impossible to God' 'I am the handmaid of the Lord,' said Mary 'let what you have said be done to me.' And the angel left her.'
Nothing is impossible with God.  Mary, despite being a virgin, found herself to be with child.  And not any old child; Mary was pregnant with the 'Son of the Most High' as described by the angel Gabriel.  The impossible had suddenly become possible.  The surreal had become real.
And then the Saviour of the world was born.  Jesus, the Lord, came to save us from our sins and to give us the gift of eternal life.  Yet none of this would have been possible had Mary not said 'yes' to God. 
How many of us would say yes to God as Mary did?  Are we prepared to put God and others first before ourselves for the greater good, as Mary did?  Are we prepared to sacrifice our lives in service to God and to others, as Mary did?  Do we have a deep, unconditional love for God as well as a child-like trust which means we are always ready to say 'yes' to Him when he calls us to do His work, as Mary did?
Mary is our guiding light.  It is Mary who shows us the way to complete faith in God.  It is Mary who shows us the type of unconditional love and trust we must have in God.  It is Mary who shows us the way to that deep humility in our daily lives; always putting God and others first.  It is Mary who shows us how we should live our lives; respecting others and ensuring we are never boastful of our achievements.  Mary never boasted that she gave birth to the Son of God.  How then can we ever boast about our achievements?   
Mary is our light.  On this great Solemnity of the Annunciation let us ask Mary to show us the way to Jesus.  Let us ask Mary to intercede for us so that we too can have the grace to say 'yes' when God is calling us to do His work.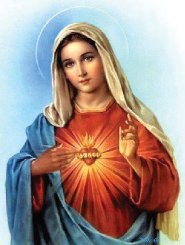 On Sunday 13th October, the date of the last apparition of Our Lady in Fatima in 1917, Pope Francis will consecrate the world to the Immaculate Heart of Mary.
For those who aren't sure what this means, it means all who join in the consecration, either in person or through prayer, will put their complete trust in Mary, our Mother and will let her lead them in all things.  By this act of consecration we give our lives to Mary, she is our refuge and we allow her to guide our lives.  The Pope is inviting the whole world to join and will ask Our Lady to guide the entire world.  It is an opportunity we cannot miss and we should be encouraging EVERYONE to take part.
The novena starts this Friday 4th October and is a beautiful way to start preparing for the big day!  If you sign up, you will start to receive the novena prayers to your email inbox so that you can say them at a time suitable to you! 
Also, when you sign up you will start to receive notifications and prayers for all novenas taking place throughout the year! 
Let us all join together in praying the novena and preparing ourselves for the world to be consecrated to our Mother's Immaculate Heart.  It is not something we can afford to miss.  Would you say no to your Mother?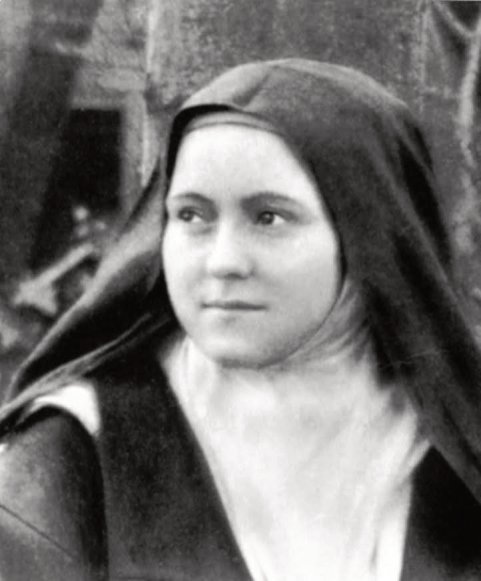 St Therese
Although St Therese, who became a Carmelite nun at the tender age of 15 in Lisieux, is one of the most famous Saints of the Church, very little was known of her prior to her death in 1897 at the age of 24. 
It was only a number of years after her death that the true beauty of her life came to light, through her memoirs which her prioress Mother Agnes of Jesus had asked her to write some two years prior to her death.  With the publication of these memoirs came a "storm of glory" that swept the world producing miracles, conversions, cures and apparitions.  It was a time of great joy and resulted in the Pope suspending the then 50 year rule for canonisations and declaring her a saint in 1925.
St Therese wanted to be a saint, following in the footsteps of her namesake St Teresa of Avila.  A Jesuit priest, whom Therese spoke to while he was visiting her convent, thought he could sense a little misplaced pride in Therese's desire to become a saint and challenged her on this.  But the bold Therese simply responded by saying "Why Father?  Since our Lord has said, 'Be perfect as your Heavenly Father is perfect'."
Therese is also famous for her 'Little Way', a concept of taking God at His Word and letting His Love for us wash away our sins and imperfections.  When a priest once told her off for falling asleep during prayer, claiming it was for want of fervour and fidelity, she replied: "I am not desolate.  I remember that little children are just as pleasing to their parents when they are asleep as when they are awake."


St Therese, a true blessing to the world and a true example of complete and unconditional devotion to God.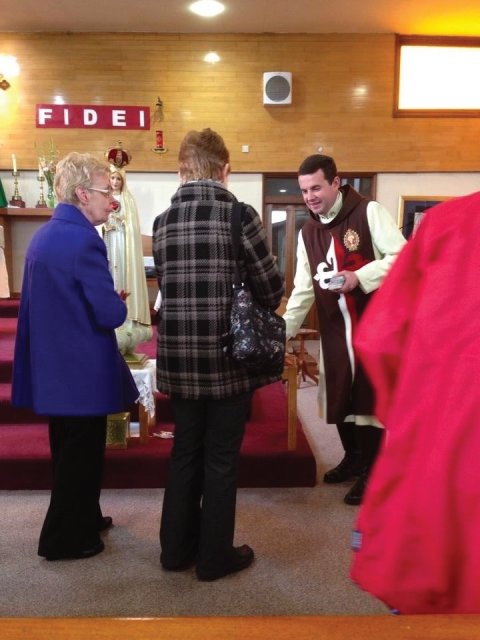 Click the link, below, to find out more about this most special occasion and how the crowds gathered to venerate Our Lady in the town of Cumbernauld!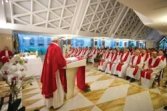 Picture: news.va
Pope Francis, during morning Mass at Casa Santa Marta on Wednesday, encouraged the faithful to seek the wounds of Christ in people around us as he marked the Feast of St. Thomas Apostle.

The Pope, in direct reference to the Gospel and Jesus said: "His whole body was clean, beautiful, full of light….but the wounds were and are still there, and when the Lord comes at the end of the world, we will see His wounds. In order to believe Thomas wanted to put his fingers in the wounds."
The Pope said, however, that Thomas was "stubborn" but that this was the Lord's plan.  The Pope continued, "the Lord wanted exactly that, a stubborn person to make us understand something greater. Thomas saw the Lord, was invited to put his finger into the wounds left by the nails; to put his hand in His side and he did not say, 'It's true: the Lord is risen'. No! He went further. He said: 'God'. The first of the disciples who makes the confession of the divinity of Christ after the Resurrection. And he worshiped Him".

"And so, we understand what the Lord's intention was when he made him wait: he wanted to guide his disbelief, not to an affirmation of the Resurrection, but an affirmation of His Divinity." The "path to our encounter with Jesus-God are his wounds. There is no other".
"In the history of the Church there have been some mistakes made on the path towards God. Some have believed that the Living God, the God of Christians can be found on the path of meditation, indeed that we can reach higher through meditation. That's dangerous! How many are lost on that path, never to return. Yes perhaps they arrive at knowledge of God, but not of Jesus Christ, Son of God, the second Person of the Trinity. They do not arrive at that. It is the path of the Gnostics, no? They are good, they work, but it is not the right path. It's very complicated and does not lead to a safe harbor. "

"Others" he said "thought that to arrive at God we must mortify ourselves, we have to be austere and have chosen the path of penance: only penance and fasting. Not even these arrive at the Living God, Jesus Christ. They are the pelagians, who believe that they can arrive by their own efforts. But Jesus tells us that the path to encountering Him is to find His wounds."

And the Pope in exploring how we find those wounds said: "We find Jesus' wounds in carrying out works of mercy, giving to our body – the body – the soul too, but – I stress - the body of your wounded brother, because he is hungry, because he is thirsty, because he is naked because it is humiliated, because he is a slave, because he's in jail because he is in the hospital. Those are the wounds of Jesus today. And Jesus asks us to take a leap of faith, towards Him, but through these His wounds. 'Oh, great! Let's set up a foundation to help everyone and do so many good things to help '. That's important, but if we remain on this level, we will only be philanthropic. We need to touch the wounds of Jesus, we must caress the wounds of Jesus, we need to bind the wounds of Jesus with tenderness, we have to kiss the wounds of Jesus, and this literally. Just think of what happened to St. Francis, when he embraced the leper? The same thing that happened to Thomas: his life changed."
 
Pope Francis concluded that we do not need to go on a "refresher course" to touch the living God, but to enter into the wounds of Jesus, and for this "all we have to do is go out onto the street. Let us ask St. Thomas for the grace to have the courage to enter into the wounds of Jesus with tenderness and thus we will certainly have the grace to worship the living God. "
A BLESSED FEAST OF ST ANTHONY OF PADUA TO ALL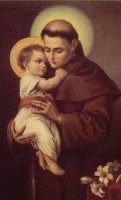 Some St Anthony Quotes:
"Attribute to God every good that you have received. If you take credit for something that does not belong to you, you will be guilty of theft."
"The life of the body is the soul; the life of the soul is God."
"The spirit of humility is sweeter than honey, and those who nourish themselves with this honey produce sweet fruit."
"Solicitude for material things distracts the soul and divides it. The devil seizes the divided soul and drags it to hell."
And last but not least, when faced with heretics who would refuse to listen to his beautiful teachings St Anthony would simply say 'Hail Mary' to them. 
St Anthony Novena Prayer:
Holy Saint Anthony, gentle and powerful in your help, Your love for God and charity for His creatures, made you worthy when on earth, to possess miraculous powers. Miracles waited on your word, which you were always ready to request for those in trouble or anxiety. Encouraged by this thought, I implore you to obtain for me (mention your request here).
The answer to my prayer may require a miracle. Even so, you are the saint of miracles. Gentle and loving Saint Anthony, whose heart is ever full of human sympathy, take my petition to the Infant Savior for whom you have such a great love, and the gratitude of my heart will be ever yours.
Amen
It is customary to donate to Saint Anthony's Bread, a charity started in Saint Anthony's lifetime, in gratitude to answered novena prayers.
/