Shopping Cart
Your Cart is Empty
There was an error with PayPal
Click here to try again
Thank you for your business!
You should be receiving an order confirmation from Paypal shortly.
Exit Shopping Cart
Calling Scotland's 841,000 Catholics to unite as one voice
The Catholic Church in Scotland has reaffirmed its commitment to tackling all forms of bullying in its schools.
However, this article by The Times fails to cover the Church's clear message that Catholic Schools will never compromise Catholic teaching.

You can access the article here: http://www.thetimes.co.uk/edition/scotland/lgbti-pupils-to-have-safe-spaces-at-catholic-schools-9kwz5869r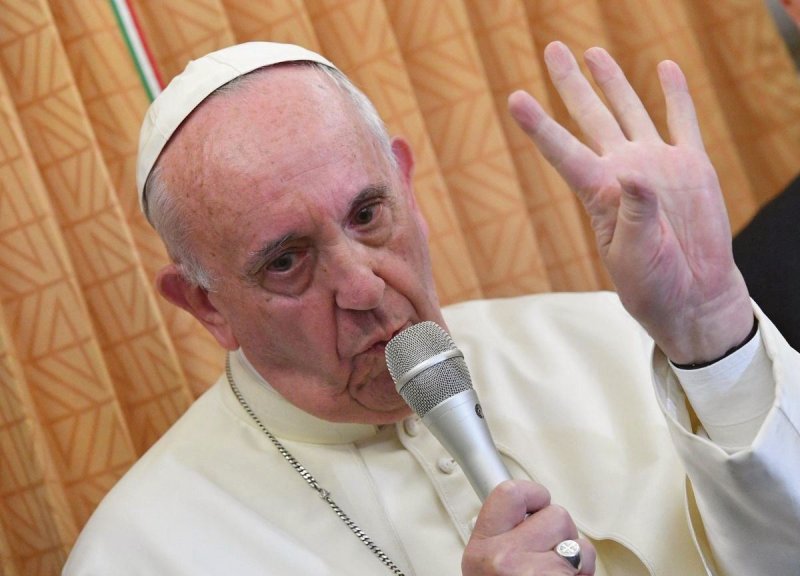 Pope Francis has spoken out against the theory of gender, something he has stated as being the "great enemy of marriage today".  The pope, speaking to a group of religious men and women in Tbilisi, Georgia, said: "Today, there is a global war trying to destroy marriage…they don't destroy it with weapons, but with ideas.  It's certain ideological ways of thinking that are destroying it…we have to defend ourselves from ideological colonisation."
The pontiff has often spoken about ideological colonisation and gender theory and the dangers they pose to society.  The ideological colonisation he refers to is primarily to do with developed countries – mainly in the West – imposing their ideas and values into developing nations and potentially withholding aid where those ideas and values are resisted.  Gender theory, on the other hand, is what an individual person believes himself or herself to be and it may not necessarily correspond with their biological sex.  Indeed, it may even be non-binary; that is, neither male nor female. 
The next day, during an in-flight press conference on his way home to Rome, the pope spoke once more about gender theory and expressed deep concern about "teaching in school about this [gender theory], to change mentalities."  This, he says, "is what I call ideological colonisation."

He then spoke more specifically about homosexuality and the pastoral call of the Church with regard to people who experience same-sex attraction.  He said: "First of all, I've accompanied in my life as a priest, a bishop, and even as pope, people with homosexual tendencies or even homosexual practices, I've led them closer to the Lord."  He called on all people within the Church to accompany people in such situations "as Jesus accompanies" because "when a person who has this condition gets in front of Jesus, Jesus won't say 'leave because you're homosexual.'"

The pope was, however, cautious about the more liberal headlines that have been attributed to him in terms of a possibly softer Church attitude towards homosexual acts when he said: "I want to be clear, this is a problem of morals.  It's a problem.  It's a human problem that has to be resolved as it can, always with God's mercy."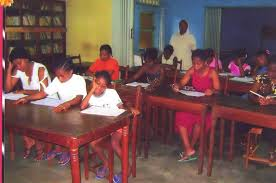 Madagascar is a country riddled with debt, where the basic right of a child to an education is far down the list of government priorities and public expenditure on children is a paltry £31 per year, leaving very little for a basic, let alone decent, education.
The situation is especially grim for girls who are often denied any form of education so as to allow male siblings to benefit from the opportunity to learn.  Boys, it seems, are best placed to go to school to learn.  Girls, it seems, are better off at home.
Thankfully, Missio Scotland, the official mission aid agency of the Catholic Church, is doing what it can to help girls in Madagascar obtain some form of education.  Missio has supported the Catholic Home for Girls in Ambanja, run by the Franciscan Sisters of Mary, since 2004.  The home accommodates around 40 poor and orphaned girls at any given time and is a place where the girls can be educated and allow their faith to flourish in a safe, loving environment.
Sister Suzanne Mahavita, who manages the home, says: "Our girls are from poor families where there's no money for school fees.  Even if there was money, boys get educated at the expense of their sisters.  Girls usually stay at home, caring for younger siblings and do household chores until they are of an age when they can marry.  In this sense female illiteracy far exceeds that of males.  But our local families do support the ideal of education for girls.  Our intention is to bring education to as many of the disadvantaged as we can.  We strongly believe it is every child's right to be literate and numerate."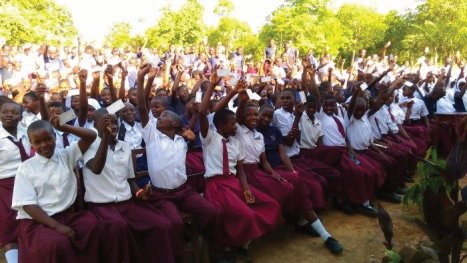 These youngsters have taken the chastity pledge
The World Health Organisation has, in its latest report, confirmed that 25% of worldwide pregnancies ended in abortion between 2010 and 2014. The report also states that "around 22 million unsafe abortions are estimated to take place worldwide each year, almost all in developing countries."
While this news must be greeted with great sadness at the millions of lives lost in an incredibly short period of time, the WHO has a solution.  It states that: "Almost every abortion death and disability could be prevented through sexuality education, use of effective contraception, provision of safe, legal induced abortion, and timely care for complications." 
It's interesting that the WHO avoids any talk of chastity or abstinence in their report.  This, as we know, is the most effective means by which to prevent a pregnancy if indeed that is what someone desires.  Contraception has been heralded as the saviour when it comes to having sexual relations without the 'nuisance' of a child.  But, in reality, contraception has merely become a 'get out of jail free card' for individuals - mostly men - who simply want to use and abuse a member of the opposite sex for their own selfish desires.  Contraception encourages people to engage in the most intimate manner with another human being and then to discard them once the deed is done.  There is no account for feelings, no account for wellbeing.  It is simply the act of using another for selfish desires.  And while not all people can be accused of using another individual through the use of contraception, there is no denying that in using contraception a person is not giving themselves entirely to the other.  It is a way of saying "I love you, but I'm not giving you 100% of my love".  Is this the kind of love we want for our children?
While it is natural for secular organisations like the WHO to raise unsafe abortion as an issue, the distinction between safe and unsafe abortions is inherently flawed.  This is because it is only concerned with the wellbeing of one party in order to distinguish whether an abortion is safe or unsafe.  Abortion, as we know and as science affirms, involves two distinct human beings.  When abortion results in the injury or death of one of those human beings it must be considered unsafe.  Therefore all abortions are unsafe.  There is no such thing as safe abortion.
While more must be done to ensure people are educated on sexual matters there is a real need to ensure that such education is not simply a pandering to the increasingly wayward sexual revolution and the deep pockets of huge, influential pharmaceutical companies.  Increased availability of 'safe' abortion is not the answer.  Nor is the increased availability of contraception.  These remedies simply take us down another road of self-destruction in our society and they quite clearly fail to solve the big issue, which is the widely held view that sex is a basic right to be enjoyed by anyone, with anyone and without the very natural consequence that is another human being.
In many African countries there is a growing movement (University Chastity Education or UCE Missionaries of Chastity) among young adults where they sign a pledge card, pledging a vow of chastity until they meet that special someone and marry them.  This is not the stuff of fairy-tales.  This is real life.  Isn't this a much more appropriate, measured, and natural solution to the pregnancy 'problem' than those proposed by the World Health Organisation?  Doesn't this solution encourage the kind of love you desire for your son or daughter?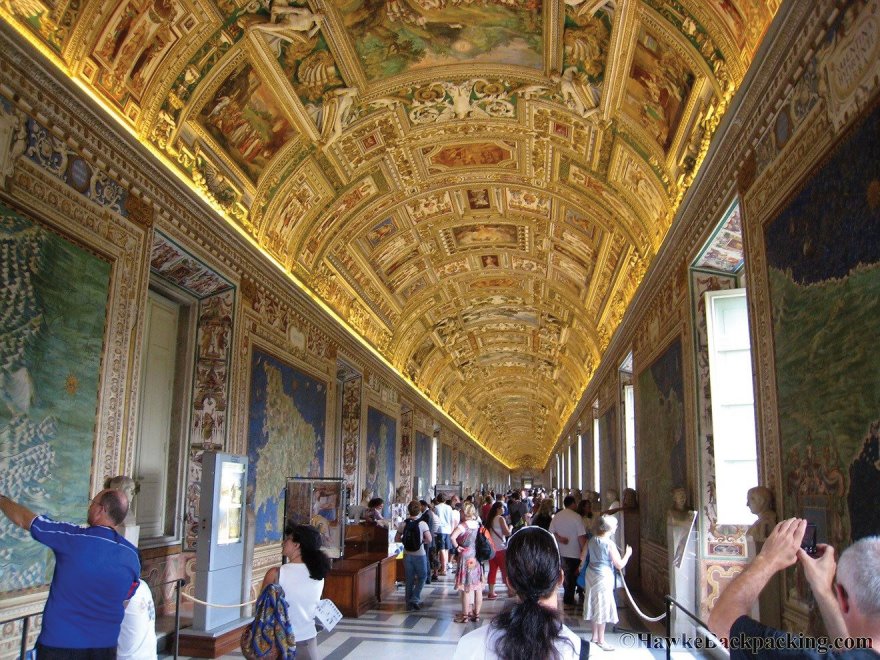 It's fairly common to be asked the following questions when you run an online Catholic apostolate: why doesn't your church sell off its valuable assets to feed the poor?  Wouldn't Jesus balk at the amount of wealth the Church has today?  Wouldn't he give it all to the poor?
I do think these are all very valid questions and I believe there are also very good answers to them. But before we begin looking at those answers, perhaps it would be prudent to give the matter of Church wealth a bit of context.  The Vatican City is a unique economy in that it relies on the contributions of its worldwide Catholic congregations and also tourists visiting its attractions to support it.  This, in a nutshell, is the income received by the Catholic Church.
But what is this money spent on?  Well, the Catholic Church, like any other large organisation, has huge bills to pay such as as wages, utilities, and paying contractors, suppliers etc.  But the Church is also known to be the largest charitable organisation in the world.  With charities such as Missio, CAFOD, SCIAF to name only a few, the Church spends billions in providing assistance to those in need and has been doing so for thousands of years.  Indeed, at last count, the Catholic Church was home to a confederation of some 164 relief agencies providing essential care and relief to people in two hundred of the world's poorest countries.
The Church is also the largest non-governmental provider of healthcare in the world, managing one quarter of the world's healthcare facilities.
Further, the Church is one of the largest providers of welfare and education in the world, especially in developing countries where the provision of such services is most lacking.
But could the Church sell some of its assets and put the extra cash generated to good use?  Well, yes, the Church would certainly put any cash it may make to good use like it has done for thousands of years.  That is a given.  But what isn't a given is whether there is actually a market for the Church's most valuable assets and whether it would be worthwhile in the long run to shed those assets in this way. 
Taking the first point, do we really believe there to be sufficient interest in centuries old basilicas and churches for the church to generate reasonable income from a sale?  Would these big, old, a-listed buildings with massive overhead costs really tempt the market to come in with a tasty offer to take them from Church hands?  Perhaps they could be bought and torn down to make way for new, lucrative housing schemes.  But wouldn't this be a defeat for the Church and a defeat for God?  Surely part of our work here on earth is to ensure a suitable home for Jesus in the Blessed Sacrament?  Surely we are duty bound to create and maintain a place where God's people can come to Him and give him glory and praise in the company of others of like mind?  Wouldn't signing off the death warrant of these buildings be an offence against God?
And what about the art treasures holed up in the Vatican museums?  Couldn't those be sold off for billions of pounds and the money given to the poor?  Well, yes, these treasures could be sold off and the money given to the poor.  But once sold and in the hands of a new owner they would be gone for good and would no longer serve as an attraction to bring millions of visitors to the Vatican.  This would affect the number of visitors to the Vatican which in turn would affect the amount of money generated to feed the poor and care for the needy.
But if the Church did decide to sell off its assets and use the money to feed the poor, the big question we must ask ourselves is how long that feeding could be sustained.   The truth is, not very long.  More privileged societies plough millions, possibly billions, of pounds into charitable organisations every month in order to help the needy around the world. If the Catholic Church decided to sell its assets in order to look after the needy it would only be able to do so for a very short amount of time, probably just a few months, before the cash realised would dry up. Not only that but the Church itself would disappear because it could no longer pay its bills.  The end of the Catholic Church would create an enormous black hole in worldwide charitable giving and healthcare provision, the likes of which we have never witnessed.  At the end of the day, the results of a flash sale in Vatican assets would create a quick fix for a few, but it would also create a lifetime of poverty and destitution for many.
The Church - if it is to sustain its significantly high level of charitable giving and healthcare provision - must retain its valuable assets in order to continue to generate the income necessary to tend to the poor, needy and sick.  The consequences of failing to retain these assets simply doesn't bear thinking about.
Another point many people make is Jesus' attitude to the Church's wealth.  But again these points are made without seeing the bigger picture of the Church as an organisation with bills like anyone else.  More crucially, it fails to recognise the Church's status as the biggest provider of food to the starving in the world.  It fails to recognise the Church's status when it comes to the provision of healthcare.  And perhaps most crucially, it fails to recognise Christ's own personal attitude to how God should be glorified. 
Consider the occasion when Jesus ate at the house of a Pharisee and Mary of Bethany approached him with an alabaster jar of costly fragrant oil, proceeding to pour the oil over him. The house was in uproar because of Mary's supposed wastefulness.  People even suggested that she should have kept the oil and sold it, giving the proceeds to the poor.  Jesus' response to this?  He said that Mary had done a good deed.  Indeed he went even further than this saying: "The poor you will always have with you. But you will not always have me."  Jesus did not believe Mary had done the wrong thing by not using the oil in order to help the poor.  His need was greater and he was grateful of this simple act of great love towards him.  And so we must consider this when we look at the Church and how it glorifies God.  A beautiful Church is not a contradiction to the Church's mission to care for the poor.  Indeed it is quite the opposite.  It is a gesture of our love for God and a real, tangible example of our need to glorify Him, just as Mary's simple gesture of love was a real and tangible act of glorifying God.    
Consider also when Jesus entered the temple to find the money changers doing their dealings in his Father's house.  Wasn't he extremely angry with them?  Didn't he make whips out of some cord and chase them out?  But why did Jesus do this?  He did it because they were profaning the house of God.  The actual dealings of those in the temple weren't the cause of Jesus' anger.  It was the fact that they were taking place in God's house.  And so Jesus places huge importance on church buildings and our need to have them to glorify God.  
But what about when the man who has kept all the Commandments approaches Jesus and asks him what he must do to inherit eternal life?  Jesus tells him to sell all he has and give to the poor.  Doesn't this contradict what we have already discovered?  No it doesn't and here is why.  This man was very rich and his reaction to Christ's call was telling.  He went away sorrowful because of what he was  expected to do.  There was no obvious willingness on the part of the man to do as Jesus says. He was a man who did not give anything to the poor and, despite Jesus' best efforts, he wasn't about to start. This is different to the Church which already gives billions to the poor every year.  Not only that but it spends time with the poor through missionary work and putting at risk the lives of those priests, religious and volunteers who do such work.  Charitable work isn't just about throwing money at something, it's about giving up the comfortable life and spending a little time with those in most need.  The man described above is not only unwilling to give any of his wealth away but he is also unwilling to devote any time to the poor.   This is the complete opposite of what the Church does.
Ultimately, if the Church wishes to maintain its status as the bride of Christ it must ensure that it is a fitting bride.  It must be beautiful and glorious, but it must also be in the trenches tending to those in most need.  As Catholic people we believe in Christ's promise that he will be with the Church until the end of time, and it is with this promise in mind that we can be confident that the Church has struck the perfect balance of being the perfect bride and of being the beacon of hope to the billions of people in our world who suffer from poverty, deprivation and illness.
Remember, God is love and the Church is the physical, earthly presence charged with the task of bringing that love to all people.  And what is love?  Latin for love is caritas, which means 'charity'.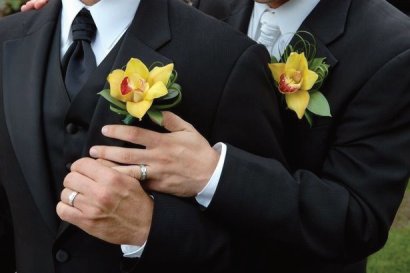 New Equality and Human Rights Commission guidance on how same-sex marriage should be taught in schools appears to offer protection to those who believe that marriage should only be between one man and one woman.
The guidance makes the following important points:
No school, or individual teacher, is under a duty to support, promote or endorse marriage of same sex couples.
Teachers and other school staff, parents and pupils are all free to hold personal opinions on the marriage of same sex couples, including a view that marriage should only be between a man and a woman. The Scottish Government considers the belief that marriage can only be between a man and a woman is a belief worthy of respect in a democratic society.
Individuals are free to express positive or negative views about the marriage of same sex couples.
This guidance must be viewed as something positive for those people who believe only in natural marriage; that is marriage between one man and one woman.  We as Catholics are among those people and this document sets a fairly positive tone for our Catholic schools and the freedom of our educators and pupils to express concern about other forms of marriage. 
The most important thing for our schools on the subject of marriage is that they promote marriage between one man and one woman and that this is put forward as the only form of marriage revealed by God and instituted by Christ as a Sacrament.  And while schools will still need to refer to the availability of same-sex marriage as provided under the new legislation, the ability of educators to promote the Church's view at the expense of other forms of marriage not accepted by the Church is not hindered.
That said, the Church continues to be a welcoming place for all people and accepts that many people have same-sex attraction.  And while detractors may suggest that the Church is not a welcoming place for all because it believes sexual relations between people of the same sex to be sinful, we must remember that sexual relations outside of marriage between heterosexual couples is similarly sinful as are acts of sexual self-gratification.  The Church teaches that there are two essential elements to marriage; the unitive aspect which is the complete giving of one to the other, and the procreative aspect of being open to the possibility of new life.  
Remember, the Church is a hospital for sinners not a club for saints.  A fundamental role of the Church is to bring people to Christ through the process of reconciliation, and this is a gift open to all.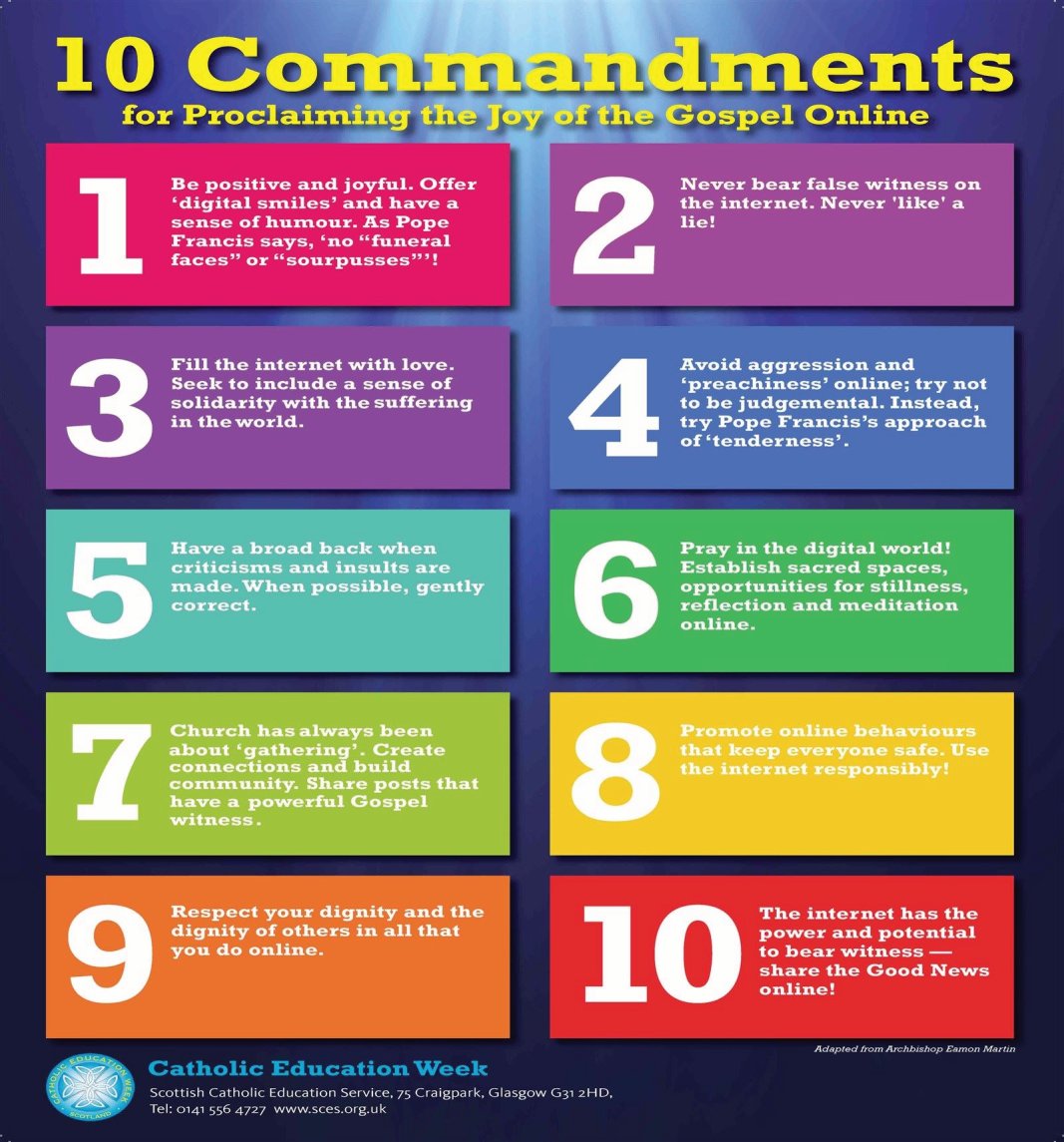 The Scottish Catholic Education Service (SCES) has produced a new poster detailing the "10 Commandments for Proclaiming theJoy of the Gospel on-line".  In what appears to be a spin-off from Pope Francis encyclical letter, Evangelii Gaudium (the Joy of the Gospel),SCES is encouraging young people to behave responsibly, and in a manner befitting of their Catholic faith, whilst they use the internet and social media. The poster will be officially launched during Catholic Education Week in February.
The SCES website states: 'To encourage responsible and respectful use of the Internet for "Proclaiming the Joy of the Gospel", the Scottish Catholic Education Service (SCES) has produced a poster to illustrate the "10 Commandments for Proclaiming the Joy of the Gospel on-line". It is hoped that these will encourage both young people and adults to use the opportunity provided by social media to tell the 'Good News' of Christ.''
The commandments, produced by Martin McMahon of Taylor High School in Motherwell, are as follows:
1.      Be positive and joyful.  Offer 'digital smiles' and have a sense of humour.  As Pope Francis says, no funeral faces or sourpusses.
2.      Never bear false witness on the internet. Never 'like' a lie.
3.      Fill the internet with love.  Seek to include a sense of solidarity with others in the world.
4.      Avoid aggression and 'preachiness' online.  Try not to be judgmental.  Instead try Pope Francis's approach of tenderness.
5.      Have a broad back when criticisms and insults are made.  When possible, gently correct.
6.      Pray in the digital world!  Establish sacred spaces, opportunities for stillness, reflection and meditation online.
7.      The Church has always been about gathering.  Create connections and build community.  Share posts that have a powerful Gospel witness.
8.      Promote online behaviours that keep everyone safe.  Use the internet responsibly.
9.      Respect your dignity and the dignity of others in all that you do online.
10.  The internet has the power and the potential to bear witness – share the Good News online.
While the Ten Commandments given to us by God can never be replaced nor replicated, these commandments for appropriate online behaviour should definitely be encouraged among our young people.  And while SCES should be applauded for their efforts to promote these online commandments, it will ultimately be down to parents and families of young people to make sure that these commandments are followed. 
Perhaps it would be useful for us to all consider having a copy of these commandments alongside the Ten Commandments of God somewhere in our home to remind our children, and indeed ourselves, of how we should behave on the internet and social media as well as how we should make best use of it.
The Scottish Catholic Observer has today published an article on an up and coming seminar on the subject of education and organisers are looking for parents of schoolchildren to complete a survey to ensure parents' views have an impact.
Catholic education is of vital importance to our children and the wider community and parents are urged to take a few moments to complete the survey, drafted by the Scottish Parent Teacher Council, before the seminar on 14th June at the Xavier Centre, Carfin. 
There are also places available at the seminar and anyone wishing to attend should contact Julie McGinness at
[email protected]
or call 0141 556 4727.
There are currently two secular initiatives being presented to the Scottish Parliament around the role of religion in education.  One is to do with the representation by religious on education committees within local authorities, the other is to do with whether parents should be entitled to opt their children 'in' to religious observance at their school as opposed to the existing system of opt 'out'. 
As more of these initiatives start to surface there is a growing disquiet among people of an undercurrent that is continually trying to chip away at the existence of faith schools in our country.  Catholic schools are particularly at risk in Scotland, a country where, in certain quarters, lack of tolerence towards Catholic education has been prevalent for many years.
The following text from Michael McGrath, (Director of the Scottish Catholic Education Service) which appeared in the Scottish Catholic Observer in November 2013 is an important reminder of the value of religion within our schools. 
Please spare a couple of minutes to read Mr McGrath's text and let us support and promote our schools.  We are the only country in the world where faith schools are derided rather than praised for the great work they do and the significant contribution they make to society.
My dear brothers and sisters in Christ
I have decided that, from now on in the Archdiocese of Glasgow, the Confirmation of baptised children will take place around age 11 when children are in P7, their final year of Primary School.
This decision was motivated principally by pastoral concerns. It seemed sensible to prolong the period of sacramental initiation of baptized children to make the best of the efforts of Catholic teachers and parish catechists. I felt too that Confirmation will mean more to children who are a little older. And I imagine that most people would agree that it will be spiritually more satisfying to celebrate Confirmation at Mass when the newly-confirmed children can receive our Lord in Holy Communion.
It is also very helpful that the new RE Syllabus for our Catholic schools, This is Our Faith, fully allows for children to receive the Sacrament of Confirmation at P7, P6 and P4, with age-appropriate learning. In fact, the material on Confirmation for P7 in This is Our Faith is of a very high order. Our P7 Children and their teachers will thus be able to access the appropriate material within the very syllabus which is currently being used in our schools.
So, I would envisage that the Mass of Confirmation will be celebrated each year in P7 in the time from Easter until around the Feast of the Sacred Heart (usually mid-June). Since the bishop is the ordinary minister of Confirmation (and since I love doing Confirmations!), I will celebrate as many of these Confirmation Masses as I can. Since at the moment we have 90+ parishes, I certainly will not be able to do them all, and Parish Priests will obviously be delegated to celebrate Masses of Confirmation, as they are now for the Rite of Confirmation.
So the next general period for the Confirmation of baptized children in the Archdiocese of Glasgow will be in the final term of school year 2016-17, which gives us 3-4 years to prepare for this small change to our sacramental practice for baptised children, and we should be able to put all the practical arrangements in place in that time.
The timings of First Confession at P3 and of First Holy Communion at P4 remain unchanged.
Having heard the Council of Priests on this matter, and having consulted many people, priests, parents and teachers, I am hopeful that this new arrangement for Confirmation, which I have seen in practice, will enhance our efforts to transmit the faith to our children and young people, and to evangelize families, parishes and school communities.
Yours devotedly in the Lord,
†Philip Tartaglia
Archbishop of Glasgow
/