Shopping Cart
Your Cart is Empty
There was an error with PayPal
Click here to try again
Thank you for your business!
You should be receiving an order confirmation from Paypal shortly.
Exit Shopping Cart
Calling Scotland's 841,000 Catholics to unite as one voice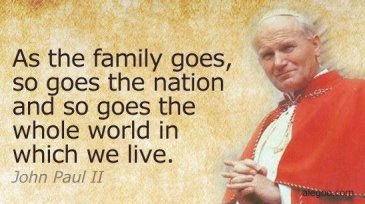 The prophetic words of John Paul II
It's a real wake up call. Jesus is losing his influence in Europe. Christianity is dying out.
We've known for some time now that Christianity is on the decline in Europe, but recent data released by the
Pew Research Center
reveals just how stark that decline is.
Indeed, it is the only decline in any religion in any part of the world between 2010 and 2015. But for Christianity's decline in Europe, every religion across all continents witnessed an increase in numbers, including Christianity itself, which is growing rapidly in Sub-Saharan Africa and Latin America. Islam is also growing rapidly in Sub-Saharan Africa as well as Asia Pacific.
But it is in Europe where the real story lies. An astonishing drop of 5.6 million Christian births to deaths has seen the religion plummet across the continent. There are many reasons for this, not least a much greater prevalence of lukewarm Christianity and an increasingly secular culture.
Across the world Islam will continue to grow in greater numbers than Christianity, with a fertility rate of 2.9 compared to 2.6 for Christians. Islam also has the youngest median age in terms of adherents to the faith, at just 24. Hindus are at 27 with Christians at 30.
We have known for some time that Islam would eventually catch up with Christianity in terms of numbers, and within twenty years births to women of Islamic faith will outnumber Christian births. But it is in Europe where there must be deep concern for Christians. Why is the faith struggling so much in that continent?
For European Christians there is undoubtedly a crisis when it comes to the family. Europe's secular influence, with its liberal laws around contraception, abortion and marriage, has chipped away at the hearts and minds of the faithful, giving them an excuse to focus on the self and to set aside the call of Christ to first and foremost love God and neighbour. Families now come in all different shapes and sizes; their constitution often based on the ideological whim of selfish individuals. The idea that a young man and a young woman can look lovingly into one another's eyes, establish a firm and beautiful friendship that leads to the great sacrament of marriage and the bearing of fruit through the birth of new life is dumbed down by the culture of want. And we have all bought into it. It is a sad reflection on our lack of faith.
As Pope John Paul II said, "As the family goes, so goes the nation and so goes the whole world in which we live."
We Christians have let down the family, and Europe is the nation Pope John Paul refers to. It is going and if we don't reclaim it the world will eventually go with it.

Europe, to coin a famous song, is most definitely losing its religion and losing Christ. If it is to recover, radical change in attitude is required. Starting with the family.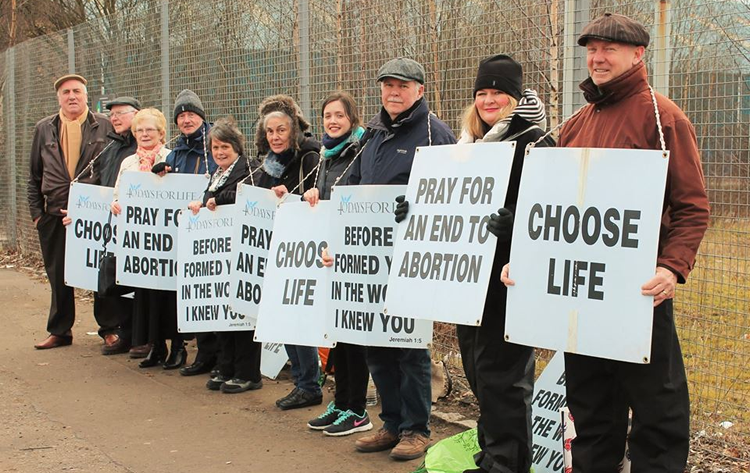 During the season of Lent, a number of people will gather outside four hospitals in Scotland in quiet, prayerful vigil to stand up for the inherent dignity and value of human life. The 40 Days for Life vigils will be held outside the grounds of the Queen Elizabeth University Hospital in Glasgow, the Royal Infirmaries in Edinburgh and Aberdeen, and Ninewells in Dundee. It is peaceful, it is calm, and there is certainly no aggression or scare tactics adopted, despite what the mainstream media try to portray.
For those who claim that the 40 Days for Life event is anything but peaceful and prayerful, I urge them to attend the event and to see for themselves precisely the manner in which this so called 'protest' is undertaken by those involved. There is no desire to harass anyone, and there is certainly no desire to be abusive. It is better to witness first hand the reality of the situation, rather than buy the lies of those who would prefer that this vigil was something that it clearly isn't.
There will, of course, be times when someone has recently undergone an abortion or suffered a miscarriage and, in coming across the vigil, they experience distress and upset. I don't think anyone attending the event would feel anything but sympathy and compassion for those in such a situation. The pro-life movement would not be in keeping with its belief that all human life is precious if it did not feel for those who suffer and did not offer them support and consolation. The question is then whether or not, given these instances of distress, the vigil is appropriate. We can put forward a number of arguments for and against, and this will tend to be guided by which side of the abortion debate we sit on. But the reality is this…science is almost entirely settled on the fact that a distinct new human being with their own DNA comes into existence from the moment of conception. This human being is alive and is growing. The baby's brain, spinal cord, heart and other organs begin to form a mere 2/3 weeks following conception. This is why people participate in the 40 Days for Life vigils. They genuinely do not think that it is acceptable for the state to allow for the untimely death of an innocent, defenceless human being at its most vulnerable stage in life.
These vigils are peaceful and the only desire of participants is to see that all human life is given a chance. A chance to be someone: to see their very first sun rise; to feel the first snowflake on their hand; to experience the nervous excitement of that first day in school; to get behind the wheel of their first car; to find the love of their life; to perhaps even have children of their own. They may even be lucky enough to grow old and enjoy the perfect smiles of their grandchildren at Christmas time. This is life and this is what we seek to protect.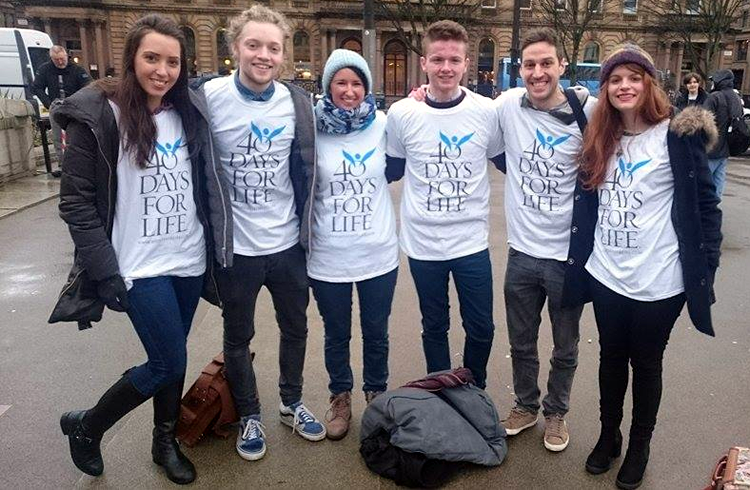 Because the state supports the killing of unwanted children in the womb, 8.7 million human beings in the UK never got the chance to experience these simple, yet poignant moments in life. No matter how much we try to deny or distance ourselves from that reality, we can never hide from the truth that abortion extinguishes the life of a beautiful, precious little human being who simply wants to be loved.
The 40 Days for Life is a worldwide movement and it will take place at the four Scottish hospitals throughout Lent from 1 March until 9 April. There will also be official opening and closing events, including one in George Square, Glasgow on 25 February. Click
here
for full details.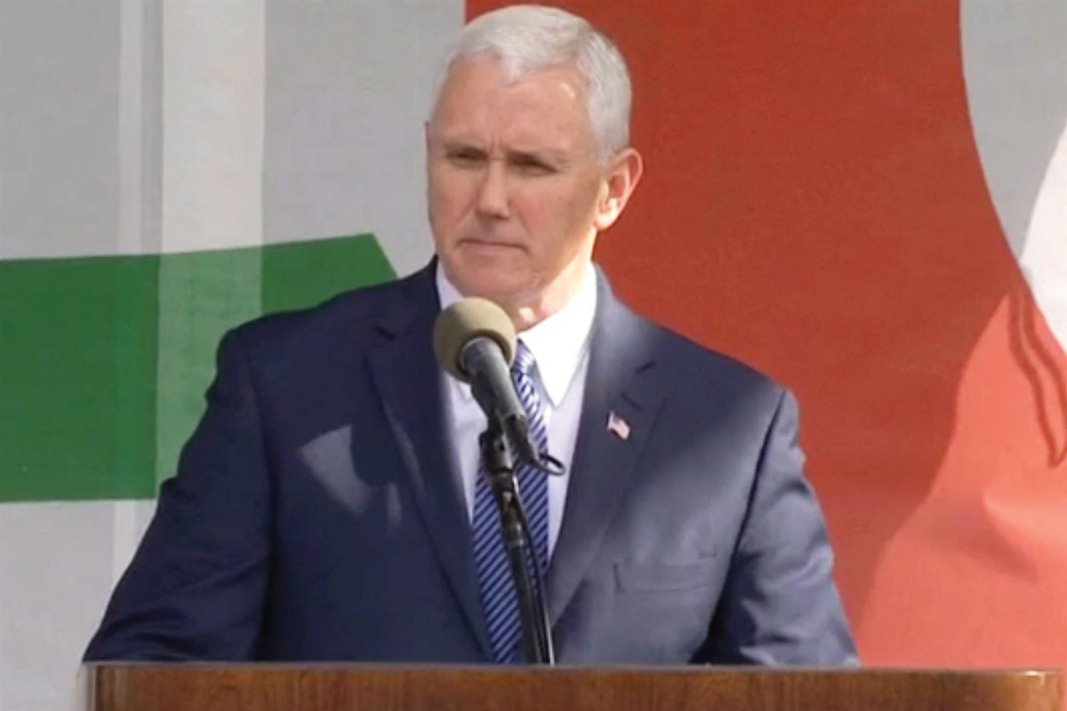 Mike Pence at March for Life
Today Vice President Mike Pence spoke to hundreds of thousands of pro-life advocates gathered for the annual March for Life on the National Mall. He is the first Vice President to address the March in person. Counselor to the President Kellyanne Conway also spoke at today's March.
Vice President Pence's remarks reflected his deep roots in the pro-life movement and the Trump-Pence Administration's commitments to the right to life cause:
"Today, because of all of you and the many thousands who stand with us in marches like this all across the nation, life is winning again in America. That is evident in the election of pro-life majorities in the Congress of the United States of America. But it is no more evident in any way than in the historic election of a president who stands for a stronger America, a more prosperous America, and a president who I proudly say stands for the right to life, President Donald Trump. "President Trump actually asked me to be here with you today. He asked me to thank you for your support – to thank you for your stand for life and for your compassion for the women and children of America.

…

"At 1600 Pennsylvania Avenue we are in the promise-keeping business. That's why on Monday President Trump reinstated the Mexico City Policy to prevent foreign aid from funding organizations that promote abortion worldwide. That's why this administration will work with the Congress to end taxpayer funding of abortion and abortion providers, and we will devote those resources to health care services for women across America. And that's why next week, President Donald Trump will announce a Supreme Court nominee who will uphold the God-given liberties enshrined in our Constitution.

…

"I have long believed a society can be judged by how we care for our most vulnerable: the aged, the infirm, the disabled and the unborn.

…

"Life is winning through the steady advance of science that illuminates when life begins more and more every day. Life is winning through the generosity of millions of adopted families who open their hearts and homes to children in need. Life is winning through the compassion of caregivers and volunteers at crisis pregnancy centers and faith-based organization who minister to women in the cities and towns across this country. And life is winning through the quiet councils between mothers and daughters, grandmothers and granddaughters, between friends across kitchen tables and over coffee at college campuses. The truth is being told. Compassion is overcoming convenience and hope is defeating despair. In a word: life is winning in America because of all of you."



Kellyanne Conway said:
"It is such an honor to stand with the Vice President of the United States and with so many leaders, families, and students from places near and far to defend the unborn. Your courage, your conviction, your resolve and your faith are impressive and consequential. . . . It is no coincidence that the first right stated in the Declaration of Independence is the right to life. It is not a privilege. It is not a choice. It is God-given. . . . This is a new day, a new dawn for life. . . . To the March for Life 2017, allow me to make it very clear: we hear you, we see you, we respect you, and we look forward to working with you. And, yes, we walk, we march, we run, and we endeavor forward with you."



Susan B. Anthony List President Marjorie Dannenfelser, onsite at the March for Life, offered the following comment in response:
"Today's pro-life march is a very clear and unified call to protect unborn children and mothers. It comes from a diverse group: conservative, liberal, young, old, believers, non-believers. It grew organically over decades out of frustration with the Roe v Wade and Doe v Bolton mandate of abortion on-demand, up until birth. The March for Life is not a singular burst of energy. It is a consistent and persistent insistence that our government live up to our nation's promises to the vulnerable and those who live in the shadows.




"We are so proud of our friends and longtime allies Vice President Pence and presidential adviser Kellyanne Conway. Being pro-life and speaking out for the voiceless is part of their core beings. Their leadership in the White House is an outward sign of the strength of the pro-life movement. It is why pro-life grassroots nationwide worked so hard to elect this administration. Together, we are in position to make great gains, but only if we see the mission through. President Trump has made four

commitments

 to the pro-life movement but all require the continued involvement of activists across the country, calling on their representatives and Senators, to make it happen. The mandate laid out at the election must continually be repeated."




(from Susan B Anthony List)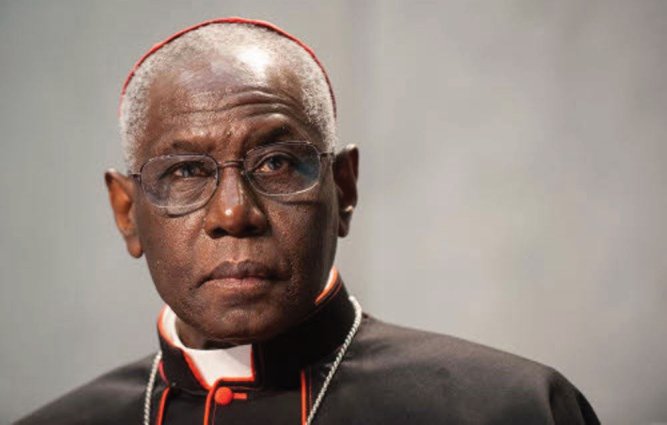 This talk by Cardinal Robert Sarah took place earlier this year at the National Prayer Breakfast in Washington DC.
It is essential reading for anyone trying to make sense of the ongoing assault on and subsequent destruction of the family in our so called 'progressive' world.  Cardinal Sarah also considers what we, as Christians, can do to respond.
Here is the text of Cardinal Sarah's address:
Thank you for inviting me to this remarkable gathering, in the company of such a distinguished audience.
As you well know, what happens in the United States has repercussions everywhere. The entire globe looks to you, waiting and praying, to see what America resolves on the pressing challenges the world faces today. Such is your influence and responsibility.
I do not say this lightly, because we find ourselves in such portentous times.
1. The Situation of the World and the Mission of the Church
Rapid social and economic development in the past half century has not been accompanied by an equally fervent spiritual progress, as we witness what Pope Francis calls "globalized indifference."
It is the result of giving in to the delusion that we are self-sufficient, that man is his own measure in a pervasive individualism. It is manifested in the fear of suffering in our societies, our closing our eyes and hearts to the poor and vulnerable, and, in a very despicable way, in how we discard the unborn and the elderly.
When he prophetically announced the Second Vatican Council in the Apostolic Constitution Humanae Salutis,Saint John XXIII remarked that the human community was in "turmoil" as it sought to establish a new world order where humanity relies entirely on technical and scientific solutions instead of God.
Today we are witnessing the next stage – and the consummation – of the efforts to build a utopian paradise on earth without God. It is the stage of denying sin and the fall altogether. But the death of God results in the burial of good, beauty, love and truth. Good becomes evil, beauty is ugly, love becomes the satisfaction of sexual primal instincts, and truths are all relative. 
So all manner of immorality is not only accepted and tolerated today in advanced societies, but even promoted as a social good. The result is hostility to Christians, and, increasingly, religious persecution.
Nowhere is this clearer than in the threat that societies are visiting on the family through a demonic "gender ideology," a deadly impulse that is being experienced in a world increasingly cut off from God through ideological colonialism.
Saint Pope John XXIII observed in 1962:
"Tasks of immense gravity and amplitude await the Church, as in the most tragic periods of her history. The Church must now inject the vivifying and perennial energies of the gospel into the veins of the human community."
This remains the challenge that the Church is facing presently, more even than in 1962, and it is our task today. This is what I spoke of in my book 
God or Nothing
:
"Today the Church must fight against prevailing trends, with courage and hope, and not be afraid to raise her voice to denounce the hypocrites, the manipulators, and the false prophets. For two thousand years, the Church has faced many contrary winds but at the end of the most difficult journey, the victory was always won."
2. The Family
"The future of the world and the Church passes through the family." These prophetic words of Saint John Paul II show how the Church, in our time, must, above all, defend and promote the beauty of the Christian family in fidelity to God's design. In his post-synodal Exhortation on the Family, Amoris Lætitia ("The Joy of Love"), Pope Francis states clearly: "In no way must the Church desist from proposing the full ideal of marriage, God's plan in all its grandeur … proposing less than what Jesus offers to the human being." 
This is why the Holy Father openly and vigorously defends Church teaching on contraception, abortion, homosexuality, reproductive technologies, the education of children and much more. In my first five years as Archbishop of Conakry (Guinea, Africa), I made it my task to dedicate all of my pastoral letters to the family. Perhaps only the beauty of the family can reawaken the longing for God in the innermost recesses of the conscience of our brothers and sisters, and heal the wounds inflicted on our humanity by sin.
Saint John Paul, the Pope of the new evangelization, describes in Familiaris Consortio how the family is the first place where the Gospel is welcomed and is also the first herald of the Gospel. How true this is!
The generous and responsible love of spouses, made visible through the self-giving of parents, who welcome and nurture children as a gift of God, makes love visible in our generation. It makes present the perfect charity of the Trinity. "If you see charity, you see the Trinity," wrote Saint Augustine.
From the beginning of creation, God, who is a communion of persons – Father, Son and Holy Spirit, three different Persons, yet one – has built a Trinitarian structure into our very nature. In the continent of my origin, Africa, we declare: "Man is nothing without woman, woman is nothing without man, and the two are nothing without a third element, which is the child." The Triune God dwells within each of us and imbues our whole being: God's own image and likeness.
Every human being, like the persons of the Trinity, has the capacity to be united with other persons in communion through the vinculum caritatis – the bond of charity – of the Holy Spirit. The family is a natural preparation and anticipation of the communion that is possible when we are united with God. The family, as it were, is a natural praeparatio evangelica – written into our nature.
This is why the devil is so intent on destroying the family. If the family is destroyed, we lose our God-given, anthropological foundations and so find it more difficult to welcome the saving Good News of Jesus Christ: self-giving, fruitful love.
St. John Paul explained: if it is true that the family is the place where more than anywhere else human beings can flourish and truly be themselves, it is also a place where human beings can be humanly and spiritually wounded.
The rupture of the foundational relationships of someone's life – through separation, divorce or distorted impositions of the family, such as cohabitation and same sex unions – is a deep wound that closes the heart to self-giving love unto death, and even leads to cynicism and despair.
These situations cause damage to little children through inflicting upon them a deep existential doubt about love. They are a scandal – a stumbling block – that prevents the most vulnerable from believing in such love, and a crushing burden that can prevent them from opening to the healing power of the Gospel.
Advanced societies, including – I regret – this nation have done and continue to do everything possible to legalize such situations. But this can never be a truthful solution. It is like putting bandages on an infected wound. It will continue to poison the body until antibiotics are taken.
Sadly, the advent of artificial reproductive technologies, surrogacy, so-called homosexual "marriage", and other evils of gender ideology, will inflict even more wounds in the midst of the generations we live with.
This is why it is so important to fight to protect the family, the first cell of the life of the Church and every society. This is not about abstract ideas. It is not an ideological war between competing ideas. This is about defending ourselves, children and future generations from a demonic ideology that says children do not need mothers and fathers. It denies human nature and wants to cut off entire generations from God.
3. Religious Freedom
I encourage you to truly make use of the freedom willed by your founding fathers, lest you lose it. In so many other countries, on almost a daily basis, we hear of merciless beheadings, futile bombings of churches, torching of orphanages and ruthless expulsions of entire families from homes that religious minorities suffer worldwide simply because of their beliefs. Even in this yet young twenty-first century of barely 16 years, one million people have been martyred around the world because of their belief in Jesus Christ.
Yet the violence against Christians is not just physical, it is also political, ideological and cultural. This form of religious persecution is equally damaging, yet more hidden. It does not destroy physically but spiritually; it demolishes the teaching of Jesus and His Church and, hence, the foundations of faith by leading souls astray. By this violence, political leaders, lobby groups and mass media seek to neutralize and depersonalize the conscience of Christians so as to dissolve them in a fluid society without religion and without God.  This is the will of the Evil One: to close Heaven … out of envy.
Do we not see signs of this insidious war in this great nation of the United States? In the name of "tolerance," the Church's teachings on marriage, sexuality and the human person are dismantled. The legalization of same sex marriage, the obligation to accept contraception within health care programs, and even "bathroom bills" that allow men to use the women's restrooms and locker rooms. Should not a biological man use the men's restroom? How simpler can that concept be?
How low we are sinking for a nation built on a set of moral claims about God, the human person, the meaning of life, and the purpose of society, given by America's first settlers and founders! God is named in your founding documents as "Creator" and "Supreme Judge" over individuals and government. The human person endowed with God-given and therefore inalienable rights to "life, liberty, and the pursuit of happiness." George Washington wrote that "the establishment of Civil and Religious Liberty was the motive that induced me to the field of battle."
Today, we find ourselves before the battle of a sickness that has pervaded our world. I repeat: the battle of a sickness. That is what we face. I call this sickness "the liquidation, the eclipse of God." Pope Francis describes the causes of this "sickness."
I quote: "Religious liberty is not only that of thought or private worship. It is freedom to live according to ethical principles consequent upon the truth found, be it privately or publicly. This is a great challenge in the globalized world, where weak thought – which is like a sickness – also lowers the general ethical level, and in the name of a false concept of tolerance ends up by persecuting those who defend the truth about man and the ethical consequences."
What are the remedies to this sickness? What should we do to protect the family, religious freedom, and marriage – as revealed to us by God?
Concluding Remarks
Before such a distinguished gathering, I offer three humble suggestions.
1.       First: Be prophetic. The Book of Proverbs tells us: "Where there is no vision, discernment, the people perish" (29, 18). Discern carefully – in your lives, your homes, your workplaces – how, in your nation, God is being eroded, eclipsed, liquidated. Blessed Paul VI saw that in 1968 when, for the Church, he so courageously wrote Humanae Vitae. What are the threats to Christian identity and the family today? ISIS, the growing influence of China, the colonization of ideologies such as gender? How do we react? 
2.       Be faithful. This is my second suggestion. Specifically for you, as men and women called to influence even the political sphere you have a mission of bringing Divine Revelation to bear in the lives of your fellow citizens. Uphold the wise principles of your founding fathers. Do not be afraid to proclaim the truth with love, especially about marriage according to God's plan, just as courageously as Saint John the Baptist, who risked his life to proclaim the truth. The battle to preserve the roots of mankind is perhaps the greatest challenge that our world has faced since its origins. In the words of Saint Catherine of Siena: "Proclaim the truth and do not be silent through fear."
3.       Third: Pray. Sometimes, in front of happenings in the world, our nation or even the Church, the results of our prayer might tempt us to become discouraged. Like Sisyphus in the Greek myth: condemned to roll a large boulder uphill, only to see it roll down again as soon as he had reached the top. Pope Benedict XVI in Deus Caritas Est  encourages us : "People who pray are not wasting their time, even though the situation appears desperate and seems to call for action alone."
Whether in doctrine or morality or everyday decisions, the heart of prayer is to discern God's will. This can only happen in prolonged moments of silence where, like Elijah before the horrendous threats of Queen Jezebel, we allow the "gentle breeze" of God to enlighten us and confirm us along our journey to do God's will. Such was the virginal silence of the Blessed Mother. At a marriage, the wedding feast of Cana, when for a new family "they have no wine," Mary our Mother trusted in the grace given by Jesus to bestow the joy of love overflowing – Amoris Lætitia. She pronounced her very last words, "Do whatever He tells you" (John 2: 1-12).Then she remained silent.
Be prophetic. Be faithful. Pray. That is why I came to this prayer breakfast. To encourage you. Be prophetic. Be faithful. And, above all, pray. These three suggestions make present that the battle for the soul of America, and the soul of the world, is primarily spiritual. They show that the battle is fought firstly with our own conversion to God's will every day.
And so I wholly welcome this initiative, and join you in prayer that this great country may experience a new great "spiritual awakening", and help stem the tide of evil that is spreading in the world. I am confident that your efforts will no doubt contribute to protecting human life, strengthening the family, and safeguarding religious freedom not only here in these United States, but everywhere in the world.
For in the end: it is "God or nothing."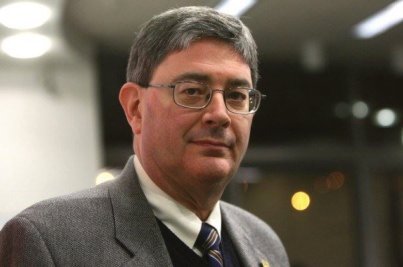 George Weigel, the Distinguished Senior Fellow of the Ethics and Public Policy Center, has claimed that democracy is likely to become brittle, crack and fail unless society consists of "men and women committed to the dignity of the human person as the first principle of just governance and dedicated to the pursuit of the common good." 
Weigel, in response to the assertion that those who believe that truths about the human person and human community are essential to democracy are actually on an authoritarian mission, says: "it is the radical moral relativists for whom there is no "truth," but only expressions of personal preference and will, who are busily enforcing their judgments on society in the name of "tolerance"."
At 7pm on Tuesday October 4th, George Weigel is speaking at St Mary's Metropolitan Cathedral in Edinburgh on the topic of "Converting the Culture: The New Evangelisation and the Future of the West". 
Read the full article in The Scotsman here: http://www.scotsman.com/news/opinion/is-faith-the-missing-ingredient-that-can-make-western-democracy-work-1-4240413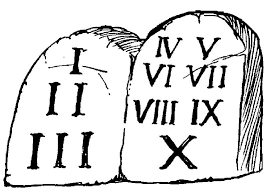 The Ten Commandments were written on two tablets of stone
Sunday's Gospel (Luke 10:25-37):
'There was a lawyer who, to disconcert Jesus, stood up and said to him, 'Master, what must I do to inherit eternal life?' He said to him, 'What is written in the Law? What do you read there?' He replied, 'You must love the Lord your God with all your heart, with all your soul, with all your strength, and with all your mind, and your neighbour as yourself.' 'You have answered right,' said Jesus 'do this and life is yours.'
But the man was anxious to justify himself and said to Jesus, 'And who is my neighbour?' Jesus replied, 'A man was once on his way down from Jerusalem to Jericho and fell into the hands of brigands; they took all he had, beat him and then made off, leaving him half dead. Now a priest happened to be travelling down the same road, but when he saw the man, he passed by on the other side. In the same way a Levite who came to the place saw him, and passed by on the other side. But a Samaritan traveller who came upon him was moved with compassion when he saw him. He went up and bandaged his wounds, pouring oil and wine on them. He then lifted him on to his own mount, carried him to the inn and looked after him. Next day, he took out two denarii and handed them to the innkeeper. "Look after him," he said "and on my way back I will make good any extra expense you have." Which of these three, do you think, proved himself a neighbour to the man who fell into the brigands' hands?' 'The one who took pity on him' he replied. Jesus said to him, 'Go, and do the same yourself.''
Eternal life in Heaven is where we all want to be.  And even for those who do not believe, the idea of living in comfortable and joyful surroundings forever is a fantastic thought! 
But how do we get there?  Well, Jesus gives us two very straightforward commands.  He tells us that we must love God with everything we've got and we must also love our neighbour.  Looks simple on paper doesn't it?  And in a way it is.  It is, however, important to avoid oversimplifying these commandments in order to suit our own busy lifestyles and agendas.  For example, we can't simply state that we love God and we love all other people and never follow this up with words and actions to support our claim.  If we are going to follow Jesus' commands we need to act upon them, and act with conviction; a conviction that tells the world: 'this guy really does love God and he really does love other people!'
Jesus' commandments are a perfect summing up of the Ten Commandments (or Decalogue) given to Moses by God.  They are not a watering down of the Ten Commandments and they are certainly not an attempt to abolish and replace the Ten Commandments.  What Jesus does is present to us the Ten Commandments in a new way in order to aid our understanding of them.  He invites us to rediscover the beauty and truth of God's perfect law.  It is worth remembering that the first three Commandments concern love of God and the other seven concern love of neighbour, hence Christ's summing up of them by referring to love of God and love of neighbour.  This is also why God presented the Commandments to Moses using two tablets of stone rather than one; so as to distinguish between the call to love God and the call to love our neighbour.
In order to obtain eternal life our words and actions must be in keeping with the Ten Commandments.  We must respect God's clear instructions and, in a spirit of humility and love, encourage others to do the same.
The Ten Commandments:
I am the LORD your God:
you shall not have
strange Gods before me.
You shall not take
the name of the LORD your God in vain.
Remember to keep holy the LORD'S Day.
Honour your father and your mother.
You shall not kill.
You shall not commit adultery.
You shall not steal.
You shall not bear false witness
against your neighbour.
You shall not covet
your neighbour's wife.
You shall not covet
your neighbour's goods.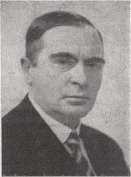 If only there were more Dr Halliday Sutherlands today.  Perhaps he would have the courage to stand up for the rights of those who are under threat from the increasing prevalence of assisted suicide in our world.  Perhaps he would have the courage to stand up for the rights of the preborn child under threat of death by abortion.
Dr Halliday Sutherland, born in Glasgow in 1882, was a man who stood up for the people society felt unworthy of life.  He lived in a time when the middle and upper classes of Britain fought for the legal right to sterilise the poor and the seemingly unworthy.  The rich felt more and more threatened by the higher birth rate among the poorer classes compared to their deteriorating birth rate.  They also felt threatened by the seeming prevalence of tuberculosis among the poor.  There was even talk of using a lethal chamber at one stage.
According to
this article
, Sutherland was "appalled by the popularity of eugenics among Britain's middle and upper classes" and set about fighting for the rights of the vulnerable.  He argued with the Professor of Eugenics at London University who claimed that tuberculosis was primarily caused by heredity and argued that the disease be cured by breeding out those considered to be at risk (the poor).  In a speech made in 1917, Sutherland called Britain's eugenists "race breeders with the souls of cattle breeders" and argued that "in preventing disease you are not preserving the weak but conserving the strong." 
Sutherland also decried the actions of a eugenist who, in 1921, began dispensing 'pro-race' contraceptives to women in poorer parts of London.  Sutherland described this as a social "experiment" that would lead to a "servile state".  He also argued that 'if ordinary Britons were legally prevented from having children, they would have no societal role other than to work.'
Marie Stopes was also criticised by Sutherland after she revealed her eugenic vision for society in 1921.  She revealed details of her "ardent dream" of "human stock represented only by well-formed, desired and well-endowed beautiful men and women."  The dangers of this frightening and callous point of view are obvious.
Halliday Sutherland would be appalled at the direction of travel of western society today.  Not only have we cow-towed to the contraceptive mentality, completely ignoring any notion of the true meaning of our sexuality, but we now routinely kill our own preborn children through abortion and threaten the vulnerable with a premature death by way of assisted suicide.
We need more Halliday Sutherlands in our world today.  We need more people to stand up for the poor, the marginalised, and the vulnerable.  Dr Sutherland was a Catholic and it is important that we as a Church follow his example and be absolutely clear on the wrongs of abortion and assisted suicide.  Not only that, but we must also resist the assumption that contraception is a simple and harmless solution that allows people to have sexual relations without the 'threat' of new life.  As a Catholic people we value life from the very moment it starts right up until its natural conclusion on death.  Contraception interrupts the natural process by killing off new life.  It also encourages people to use others as objects of desire, their sole purpose being to satisfy their own selfish cravings devoid of the threat of responsibility for a new life.   
We have lost the true meaning of the sexual encounter and we have lost the meaning of the value of life.  Our world needs to hear that there is an alternative to the throwaway culture of death; an alternative that values all life and that gives the sexual act the respect it truly deserves.  Dr Halliday Sutherland would be willing to speak up for these values.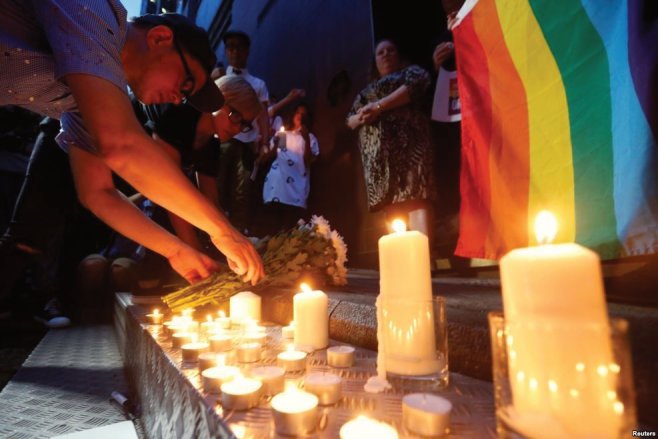 People gather to mourn the dead

The tragic events in Orlando provide yet another glaring example of man's inhumanity to man.  Very few of us can even begin to imagine what was going through the minds of the hundreds of young partygoers in Pulse nightclub as the horrid truth about what was unfolding became clear.  It wasn't a case of exuberant pyrotechnics or sophisticated indoor fireworks.  It was the crackling of gunfire and the flash of bullets as one hate-filled individual felt compelled to walk into the club and shoot dead 49 innocent people and injure many others.
Islamic State militants have claimed that Omar Mateen acted on their instruction.  Whether he did or not is perhaps not important because, at the end of the day, both Islamic State and Omar Mateen are callous murderers, with no consideration for their fellow man and woman, and little thought to the pain and hurt that their actions cause.
The cries of parents, siblings, and friends have rung out from the devastated city of Orlando ever since Mateen decided to walk into the Pulse nightclub early on Sunday morning and shoot unashamedly at his unsuspecting victims.  The world has joined them in mourning their precious loved ones who have been taken so suddenly and without warning.  Little did they know that when they waved the young revellers off on Saturday night, it would be the last time they would see them alive.  It is truly horrific.
At this time of great uncertainty with no little hate flowing through our world it is important that we Christians stand firm with all people of goodwill to continue to promote peace.  There is no life that isn't precious in God's eye.  This is our fundamental belief and we must fight hard to promote the sanctity of human life, be it the unborn child, the frail old woman, or the young lad enjoying quality time with his friends in a nightclub.  All life is precious and worthy of protection.
We pray for the peaceful repose of the souls of the dead, and we pray for their families that they will find some comfort in knowing that their loved ones are at the mercy of a loving Father. 
We also pray for those who are inclined to such violence, that their hearts be changed to see the inherent value of all people, even if some of them do not conform to their own beliefs.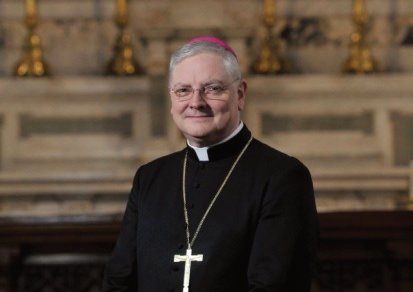 Archbishop of St Andrews and Edinburgh Leo Cushley celebrates the 125 anniversary of Pope Leo XIII's landmark encyclical 'Rerum Novarum'
Archbishop Leo Cushley has marked the 125 anniversary of the papal encyclical Rerum Novarum by re-proposing its social teaching for the common good of Scottish society.  The encyclical by Pope Leo XIII is arguably the Church's most important when it comes to social justice and the Archbishop can clearly see positives in once again bringing it to the forefront of our minds.
Writing in today's Scotsman Archbishop Cushley said: "At the foundation of Pope Leo's vision is an unshakeable belief in the intrinsic value of every man, woman and child.  The degree to which it threatened or enhanced the life and dignity of the human person", he says, "is the measure of any political, moral or economic order".  It is clear, therefore, that the encyclical has at its very core the belief that human life must be at the centre of all decisions made by authority.  It is about standing shoulder to shoulder with the most vulnerable in society, including the poor, the sick, the elderly, and the unborn.
Pope Leo, who rejected unbridled capitalism as well as state socialism, argued that neither central government nor larger society should substitute itself for the initiative and responsibility of individuals and intermediary bodies within civil society.  Archbishop Cushley cited the example of Fife, which has gone from having 82 councils in 1930 to just one today, to illustrate the renewed appetite to revisit the issue of local empowerment.
The Archbishop also referred to the importance of the family in society.  He said: "The twofold purpose of this [the family] micro-community is traditionally defined as the good of the spouses and the procreation and education of children.  For this reason, nearly all societies – not just those informed by Christianity – have founded family life upon marriage.  Even now, the best sociological evidence tends to suggest that children generally do best in life when they grow up with a mum and a dad who are married to each other.  The married family, if you like, is the first, best and cheapest department of health, welfare and education."  He then quoted Pope John Paul II as he tried to encapsulate the effect of the erosion of a marriage-based culture: "As the family goes, so goes the nation, and so goes the whole world in which we live."
However, the Archbishop also referred to Pope Francis' call to appreciate those people for whom the ideal family is not possible, saying that these people "achieve remarkable things in the most difficult of circumstances".  He then reiterated Pope Francis' call to sympathise with and support those in difficult circumstances.
In a world fraught with significant challenges to the family as we know it, the Archbishop's consideration of one of the great social encyclicals is timely.  As he said: "The Church does not seek to impose its social teaching upon Scottish society.  We can only propose it as our vision to anybody seeking new paths towards the common good."
Archbishop Cushley has proposed what he feels is the fundamental consideration for the common good of society and offered it to the people of Scotland.  It is now up to us lay Catholics to do the same.
/