Shopping Cart
Your Cart is Empty
There was an error with PayPal
Click here to try again
Thank you for your business!
You should be receiving an order confirmation from Paypal shortly.
Exit Shopping Cart
Calling Scotland's 841,000 Catholics to unite as one voice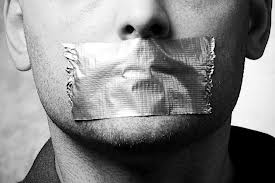 From Sunday's Gospel:

"But before all this happens, men will seize you and persecute you; they will hand you over to the synagogues and to imprisonment, and bring you before kings and governors because of my name – and that will be your opportunity to bear witness. Keep this carefully in mind: you are not to prepare your defence, because I myself shall give you an eloquence and a wisdom that none of your opponents will be able to resist or contradict. You will be betrayed even by parents and brothers, relations and friends; and some of you will be put to death. You will be hated by all men on account of my name, but not a hair of your head will be lost. Your endurance will win you your lives"
Jesus warns us time and again through the gospels that we will be persecuted for believing in him.  We are perhaps tempted to brush over this, given the relative comfort and freedom we enjoy as Catholics in the Western world of the 21 Century.  And indeed it is unlikely that any of us will be martyred for the faith, imprisoned or seized and brought before governors and kings.  So can we happily skip these passages of scriptures, confident that they are not relevant to us, needed perhaps for another time and place, but not now?  I would suggest that we would do this at our peril.  Christians remain the most persecuted people in the world today. But even in our apparently "tolerant" society, Christian beliefs are scoffed at and looked upon scornfully. 
It is worth meditating upon in prayer: in what ways does your Christian faith disadvantage you in the world?  Do colleagues laugh or look at you askance when you mention you went to Mass at the weekend?  Do family members dismiss some of your views, as they are based on faith and therefore are somehow less important?  Do disbelieving friends aggressively try to engage you in debate to point out the flaws in your theology?  Do people stare if you say grace in a restaurant before meals? To help us to consider this further, it is perhaps worth pondering the times when we fail to stand up for Jesus for fear of ridicule.  Do we stay quiet when others discuss 'hot topics' like abortion or same-sex marriage?  Do we bite our tongue when we overhear someone taking the Lord's name in vain?  Do we agree with the relativist position "that's true for you but not for me" when challenged? 
These might seem like small points, compared to the crown of martyrdom.  But these are the persecutions of our time, put in our path to lead us to holiness.  These are the "opportunities" talked about in today's gospel passage.  We must "keep this carefully in mind" and pray about these things, asking Jesus to give us the grace to be bold and confident in his love and help.  And we must look on any ridicule or challenge as a blessing, ever keeping our eye on the prize of eternal life.  In staying true in these small persecutions, our souls will be prepared, with God's grace, for martyrdom, should we ever be called to that.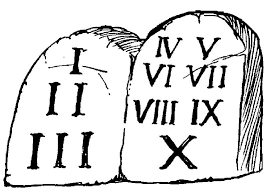 The Ten Commandments were written on two tablets of stone
Sunday's Gospel (Luke 10:25-37):
'There was a lawyer who, to disconcert Jesus, stood up and said to him, 'Master, what must I do to inherit eternal life?' He said to him, 'What is written in the Law? What do you read there?' He replied, 'You must love the Lord your God with all your heart, with all your soul, with all your strength, and with all your mind, and your neighbour as yourself.' 'You have answered right,' said Jesus 'do this and life is yours.'
But the man was anxious to justify himself and said to Jesus, 'And who is my neighbour?' Jesus replied, 'A man was once on his way down from Jerusalem to Jericho and fell into the hands of brigands; they took all he had, beat him and then made off, leaving him half dead. Now a priest happened to be travelling down the same road, but when he saw the man, he passed by on the other side. In the same way a Levite who came to the place saw him, and passed by on the other side. But a Samaritan traveller who came upon him was moved with compassion when he saw him. He went up and bandaged his wounds, pouring oil and wine on them. He then lifted him on to his own mount, carried him to the inn and looked after him. Next day, he took out two denarii and handed them to the innkeeper. "Look after him," he said "and on my way back I will make good any extra expense you have." Which of these three, do you think, proved himself a neighbour to the man who fell into the brigands' hands?' 'The one who took pity on him' he replied. Jesus said to him, 'Go, and do the same yourself.''
Eternal life in Heaven is where we all want to be.  And even for those who do not believe, the idea of living in comfortable and joyful surroundings forever is a fantastic thought! 
But how do we get there?  Well, Jesus gives us two very straightforward commands.  He tells us that we must love God with everything we've got and we must also love our neighbour.  Looks simple on paper doesn't it?  And in a way it is.  It is, however, important to avoid oversimplifying these commandments in order to suit our own busy lifestyles and agendas.  For example, we can't simply state that we love God and we love all other people and never follow this up with words and actions to support our claim.  If we are going to follow Jesus' commands we need to act upon them, and act with conviction; a conviction that tells the world: 'this guy really does love God and he really does love other people!'
Jesus' commandments are a perfect summing up of the Ten Commandments (or Decalogue) given to Moses by God.  They are not a watering down of the Ten Commandments and they are certainly not an attempt to abolish and replace the Ten Commandments.  What Jesus does is present to us the Ten Commandments in a new way in order to aid our understanding of them.  He invites us to rediscover the beauty and truth of God's perfect law.  It is worth remembering that the first three Commandments concern love of God and the other seven concern love of neighbour, hence Christ's summing up of them by referring to love of God and love of neighbour.  This is also why God presented the Commandments to Moses using two tablets of stone rather than one; so as to distinguish between the call to love God and the call to love our neighbour.
In order to obtain eternal life our words and actions must be in keeping with the Ten Commandments.  We must respect God's clear instructions and, in a spirit of humility and love, encourage others to do the same.
The Ten Commandments:
I am the LORD your God:
you shall not have
strange Gods before me.
You shall not take
the name of the LORD your God in vain.
Remember to keep holy the LORD'S Day.
Honour your father and your mother.
You shall not kill.
You shall not commit adultery.
You shall not steal.
You shall not bear false witness
against your neighbour.
You shall not covet
your neighbour's wife.
You shall not covet
your neighbour's goods.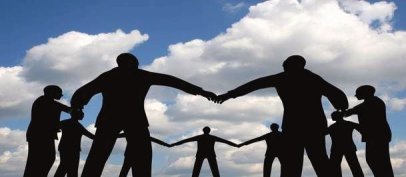 Sunday's Second Reading (Galatians 3:26-29):
'You are, all of you, sons of God through faith in Christ Jesus. All baptised in Christ, you have all clothed yourselves in Christ, and there are no more distinctions between Jew and Greek, slave and free, male and female, but all of you are one in Christ Jesus. Merely by belonging to Christ you are the posterity of Abraham, the heirs he was promised.'
This Sunday's second reading reveals a teaching that is fundamental to the Christian life, that of unity.  Jesus Christ unites.  He doesn't desire to separate or divide.  Rather, his intention is to bring all people together in his name so that he can one day bring them to share in the glory of the Kingdom of God.
Do we unify people?  Do we seek to be at one with others as we go about our daily lives?  Or do we create divisions through pride, selfishness and cynicism? 
Christ's love demands unity, not division.  If we love as Christ loves, we will unite.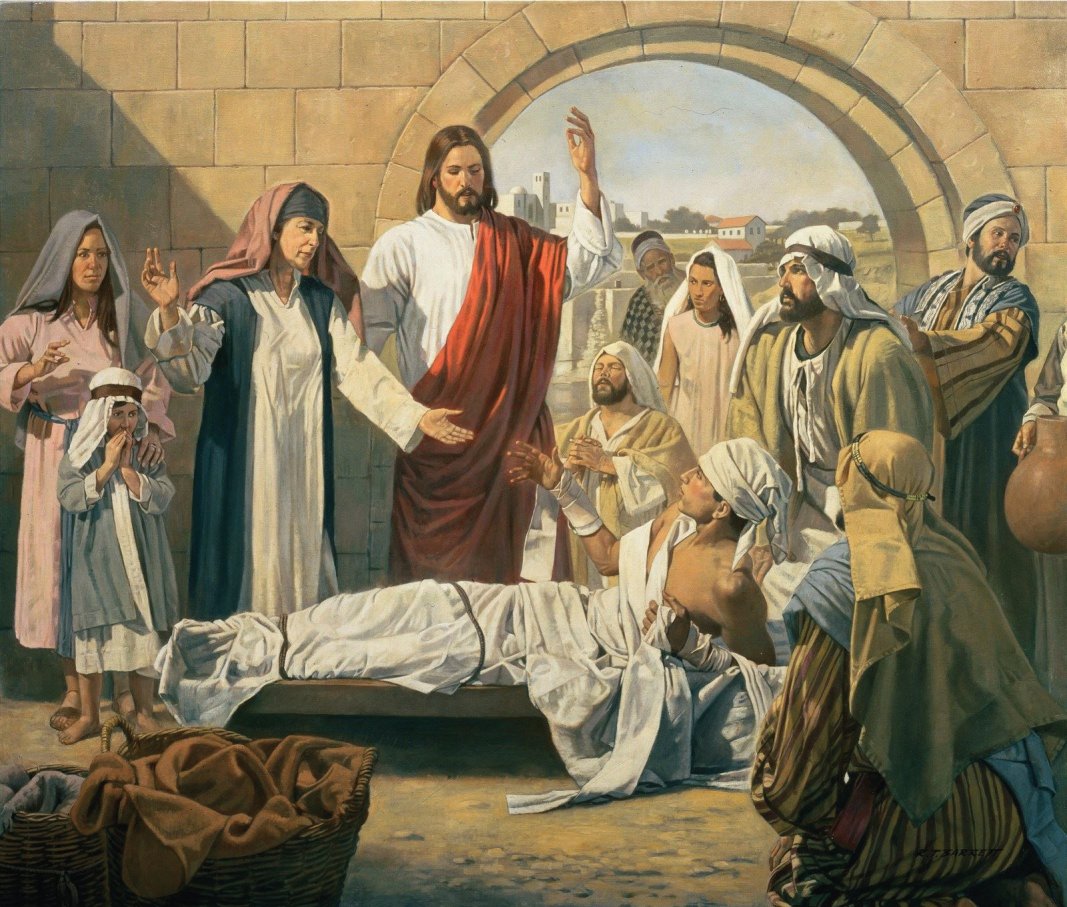 Sunday's Gospel (Luke 7:1-17):
'Jesus went to a town called Nain, accompanied by his disciples and a great number of people. When he was near the gate of the town it happened that a dead man was being carried out for burial, the only son of his mother, and she was a widow. And a considerable number of the townspeople were with her. When the Lord saw her he felt sorry for her. 'Do not cry' he said. Then he went up and put his hand on the bier and the bearers stood still, and he said, 'Young man, I tell you to get up.' And the dead man sat up and began to talk, and Jesus gave him to his mother. Everyone was filled with awe and praised God saying, 'A great prophet has appeared among us; God has visited his people.' And this opinion of him spread throughout Judaea and all over the countryside.'
The miracle performed by Jesus in this Gospel passage is one of great hope.  The woman, a widow, had lost her only son.  Can you imagine the grief and sorrow that this woman must have been experiencing?  Can you imagine how alone she must have felt watching her only family being carried away for burial?  She must have felt that nothing could take away the extreme pain that was now drilling through her heart.  Yet moments later she would witness the resurrection of her son from the dead.  Just when all had seemed to be lost, along came Jesus. 
We must never lose hope when death comes knocking at our door.  Whilst it is perfectly natural for us to grieve and to feel sorrow when a loved one dies, we must always have confidence in the one who makes all things new.  Jesus' death on the Cross was not a pointless exercise.  It was necessary so that our sins could be wiped away and we could have eternal life. 
When your loved one dies, remember that Jesus is there.  He has come down from the Cross and is standing ready at the gates of Paradise, waiting to put his hand on your loved one, waiting to bring them back to life.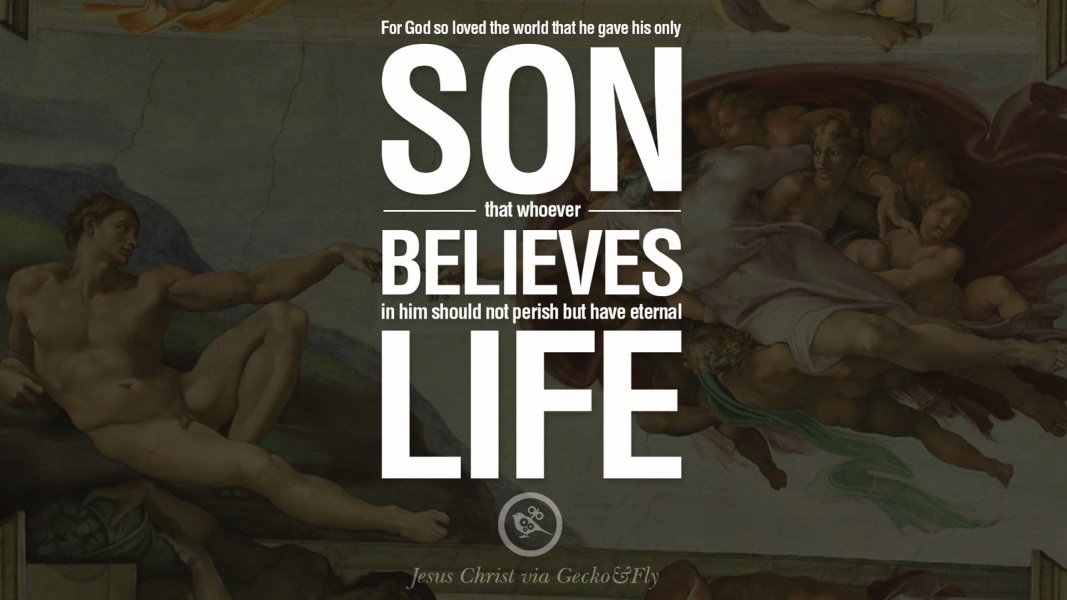 'You will shine in the world like bright stars
because you are offering it the word of life.' (Ph2:15-16)
Today's Gospel acclamation is a beautiful summary of our mission as Christians.  At a time when Christianity - despite being on the rise worldwide - is gradually being eroded across the western world, this little piece of scripture is a timely reminder of our call to evangelise. 
By evangelising and spreading the Gospel, as instructed to by Christ himself, we aren't simply passing on a simple historical message in order to preserve it and keep it going for as long as possible.  By evangelising and spreading the Gospel we are offering people life.  The Word of God is life itself and if we allow it to penetrate our lives and the lives of those around us the world will have life.  And it won't be a temporary life that is over all too quickly.  Rather, it is an eternal life.  And this eternal life is not something that is reserved for the select few.  It is for everybody, and God wants every single human being to share in this great gift. 
So why doesn't God just guarantee everybody eternal life from the get go?  In a way He has, but He still expects something in return.  He wants us to use our free will to turn to Him and to accept His gift.  This is something that should be very natural for those of us raised as Christians.  But what about those who are not so fortunate?  How will they ever come to know about this gift?  This, brothers and sisters, is why Jesus selected disciples and established a Church.  His Church is charged with guarding the message of eternal life, and it is charged with sharing that message with everyone, taking it to all four corners of the earth.  And what is the Church?  It is me, and it is you. 
Brothers and sisters, let us live out our mission as disciples for Christ; taking the Gospel to all people. Let us leave no stone unturned and no person untouched by the beauty and goodness of God's most incredible gift….the gift of eternal life.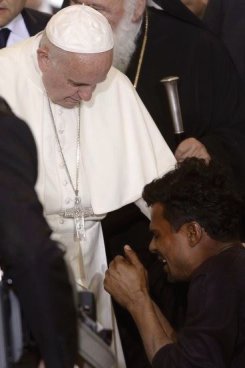 Pope Francis, during his weekly general audience, has slated those who turn their backs on the poor, suggesting that their ignorance means that they despise God.
The pope stressed that in the poor "we find Jesus himself: whatever you did to the least brothers of mine, you did to me".
The message is clear: we are called to wake up to the plight of the poor and to make sure we never ignore them.  I recall one of Pope Francis' early comments on the poor.  He said that we must get close to them as Jesus did, and touch their wounds.  Touch their wounds!  It sounds strange that we would put ourselves in a position to touch the cuts or sores, or even the diseased body of a stranger.  We may wince at the idea of shaking the hand of a homeless person, knowing full well that those hands could be carrying all sorts of germs that could make us ill.  But that is what we are called to do!  We are called to get close, because by getting close to the poor and the needy we are getting close to Jesus.  And we all know that Jesus will not cause us any harm or give us anything we cannot deal with by his grace.
It is also worth remembering that when Pope Francis refers to the poor he is not just talking about the homeless or the financially impoverished.  He is also talking about the poor in spirit; those who have perhaps lost their way in faith or who fail to recognise the Goodness of God.  We are also called to accompany these people, as well as those who suffer a more typical form of poverty.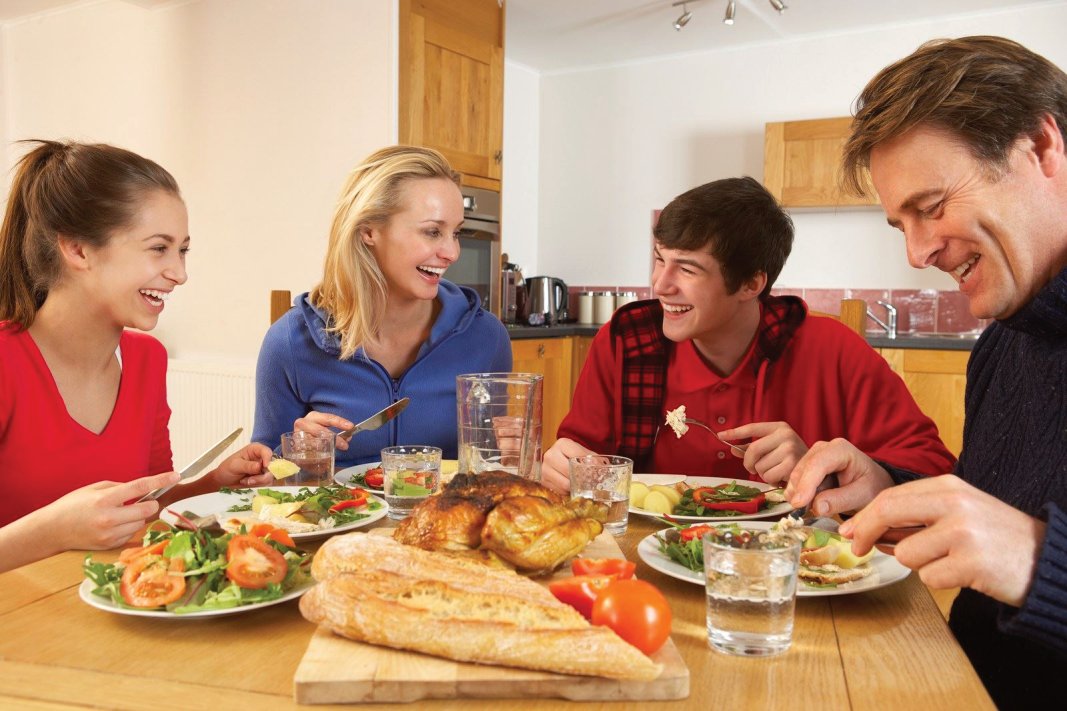 1. Eat
We Catholics like to celebrate with food!  This is why it is important to eat together as a family and to enjoy the delicious food gifted to us by God and prepared by the hands of our mother or father.  Mealtimes should be a time of great celebration and we should make an extra special effort to celebrate Sundays and Catholic feast days.  You may even want to consider celebrating important dates such as your anniversary, showing your children that your marriage is something that is important to you and that you delight in remembering that special day.  Why not bake a cake together for the occasion?
And remember, no mobile phones or tablets at the dinner table!  Encourage an environment free of technology, where everyone takes a turn to talk about the highs and lows of their day.  Let the dinner table be a forum for openness and honesty among all the family; a sacrosanct place where the family basks in the joys and rallies in the sorrows of each family member.
2. Pray 
Prayer can take many forms and prayer within the family unit is no different.  It is important that people pray as a family as best they can.  Praying the Rosary as a family is a beautiful way to express our faith and this is something that should be encouraged in every Catholic home.  You may want to make it more interesting for younger children by introducing images or pictures to go with the mysteries.  And if one of the kids kicks off, stop for a break, but remember to try and pick it up again another time.  And start small, especially with younger kids.  A few short prayers or a decade of the Rosary will likely suffice to begin with.
It's also very important to pray as a family before and after meals.  There are a number of simple prayers suitable for this but even a simple 'thank you Jesus' will do! 
And remember, it is important that children see their parents pray, so be prepared to set an example to your kids and make sure you take them to Holy Mass every Sunday and on Holy Days of Obligation.  Be an example to them by regular attendance at the Sacrament of Reconciliation, and consider becoming more active in the life of your Parish.  Children will respond positively to your active participation in the life of the Church and will see how important it is to you.
Be willing to talk about your faith and don't be embarrassed if one of the kids asks you something you don't know.  This is a great opportunity to learn as a family!  Learning can be a form of prayer too! So don't be afraid to pick up the Bible or the Catechism or to even search Google for an answer.  Let your children see just how interested you are to learn too. 
And above all, let them see just how much you love Jesus by your prayer!  
3. Be Merry
As Catholic people immersed in the love of Jesus Christ and with the sure and certain hope of eternal life, shouldn't we be immensely happy??  Our family life should be full of fun and games.  We should be unafraid to dance and to waste time with our children.  Just because God is at the very centre of our lives doesn't mean life has to be one big serious drag.  The fact that God is at the centre of our lives is the very reason we should be deliriously happy from the moment we wake in the morning until our head hits the pillow again the following night.  If those of us who are members of the Church established by Jesus Christ and who regularly gather in his presence at Holy Mass cannot be happy, then there is no hope for any of us!  No hope!  So let us rejoice, let us be happy.  Let's show our children that being Catholic is great fun!  And remember, don't complain or gossip about people and don't be too quick to criticise others.  Such an attitude creates a negative environment for children and leads to increased cynicism and scepticism; something they themselves will only be too happy to take on board!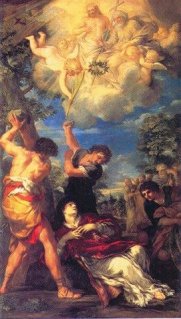 Sunday's First Reading (Acts 7: 55-60)
'Stephen, filled with the Holy Spirit, gazed into heaven and saw the glory of God, and Jesus standing at God's right hand. 'I can see heaven thrown open' he said 'and the Son of Man standing at the right hand of God.' At this all the members of the council shouted out and stopped their ears with their hands; then they all rushed at him, sent him out of the city and stoned him. The witnesses put down their clothes at the feet of a young man called Saul. As they were stoning him, Stephen said in invocation, 'Lord Jesus, receive my spirit.' Then he knelt down and said aloud, 'Lord, do not hold this sin against them'; and with these words he fell asleep.'
While sitting at my desk at work earlier this week a conversation about religion was struck up among my colleagues.  Religious chat is generally taboo these days and where it does exist it tends to take the form of an attack on whatever religion happens to be in the spotlight.  This time it was the Catholic faith; my faith.  I was asked to explain the Catholic Church's belief in the Eucharist.  No easy task in a very secular environment I can assure you.  But I tried my best to explain it in terms acceptable to the ears of my audience.
My colleagues listened to what I had to say and once I had finished a stony silence followed.  This was followed soon thereafter by a change of subject, diverting away from the ridiculous notion that a piece of bread and a cup of wine could be turned into the body and blood of a two thousand year old Jew.  The truth is, my colleagues probably felt not only confused but also a little uncomfortable by all the body and blood chat.  And I can assure you that I most certainly felt uncomfortable with having to explain it to a cynical crowd. 
Yet our discomfort at explaining our faith can never match the discomfort that must have been experienced by the Christian martyrs.  In today's first reading St Stephen shows incredible courage as he stands before a cynical crowd and tells them that he has seen 'heaven thrown open' and that he has also seen 'the Son of Man sitting at the right hand of God'.  Despite knowing that such words would likely lead to his death he was still not afraid to speak them.  And he even echoed the words of Christ on the Cross when he begged God to forgive those who were killing him.  Like any human being in that situation he would have been absolutely terrified, but he never once denied his faith in order to save his earthly life.
It's not easy to talk about our faith to others.  We can feel embarrassed, afraid, and even silly.  But thankfully the UK is not like the world St Stephen lived in.  It is a place where, despite some arguments to the contrary, people are generally free to talk openly about their faith.  We must not be afraid to use this freedom, but to do it sensibly and proportionately.  Our world needs a message of love, mercy and peace; a message that was so profoundly illustrated in the words and actions of St Stephen just before his death.  We can give the world hope with our message; a message that comes in the shape of one man….Jesus Christ.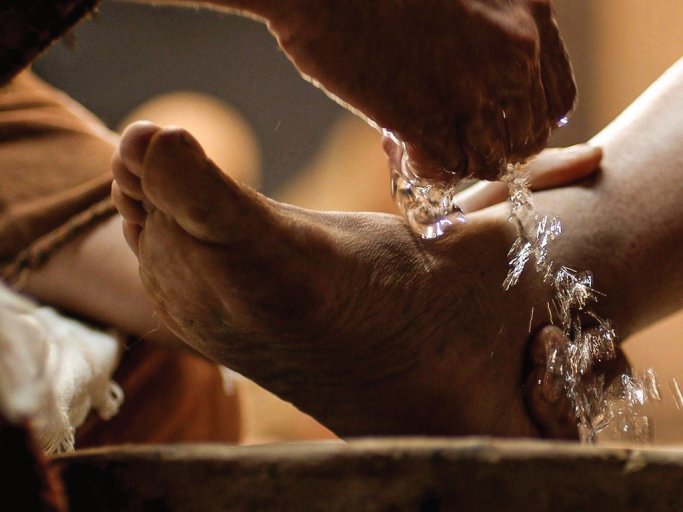 In today's Gospel we hear about the washing of the apostles' feet by Jesus.  Peter was very resistant to this as it seemed completely absurd to have Jesus do such a thing.  This was, after all, God made man, the Saviour of the world!  It should surely be the other way round would have been Peter's thinking.
Yet Jesus makes it clear that this is something he must do.  Firstly, he makes it clear that "unless I wash you, you will have no inheritance with me."  This is a clear link to our Baptism and its fundamental importance in our salvation.  It is also a link to the Sacrament of Reconciliation, where we are once again clothed in the white robe of our Baptism and brought to new life.  Our inheritance, it seems, is dependent on living in accordance with Christ's teaching, and this is achieved through our acceptance of and living in the Sacraments of his Church.
Christ's washing of the apostles' feet is also a sign that he is here to serve rather than be served.  It is also considered by many to be an important sign of the priesthood and its role in taking the love of God to all people.  And this is what I would like to focus on for a moment.  Despite being in the knowledge of the intolerable pain and suffering he was about to endure, Christ took time out to perform this simple but critical act of love.  And that is what we need to take from this special moment between Jesus and his apostles.  It was an act of selfless love; a visible sign of how man should treat man.  Jesus wanted to show this love to his apostles so that they would then do the same to others.
This Holy Week, are you prepared to wash the feet of those closest to you?  While we may participate in the washing of the feet during the Mass of the Lord's Supper we must also remember that our homes and families are small churches too.  So after tonight's Mass when you get home, consider washing the feet of your family and perhaps take turns doing so.  And while this is something that can be initiated by any member of the family, perhaps those of you who are fathers can take the lead.  Men are called to follow in the footsteps of Jesus and tend to their own flock in the same way that Jesus did.  And what better way to do this than to replicate Christ's actions and wash the feet of those closest to you?  While simple, this act of love carries with it an incredible power, the power of Christ who makes all things new.  And for those of you with children in your household, it will create a real sense of intrigue among them and they will no doubt want to learn more.  It's a great opportunity to explain to them, in simple terms and by action, just how much Jesus loves them and how much you love them too.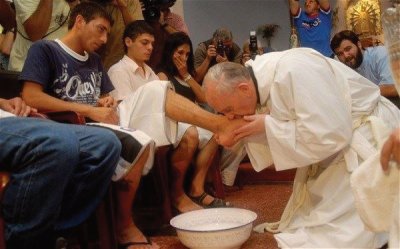 /