Shopping Cart
Your Cart is Empty
There was an error with PayPal
Click here to try again
Thank you for your business!
You should be receiving an order confirmation from Paypal shortly.
Exit Shopping Cart
Calling Scotland's 841,000 Catholics to unite as one voice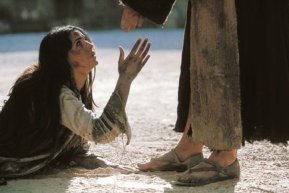 Jesus was compassionate but firm in the Truth
Pope Francis, during his Sunday Angelus, has spoken about the importance of Baptism and the role it plays in our lives.  Having earlier baptised 26 baby girls and boys at morning Mass, the pope was keen to impress upon the gathered faithful the critical nature of this sacrament.
The pope said that in Baptism the Holy Spirit "burns and destroys original sin, returning to baptism the beauty of divine grace."
The pope then stressed the importance of following Jesus and being obedient to the Truth whilst remaining true to Christ's qualities of tenderness and humility.  And here, I think, is the critical issue for us Christians today.  While we must speak the Truth we must do it in a spirit of tenderness and humility.  But similarly, while we must be tender and humble in our approach, we can never stray from the Truth.  It's not a balancing act because that would suggest compromising one or both aspects.  Instead we are called to deliver the Truth in its fullness and to do this in a fully humble and completely tender way.
In my experience people tend to be more inclined to do one more than the other.  For example, some people may reject certain elements of Christ's teaching with the aim of showing more compassion and tenderness to people.  This is because some elements of teaching are difficult to accept, especially set against the backdrop of an increasingly liberal and relativist society.  Others may be more determined to stick rigidly to the Truth but seem to lack that tenderness and humility, especially when they see a threat to Christ's teaching.
Ultimately we need to be firm in both elements.  We need to be firm in our faith, in the same way that Christ was and in the way that God calls us to be.  Jesus' disciples died unimaginable deaths because they were firm in their faith and didn't go along with the popular views of society.  They stuck to their beliefs even though everybody mocked them and thought they were talking nonsense.  They refused to reject the truth of Christ and the Church he established, preferring to invest their lives in being the men Jesus called them to be with the sure and certain hope of an eternal reward.  Similarly, we need to be firm in our tenderness and humility.  Jesus had an uncanny knack of being firm but also loving, gentle and kind.  When he prevented the prostitute from being stoned by the scribes and the Pharisees he was careful to tell her to "go and sin no more".  But he did this while telling her that he didn't condemn her.  He wanted her to stop sinning, to stick to the Truth.  But he also wanted her to know that she was loved and that mercy would be shown to her.
It's important for us to remain true to both aspects when it comes to our faith.  We must be true to Christ and his teaching and we must be tender and humble in remaining faithful to that teaching.  The Truth is what it is and it doesn't change.  It can be found in your copy of the
Catechism of the Catholic Church
.  And the tenderness and humility we need in order to take that Truth to others can be found in the loving person of Jesus Christ.
So, is it possible to be both faithful to the Truth and be tender and humble?  Yes.  Just look to the example of Jesus and in him you will find the perfection of fulfilling both aspects.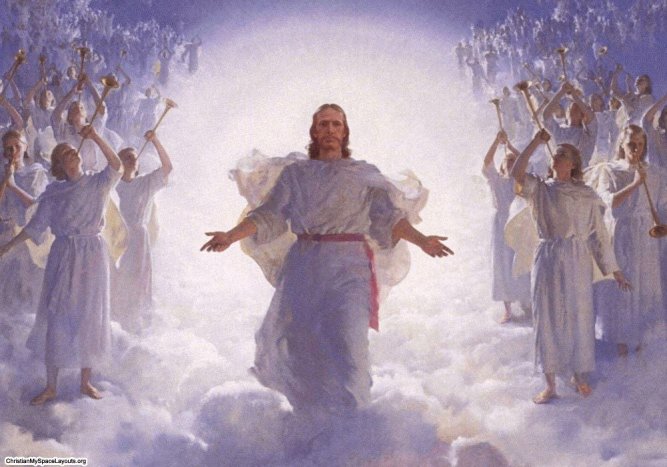 Today's Gospel (Luke 21:20-28):
'Jesus said to his disciples, 'When you see Jerusalem surrounded by armies, you must realise that she will soon be laid desolate. Then those in Judaea must escape to the mountains, those inside the city must leave it, and those in country districts must not take refuge in it. For this is the time of vengeance when all that scripture says must be fulfilled. Alas for those with child, or with babies at the breast, when those days come!
'For great misery will descend on the land and wrath on this people. They will fall by the edge of the sword and be led captive to every pagan country; and Jerusalem will be trampled down by the pagans until the age of the pagans is completely over.
'There will be signs in the sun and moon and stars; on earth nations in agony, bewildered by the clamour of the ocean and its waves; men dying of fear as they await what menaces the world, for the powers of heaven will be shaken. And then they will see the Son of Man coming in a cloud with power and great glory. When these things begin to take place, stand erect, hold your heads high, because your liberation is near at hand.''
Today's Gospel paints a really depressing picture.  The world, it seems, will one day succumb to an ultimate and deadly destruction, something that is hard to equate with a loving and merciful God. 
But our loving and merciful God always has an answer, and that answer is Jesus.  For Christ himself will come on the clouds to save those who trust in him and to set them free. 
We have everything to gain by trusting and believing in Christ and loving as he loves.  We have everything to lose by rejecting him.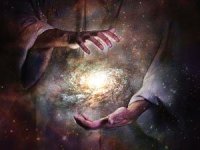 Today's First Reading (Wisdom 13:1-9):
'Naturally stupid are all men who have not known God
and who, from the good things that are seen, have not been able to discover Him-who-is,
or, by studying the works, have failed to recognise the Artificer.
Fire however, or wind, or the swift air,
the sphere of the stars, impetuous water, heaven's lamps,
are what they have held to be the gods who govern the world.
If, charmed by their beauty, they have taken things for gods,
let them know how much the Lord of these excels them,
since the very Author of beauty has created them.
And if they have been impressed by their power and energy,
let them deduce from these how much mightier is he that has formed them,
since through the grandeur and beauty of the creatures
we may, by analogy, contemplate their Author.
Small blame, however, attaches to these men,
for perhaps they only go astray
in their search for God and their eagerness to find him;
living among his works, they strive to comprehend them
and fall victim to appearances, seeing so much beauty.
Even so, they are not to be excused:
if they are capable of acquiring enough knowledge
to be able to investigate the world,
how have they been so slow to find its Master?'
It's easy to take God's Creation for granted, as this reading from the book of Wisdom alludes. Even looking in the mirror in the morning we fail to appreciate that we have been individually carved by God's own hands.  Isn't it an incredible thought?  At some point God has decided to create me!  He has then given me certain graces, qualities, attributes and, of course, foibles. He has then given me a family and has even made plans for my entire life, hoping that I will have the wisdom to use my free will to discern the path He has set out for me.
And what does He want in return?  That I acknowledge Him as being the One who made it all happen and that I love Him for it, desiring to return to Him at the end of my earthly life, and bringing others to know Him and love Him in the same way.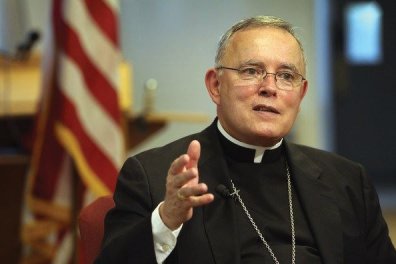 Archbishop Charles J Chaput
Archbishop Charles J Chaput speaking about the Synod on the Family:
"Truth without love is bitter and can drive the wounded away; and love without truth isn't love at all, but a comfortable form of lying.
"There can be no real mercy, since mercy is an expression of love, without first grounding it in the truth about God's will for humanity.  His will includes marriage and the family.  And the source for understanding his truth in God's own Word and the Chuch his Son founded."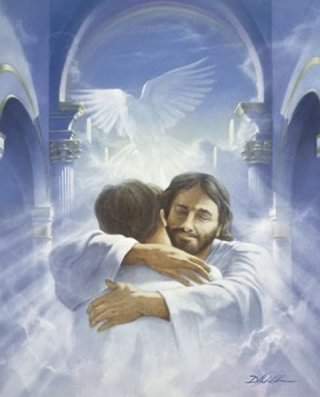 This guy really, really loves you!
Sunday's Second Reading (Hebrews 4:14-16):
'Since in Jesus, the Son of God, we have the supreme high priest who has gone through to the highest heaven, we must never let go of the faith that we have professed. For it is not as if we had a high priest who was incapable of feeling our weaknesses with us; but we have one who has been tempted in every way that we are, though he is without sin.
Let us be confident, then, in approaching the throne of grace, that we shall have mercy from him and find grace when we are in need of help.'
It's hard to admit that we did wrong and to apologise to the person we have wronged.  It's also hard to ask other people for help.  But while this may be the case in our day-to-day dealings with the average joe on the street, this needn't be the case when it comes to Jesus.  St Paul, in this letter to the Hebrews, is urging us to be confident when we approach Christ for forgiveness and help.
You see, we aren't dealing with your run-of-the-mill human being when it comes to Jesus.  We are dealing with a God brimming with infinite mercy and compassion. He is the Creator of all things and He loves you like nobody else does.  There is no hidden agenda, no points to be scored, and no harsh judgements.  He desires and wants to forgive you and help you in every which way possible. He is a God who has experienced the temptations, trials and troubles of every day life just like us, so He knows how difficult life can be. 
He is the ultimate best friend and he will always be there for us when we need him. Can you spare five minutes today to let him show you just how much he loves you and how much you matter to him?  Call out to him and he will respond.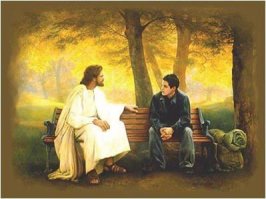 We need to listen to Jesus
From Sunday's Gospel (Mark 10:17-30):
'Jesus was setting out on a journey when a man ran up, knelt before him and put this question to him, 'Good master, what must I do to inherit eternal life?' Jesus said to him, 'Why do you call me good? No one is good but God alone. You know the commandments: You must not kill; You must not commit adultery; You must not steal; You must not bring false witness; You must not defraud; Honour your father and mother.''
It's always difficult to listen to someone telling you what to do and to do so with an open mind and an open heart.  Goodness knows I have struggled with it many times in my life!  But what if that person was Jesus?  Would it change your attitude?  
In this Gospel Jesus reminds us of some of the Commandments as he tries to steer a man towards the Kingdom of Heaven and eternal life.  He speaks with great clarity and no little authority as he tells us not to kill, not to commit adultery, not to steal, not to lie, not to deceive, and to honour our parents.
As the Synod on the Family in Rome closes its first week of meetings and discussions, we are called to remind ourselves of these words of Christ, especially when we think about hot topics like abortion, contraception, marriage and, of course, the family.  While people may surmise the potential for change or reform in the Church, the Church fathers will always turn to the one who knows best….Jesus.
There is a need for all of us to get back to basics on issues such as abortion, contraception and marriage.  That's why we need to listen to Jesus and take in what he is telling us.  Only then, with the Truth embedded in our hearts and minds, can we build a better world.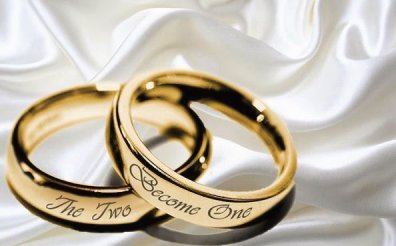 Sunday's First Reading (Genesis 2:18-24):
'The Lord God said, 'It is not good that the man should be alone. I will make him a helpmate.' So from the soil the Lord God fashioned all the wild beasts and all the birds of heaven. These he brought to the man to see what he would call them; each one was to bear the name the man would give it. The man gave names to all the cattle, all the birds of heaven and all the wild beasts. But no helpmate suitable for man was found for him. So the Lord God made the man fall into a deep sleep. And while he slept, he took one of his ribs and enclosed it in flesh. The Lord God built the rib he had taken from the man into a woman, and brought her to the man. The man exclaimed:
'This at last is bone from my bones,
and flesh from my flesh!
This is to be called woman,
for this was taken from man.'
This is why a man leaves his father and mother and joins himself to his wife, and they become one body.'
Excerpt from Sunday's Gospel (Mark 10:2-16):
'Then Jesus said to them, 'It was because you were so unteachable that he wrote this commandment for you. But from the beginning of creation God made them male and female. This is why a man must leave father and mother, and the two become one body. They are no longer two, therefore, but one body. So then, what God has united, man must not divide.''
In these passages of scripture both God and God made man (Jesus) reveal the Truth of God's plan for mankind.  It is a Truth that will mirror the beauty and splendour of the loving relationship which exists among the Trinity (Father, Son, and Holy Spirit). The revealed Truth is that a man and woman are to come together, united through the sacrament of marriage, to become one. Not just one with each other but also one with Christ who is an integral part of the marriage relationship. 
Just as the three persons of the Trinity are one, so too do husband, wife and Christ become one through marriage.  Thus they become their own trinity, reflecting the most Holy Trinity of Heaven. 
And just as Christ came to earth to establish and grow his Church, husband and wife are called to establish and grow their own Church by being open to the precious gift of children.
And in marriage we are also called to mirror Christ on the Cross, by giving ourselves completely in sacrificial love to God and to one another, just as he did.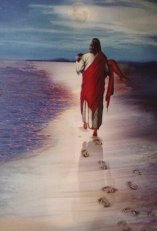 Following Jesus will satisfy the longings of our heart
First Reading (Daniel 7:9-10,13-14):
'As I watched:
Thrones were set in place
and one of great age took his seat.
His robe was white as snow,
the hair of his head as pure as wool.
His throne was a blaze of flames,
its wheels were a burning fire.
A stream of fire poured out,
issuing from his presence.
A thousand thousand waited on him,
ten thousand times ten thousand stood before him.
A court was held
and the books were opened.
And I saw, coming on the clouds of heaven,
one like a son of man.
He came to the one of great age
and was led into his presence.
On him was conferred sovereignty,
glory and kingship,
and men of all peoples, nations and languages became his servants.
His sovereignty is an eternal sovereignty
which shall never pass away,
nor will his empire ever be destroyed.'
There have been many interpretations of this passage through the years and two of the most common are that the passage relates to either Christ's Ascension to Heaven or to his Second Coming. The Church, through the Catechism, believes that the latter part of the passage is referring to Christ's Ascension.
But whatever way this passage is interpreted there can be absolutely no doubt about the incredible power and majesty of that which it reveals. It simply never fails to knock me sideways! It is a glimpse of the reality of Heaven and it is a further glimpse of the reality of God beyond that which we have already learned in the person of Jesus Christ. I suppose the big question for us is: are we ready to be a part of it all?
I always think that this passage clears some of the mist which comes from cynical views of the Church, especially when it comes to the Sacrament of Reconciliation and the reality of Purgatory. Many people don't see a need for the forgiveness of sins, yet when we read this passage we can see that it makes complete sense to be completely clean and free of all sin before we are graced with the presence of God. The enormity of being in the presence of God is something we will only appreciate if we are granted the grace to experience it. But, at the end of the day, we have an inherent need to experience it because it is that moment, and that moment alone, which will satisfy all the desires and longings of our heart.
We roam around the world endlessly seeking that which will completely satisfy our hearts; be it in relationships, through material goods, or perhaps in traveling to other parts of the globe. But we are never truly satisfied. Our hearts always seem to be longing for something else, no matter what we may achieve or accomplish in life. And the truth is, we will never be completely satisfied, not until we are face to face with God. For God, who created each one of us, has etched in our hearts a desire to return to Him.
Our challenge, should we accept it, is to acknowledge God's desire for us to return to Him and to follow that path laid down by Jesus Christ. For it is the way of Christ that will lead us home.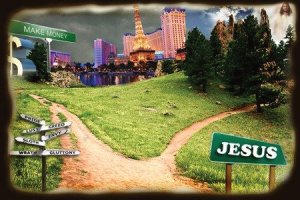 We must take the narrow path to Christ
Today's First Reading (1 Timothy 6:2-12):
'This is what you are to teach the brothers to believe and persuade them to do. Anyone who teaches anything different, and does not keep to the sound teaching which is that of our Lord Jesus Christ, the doctrine which is in accordance with true religion, is simply ignorant and must be full of self-conceit – with a craze for questioning everything and arguing about words. All that can come of this is jealousy, contention, abuse and wicked mistrust of one another; and unending disputes by people who are neither rational nor informed and imagine that religion is a way of making a profit. Religion, of course, does bring large profits, but only to those who are content with what they have. We brought nothing into the world, and we can take nothing out of it; but as long as we have food and clothing, let us be content with that. People who long to be rich are a prey to temptation; they get trapped into all sorts of foolish and dangerous ambitions which eventually plunge them into ruin and destruction. 'The love of money is the root of all evils' and there are some who, pursuing it, have wandered away from the faith, and so given their souls any number of fatal wounds.
But, as a man dedicated to God, you must avoid all that. You must aim to be saintly and religious, filled with faith and love, patient and gentle. Fight the good fight of the faith and win for yourself the eternal life to which you were called when you made your profession and spoke up for the truth in front of many witnesses.'
It's hard for Catholic people to remain true to Jesus Christ and the Traditions of the Catholic Church, especially in this day and age when religion is often frowned upon for one reason or another.  Yet that doesn't make it any less true or relevant.
St Paul's letter to Timothy encourages us to remain true to Christ and his teaching and to remain true to the teaching of the Church he himself founded; the Roman Catholic Church which continues to exist to this very day.
St Paul warns us about those who stray from this teaching, and in true St Paul style, he doesn't mince his words!  He says that those who do things differently to that taught by Christ and his Church are "simply ignorant and must be full of self-conceit – with a craze for questioning everything and arguing about words."  Isn't it interesting that St Paul should specifically refer to arguments about words?  Consider the abortion debate and how pro-choice activists often try to use words and phrases to argue that abortion is okay. They use (albeit wrongly) terms such as 'embryo', 'foetus', 'collection of cells' and 'personhood' to try to make their point. Consider how Pope Francis' words are so often used against him by those who misinterpret him or those who fail to understand his bigger message.  Other examples of this can be found in debates around contraception and the redefinition of marriage.
The tragedy of all this is that Catholic people, including myself, continually stray from Christ's teaching and the teaching of his Church.  I fall into the traps of the secular relativist society and I become that ignorant person full of self-conceit that St Paul is referring to. But thankfully Christ and his Church give me the Sacrament of Reconciliation where I can go and be forgiven for straying from the Truth.
At the end of the day, there will be many times in our lives when we will stray from the right path. But the key is to turn back, as the prodigal son did, into the loving arms of the Father.  While we may turn our back on Him there will never be a time when He turns His back on us.  He is always standing there, watching and waiting for us to return; to return to the path of Truth which He himself created when He gave us His only Son and gave us His Church.
Brother and sisters, we must do as St Paul says and "Fight the good fight of the faith" by speaking up for the truth with love, patience and gentleness before all people, even when it makes us feel a little uncomfortable.  Remember, it is unlikely we will ever be made to feel as uncomfortable as the early disciples who suffered immeasurable pain, including death, in standing up for the Truth.   
And even though we may well feel a little uncomfortable we must remember that we were not made for this world; that our destiny is in Heaven to be one with the Father, with Christ our Saviour, our Blessed Mother Mary, and with all the Saints and Angels.  Surely that is worth fighting for?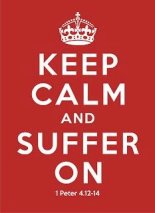 Last Sunday's Gospel (Mark 8:27-35):
'Jesus and his disciples left for the villages round Caesarea Philippi. On the way he put this question to his disciples, 'Who do people say I am?' And they told him. 'John the Baptist,' they said 'others Elijah; others again, one of the prophets.' 'But you,' he asked 'who do you say I am?' Peter spoke up and said to him, 'You are the Christ.' And he gave them strict orders not to tell anyone about him.
And he began to teach them that the Son of Man was destined to suffer grievously, to be rejected by the elders and the chief priests and the scribes, and to be put to death, and after three days to rise again; and he said all this quite openly. Then, taking him aside, Peter started to remonstrate with him. But, turning and seeing his disciples, he rebuked Peter and said to him, 'Get behind me, Satan! Because the way you think is not God's way but man's.'
He called the people and his disciples to him and said, 'If anyone wants to be a follower of mine, let him renounce himself and take up his cross and follow me. For anyone who wants to save his life will lose it; but anyone who loses his life for my sake, and for the sake of the gospel, will save it.'
Jesus was swift to chastise Peter because of his failure to understand God's grand plan for humanity. What Peter failed to understand is that suffering was a necessary part of salvation.  Peter's crime is to let the ways of man creep into his mind so that he tries to resist any notion of suffering.  It's natural to try to resist suffering, especially in today's society with the significant advances being made in science and healthcare.  But as Christians we are called to accept suffering as part of God's Divine plan for our salvation. 
Consider Christ's words immediately after he rebukes Peter: "If anyone wants to be a follower of mine, let him renounce himself and take up his cross and follow me."  To follow Christ will entail suffering.  There is simply no getting away from it.  If we want to be true Christian people and followers of Christ then we must be prepared to take up our cross and accept any suffering that comes our way, trusting that God will use that suffering for the overall good of His kingdom and for the overall good of humanity.
Christ's lesson is indeed rather timely when you consider the current predicament of the Catholic Church in Scotland, with a lack of priests and lack of vocations to the priesthood.  Parishes are now in a situation where they need to look at alternative models if they are to continue serving their local community; otherwise, they face the sad reality of closure.  The ways of man allow ourselves to become accustomed to having a priest at our beck and call 24/7 and to be used to having such 'pleasures' as daily Mass and daily Confession.  We despair at the thought of our parish closing or of having to share a priest with another nearby church.  We, like Peter, become upset at the thought of having to suffer.
But we must resist the temptation to think as men do and instead trust the Father, knowing that any suffering He asks us to endure is for the greater good of all people.  We must be prepared to think big and accept the cross of suffering with open arms.  To delight in suffering is a crazy concept to mere mortals, but then we aren't mere mortals.  We are a people made in the image and likeness of God, a people destined for bigger and better things.
We must listen to Jesus and not think as men do but trust completely in God's plan for us.  The next time we suffer let us turn to God, and with the helplessness and trust of a little child, let us say: "Father, let thy will be done."    
/