Shopping Cart
Your Cart is Empty
There was an error with PayPal
Click here to try again
Thank you for your business!
You should be receiving an order confirmation from Paypal shortly.
Exit Shopping Cart
Calling Scotland's 841,000 Catholics to unite as one voice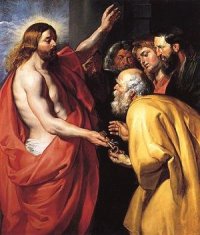 Today's Gospel (Matthew 16:13-19):
'When Jesus came to the region of Caesarea Philippi he put this question to his disciples, 'Who do people say the Son of Man is?' And they said, 'Some say he is John the Baptist, some Elijah, and others Jeremiah or one of the prophets.' 'But you,' he said 'who do you say I am?' Then Simon Peter spoke up, 'You are the Christ,' he said 'the Son of the living God.' Jesus replied, 'Simon son of Jonah, you are a happy man! Because it was not flesh and blood that revealed this to you but my Father in heaven. So I now say to you: You are Peter and on this rock I will build my Church. And the gates of the underworld can never hold out against it. I will give you the keys of the kingdom of heaven: whatever you bind on earth shall be considered bound in heaven; whatever you loose on earth shall be considered loosed in heaven.''
In 1870, Vatican I declared that this Gospel passage was clear biblical support for the primacy of Peter and successive popes.  The Council's interpretation touches on the following five points of doctrine:
The Magisterium built upon Peter is instituted by Jesus Christ;
Peter is given a unique role as chief teacher and ruler over the Church;
Peter is the visible head of the Church;
Peter's authority is passed on through successors; and
through Peter, Christ himself assures the infallible preservation of the gospel in the Church.
While it may sometimes be tough to be Catholic, especially in today's secular relativist world which seeks to discredit the Church at every turn, we still have every reason to be joyful.  Why?  Because this is a Church that was established by the saviour of the world, Jesus Christ!  Indeed, it is the only church established by Jesus Christ. 
But Jesus didn't leave it at that.  In addition to establishing a church he knew that the Church needed help from above to protect it from evil and to ensure its ongoing safety and wellbeing in protecting the gospel with which it is entrusted.  So he promised the Church that he will always be with it, ensuring that the gates of death, deception and destruction will never overcome it.  He then proceeds to give his close disciple Simon Peter the authority to make binding decisions with respect to the Church and gives him the keys to the kingdom of heaven.
Jesus, in just a few short sentences, establishes the Catholic Church, promises to sustain it, and even gives a mere mortal being the authority to be its chief teacher and chief administrator on earth.  So we can say with confidence that through the authority of Peter (often referred to as the 'Chair of Peter') and his successors, heaven governs the Church on earth. 
So be confident and joyful in your Church, and trust her authority always, for she is being guided by Christ who ensures her safe passage through time to that moment when he will come again on the clouds to be fully united with her.  And it is at that moment that our Lord will gather in his chosen people to take them to Paradise to be with him forever. 
The keys to Heaven are in the hands of the Church where they have been for the last 2000 years, from the moment Jesus entrusted them to Peter.  No matter how tough or testing it may sometimes feel to be part of the Catholic Church there is no denying that she is the surest way to Heaven and to Jesus.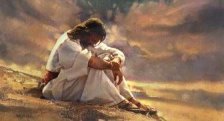 Do we take Jesus for granted?
Sunday's Gospel (Luke 4:21-30):
'Jesus began to speak in the synagogue: 'This text is being fulfilled today even as you listen.' And he won the approval of all, and they were astonished by the gracious words that came from his lips. They said, 'This is Joseph's son, surely?'
But he replied, 'No doubt you will quote me the saying, "Physician, heal yourself" and tell me, "We have heard all that happened in Capernaum, do the same here in your own countryside."' And he went on, 'I tell you solemnly, no prophet is ever accepted in his own country.
'There were many widows in Israel, I can assure you, in Elijah's day, when heaven remained shut for three years and six months and a great famine raged throughout the land, but Elijah was not sent to any one of these: he was sent to a widow at Zarephath, a Sidonian town. And in the prophet Elisha's time there were many lepers in Israel, but none of these was cured, except the Syrian, Naaman.'
When they heard this everyone in the synagogue was enraged. They sprang to their feet and hustled him out of the town; and they took him up to the brow of the hill their town was built on, intending to throw him down the cliff, but he slipped through the crowd and walked away.'
Familiarity breeds contempt.  It's quite a sinister saying but it does have some truth in it.  We have all felt that rush of excitement at something new and fresh in our lives, be it a new car or TV.  But those initial feelings of great excitement soon wear off, replaced by familiarity and a general malaise fuelled by an ever increasing willingness to take the item for granted.  What has happened is that the item has become a part of everyday life.  It's just another part of our routine.  It's not really that exciting any more.  The car, the TV, the tablet are all just items we pick up when we feel like it and drop when we get bored.
However, doing this with TVs and other material objects is not particularly damaging.  It's when we allow this familiarity and malaise to flow into our relationships with people and into our faith that the real damage is wrought.  Consider this: have we grown too familiar with Jesus in our lives?  Do we pick him up only when we think we need him, dropping him again when our needs are satisfied?  Do we only pray when death or serious illness strikes our families?  Do we attend Mass only periodically through the year?  Do we go to Confession once in a blue moon or not at all?  Do we avoid talking about Jesus in our daily lives, banishing him to the sidelines in order to avoid offending those who might not believe?
When Jesus said that 'no prophet is ever accepted in his own country' he wasn't just speaking in a geographical context.  He was also foreseeing the way he would be treated by the people who followed him and who fell silent at the critical moment of his arrest and subsequent torture.  Just think of St Peter, one of Jesus' most trusted friends and apostles.   Even he denied our Lord three times!
It is hard for us to stave off the onset of familiarity, as it takes away the newness and replaces it with a more run-of-the-mill feel.  We, like Peter, are only human and Jesus acknowledges our frailties and difficulties. 
But Jesus also makes 'all things new'.  So trust in him and resist the onset of familiarity when it comes to your relationships and your faith.  Don't be afraid to follow Jesus in every way.  Speak to him even when there is nothing on your mind.  Pick up your Bible when it is the last thing you want to do.  Consider attending Mass at a time other than a Sunday.  And never, ever be afraid to go to Confession.
Pope Francis told the youth in Brazil to "swim against the tide" of relativism and secularism.  Perhaps it's time for us to swim against the tide of familiarity and accept Jesus at all times and not just when feel like it.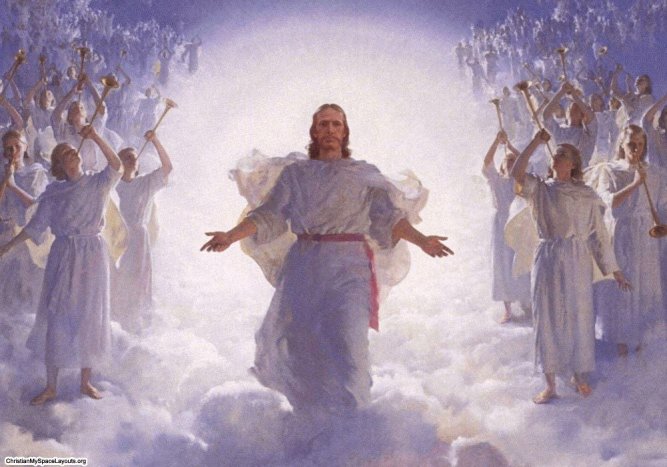 Today's Gospel (Luke 21:20-28):
'Jesus said to his disciples, 'When you see Jerusalem surrounded by armies, you must realise that she will soon be laid desolate. Then those in Judaea must escape to the mountains, those inside the city must leave it, and those in country districts must not take refuge in it. For this is the time of vengeance when all that scripture says must be fulfilled. Alas for those with child, or with babies at the breast, when those days come!
'For great misery will descend on the land and wrath on this people. They will fall by the edge of the sword and be led captive to every pagan country; and Jerusalem will be trampled down by the pagans until the age of the pagans is completely over.
'There will be signs in the sun and moon and stars; on earth nations in agony, bewildered by the clamour of the ocean and its waves; men dying of fear as they await what menaces the world, for the powers of heaven will be shaken. And then they will see the Son of Man coming in a cloud with power and great glory. When these things begin to take place, stand erect, hold your heads high, because your liberation is near at hand.''
Today's Gospel paints a really depressing picture.  The world, it seems, will one day succumb to an ultimate and deadly destruction, something that is hard to equate with a loving and merciful God. 
But our loving and merciful God always has an answer, and that answer is Jesus.  For Christ himself will come on the clouds to save those who trust in him and to set them free. 
We have everything to gain by trusting and believing in Christ and loving as he loves.  We have everything to lose by rejecting him.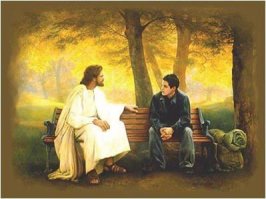 We need to listen to Jesus
From Sunday's Gospel (Mark 10:17-30):
'Jesus was setting out on a journey when a man ran up, knelt before him and put this question to him, 'Good master, what must I do to inherit eternal life?' Jesus said to him, 'Why do you call me good? No one is good but God alone. You know the commandments: You must not kill; You must not commit adultery; You must not steal; You must not bring false witness; You must not defraud; Honour your father and mother.''
It's always difficult to listen to someone telling you what to do and to do so with an open mind and an open heart.  Goodness knows I have struggled with it many times in my life!  But what if that person was Jesus?  Would it change your attitude?  
In this Gospel Jesus reminds us of some of the Commandments as he tries to steer a man towards the Kingdom of Heaven and eternal life.  He speaks with great clarity and no little authority as he tells us not to kill, not to commit adultery, not to steal, not to lie, not to deceive, and to honour our parents.
As the Synod on the Family in Rome closes its first week of meetings and discussions, we are called to remind ourselves of these words of Christ, especially when we think about hot topics like abortion, contraception, marriage and, of course, the family.  While people may surmise the potential for change or reform in the Church, the Church fathers will always turn to the one who knows best….Jesus.
There is a need for all of us to get back to basics on issues such as abortion, contraception and marriage.  That's why we need to listen to Jesus and take in what he is telling us.  Only then, with the Truth embedded in our hearts and minds, can we build a better world.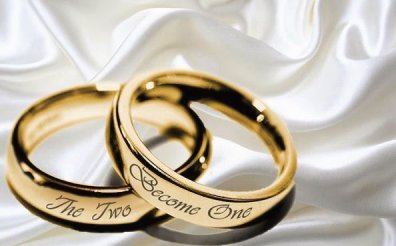 Sunday's First Reading (Genesis 2:18-24):
'The Lord God said, 'It is not good that the man should be alone. I will make him a helpmate.' So from the soil the Lord God fashioned all the wild beasts and all the birds of heaven. These he brought to the man to see what he would call them; each one was to bear the name the man would give it. The man gave names to all the cattle, all the birds of heaven and all the wild beasts. But no helpmate suitable for man was found for him. So the Lord God made the man fall into a deep sleep. And while he slept, he took one of his ribs and enclosed it in flesh. The Lord God built the rib he had taken from the man into a woman, and brought her to the man. The man exclaimed:
'This at last is bone from my bones,
and flesh from my flesh!
This is to be called woman,
for this was taken from man.'
This is why a man leaves his father and mother and joins himself to his wife, and they become one body.'
Excerpt from Sunday's Gospel (Mark 10:2-16):
'Then Jesus said to them, 'It was because you were so unteachable that he wrote this commandment for you. But from the beginning of creation God made them male and female. This is why a man must leave father and mother, and the two become one body. They are no longer two, therefore, but one body. So then, what God has united, man must not divide.''
In these passages of scripture both God and God made man (Jesus) reveal the Truth of God's plan for mankind.  It is a Truth that will mirror the beauty and splendour of the loving relationship which exists among the Trinity (Father, Son, and Holy Spirit). The revealed Truth is that a man and woman are to come together, united through the sacrament of marriage, to become one. Not just one with each other but also one with Christ who is an integral part of the marriage relationship. 
Just as the three persons of the Trinity are one, so too do husband, wife and Christ become one through marriage.  Thus they become their own trinity, reflecting the most Holy Trinity of Heaven. 
And just as Christ came to earth to establish and grow his Church, husband and wife are called to establish and grow their own Church by being open to the precious gift of children.
And in marriage we are also called to mirror Christ on the Cross, by giving ourselves completely in sacrificial love to God and to one another, just as he did.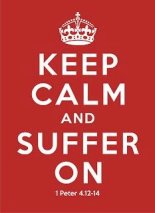 Last Sunday's Gospel (Mark 8:27-35):
'Jesus and his disciples left for the villages round Caesarea Philippi. On the way he put this question to his disciples, 'Who do people say I am?' And they told him. 'John the Baptist,' they said 'others Elijah; others again, one of the prophets.' 'But you,' he asked 'who do you say I am?' Peter spoke up and said to him, 'You are the Christ.' And he gave them strict orders not to tell anyone about him.
And he began to teach them that the Son of Man was destined to suffer grievously, to be rejected by the elders and the chief priests and the scribes, and to be put to death, and after three days to rise again; and he said all this quite openly. Then, taking him aside, Peter started to remonstrate with him. But, turning and seeing his disciples, he rebuked Peter and said to him, 'Get behind me, Satan! Because the way you think is not God's way but man's.'
He called the people and his disciples to him and said, 'If anyone wants to be a follower of mine, let him renounce himself and take up his cross and follow me. For anyone who wants to save his life will lose it; but anyone who loses his life for my sake, and for the sake of the gospel, will save it.'
Jesus was swift to chastise Peter because of his failure to understand God's grand plan for humanity. What Peter failed to understand is that suffering was a necessary part of salvation.  Peter's crime is to let the ways of man creep into his mind so that he tries to resist any notion of suffering.  It's natural to try to resist suffering, especially in today's society with the significant advances being made in science and healthcare.  But as Christians we are called to accept suffering as part of God's Divine plan for our salvation. 
Consider Christ's words immediately after he rebukes Peter: "If anyone wants to be a follower of mine, let him renounce himself and take up his cross and follow me."  To follow Christ will entail suffering.  There is simply no getting away from it.  If we want to be true Christian people and followers of Christ then we must be prepared to take up our cross and accept any suffering that comes our way, trusting that God will use that suffering for the overall good of His kingdom and for the overall good of humanity.
Christ's lesson is indeed rather timely when you consider the current predicament of the Catholic Church in Scotland, with a lack of priests and lack of vocations to the priesthood.  Parishes are now in a situation where they need to look at alternative models if they are to continue serving their local community; otherwise, they face the sad reality of closure.  The ways of man allow ourselves to become accustomed to having a priest at our beck and call 24/7 and to be used to having such 'pleasures' as daily Mass and daily Confession.  We despair at the thought of our parish closing or of having to share a priest with another nearby church.  We, like Peter, become upset at the thought of having to suffer.
But we must resist the temptation to think as men do and instead trust the Father, knowing that any suffering He asks us to endure is for the greater good of all people.  We must be prepared to think big and accept the cross of suffering with open arms.  To delight in suffering is a crazy concept to mere mortals, but then we aren't mere mortals.  We are a people made in the image and likeness of God, a people destined for bigger and better things.
We must listen to Jesus and not think as men do but trust completely in God's plan for us.  The next time we suffer let us turn to God, and with the helplessness and trust of a little child, let us say: "Father, let thy will be done."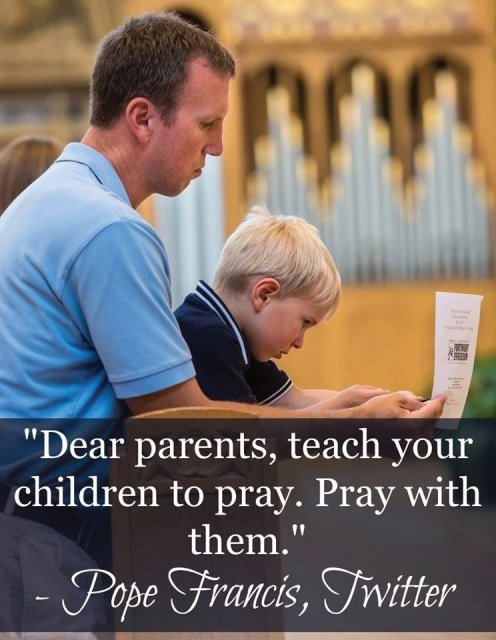 Pope Francis has urged parents to teach their children to pray, saying that children should learn prayer with the same spontaneity as when they learn to say "daddy" and "mummy". The pope made the remarks during his latest General Audience in St Peter's Square on Wednesday.
He said: "There are children who have not learned to make the Sign of the Cross.  You, mother, father: teach your children how to pray, how to make the Sign of the Cross."
The pope continued: "It is beautiful when mothers teach their little children to blow a kiss to Jesus or to Our Lady.  What tenderness there is in this.  In that moment, the child's heart is transformed into a place of prayer.  And this is a gift of the Holy Spirit."
The pope also encouraged families to pray the Gospel every day.
While it is easy for us to become lazy when it comes to prayer, it is surely an injustice to deprive our children of it.  There are so many material things used by society to entertain our children, whether it's the latest toy or gadget, the television, or even social media.  And while these may very well have a role to play, they cannot give our children true joy, nor can they give them eternal life; and surely eternal life is what we ultimately want for our children?
The importance of building a lasting relationship between our children and Jesus cannot be overstated.  We have a duty to bring our children to the Truth of Christ's teaching and to raise them in Christ's own Church where they will receive the Sacraments.  It is mothers, fathers, grandparents, aunts, uncles, cousins who will lay the foundations of every child's relationship with Christ.  And even if our own relationship with Christ has floundered, do we really want to compromise the relationship our children could have with the saviour of the world?
We have a duty to set a holy example to our kids. If a child sees someone else kneeling in prayer, saying grace before meals, kissing a Crucifix, or going to Confession regularly, how much more likely are they to do the same?
Helping to build our childrens' relationship with Jesus is the most important thing we can do for them. It will set them out on the road to eternal life.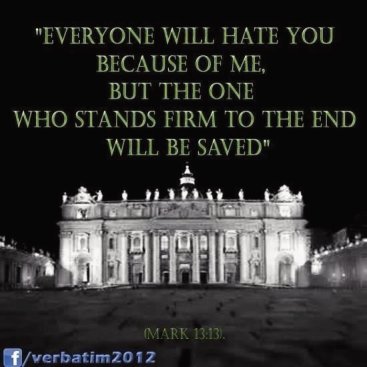 Sunday's Gospel (John 6:60-69)
'After hearing his doctrine many of the followers of Jesus said, 'This is intolerable language. How could anyone accept it?' Jesus was aware that his followers were complaining about it and said, 'Does this upset you? What if you should see the Son of Man ascend to where he was before?
'It is the spirit that gives life,
the flesh has nothing to offer.
The words I have spoken to you are spirit
and they are life.
'But there are some of you who do not believe.' For Jesus knew from the outset those who did not believe, and who it was that would betray him. He went on, 'This is why I told you that no one could come to me unless the Father allows him.' After this, many of his disciples left him and stopped going with him.
Then Jesus said to the Twelve, 'What about you, do you want to go away too?' Simon Peter answered, 'Lord, who shall we go to? You have the message of eternal life, and we believe; we know that you are the Holy One of God.''
In today's Gospel we hear of how a number of Jesus' followers began to leave him because of his teaching.  The teaching was, in essence, too challenging for them to come to terms with and would have taken them out of their comfort zone.  As a result they claimed that his language was intolerable and questioned whether anyone could accept it.  Jesus' response was to ask them if what he says is upsetting to them which, judging by their sudden departure appears to be the case.  And is Jesus ready to offer them comfort and consolation in their lack of faith? Not at all!  Jesus' reaction is to simply tell them what's what, to tell them the plain and simple truth.  He then turns away from them and challenges the twelve disciples on whether they are prepared to stick with him.
And Simon Peter's response to this challenge is crucial.  Crucial because it is a response we should all have in our hearts when it comes to Christ's teaching, be it through the Word or through the Tradition of His Church.  Peter says, "Lord, who shall we go to?  You have the message of eternal life, and we believe; we know that you are the Holy One of God."
There is no one to go to but Christ.  Jesus Christ is the only way to God.  He is the only one who has the message of eternal life.  His words are spirit and they are life itself (his own words). Our challenge is to utter those words of Peter and admit that Christ is the Holy One of God.  Our challenge is to admit that Christ's teaching, entrusted to the Church he himself founded, is truth itself and free from defect and it is held and protected by the Church until the end of time.  Our challenge is to join the Church and to follow Christ through thick and thin, even if we are hated for doing so.  As Christ himself said: 'Blessed are you when men revile you and persecute you and utter all kinds of evil against you falsely on my account. Rejoice and be glad, for your reward is great in heaven.'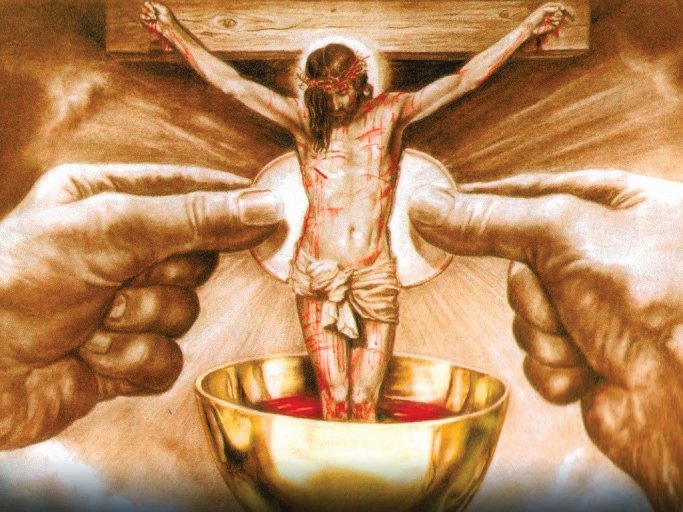 From Sunday's Gospel (John 6:24-35):
'Jesus answered:
'I tell you most solemnly,
it was not Moses who gave you bread from heaven,
it is my Father who gives you the bread from heaven,
the true bread;
for the bread of God
is that which comes down from heaven
and gives life to the world.'
'Sir,' they said 'give us that bread always.'
Jesus answered:
'I am the bread of life.
He who comes to me will never be hungry;
he who believes in me will never thirst.''
Reading this Gospel passage and, in particular, the words of Jesus leave us in no doubt.  He is the bread of life.  He is the way, the truth, and the life.  He is the only way to God.  Yes it is true!  In the Eucharist we receive Jesus Christ body, blood, soul and divinity!  Just as the bread came from Heaven in order to feed the Israelites so Jesus comes to us in the form of bread to feed, nourish and sustain us.
Jesus is offering himself to all of us.  He is offering us the chance of eternal life with him in Heaven.  Will we be like the disciples and say to Jesus: 'Sir, give us that bread always'?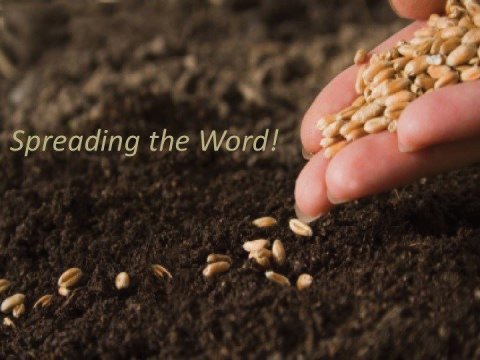 We are all obliged to spread the Word of God
Isn't it true that you often hear people saying things like 'Jesus would do this' and 'Jesus would do that'?  Indeed, such statements are often used by secularists to backup their argument that religion is intolerant, or by liberal Catholics who claim that a loving Jesus would allow for a departure from the Truth of Church teaching.
Yet isn't it rare to hear someone say 'Jesus would do this' or 'Jesus would do that' when it comes to spreading the Gospel or proclaiming the Truth of the Kingdom of God? 
For many people, including many Catholic people, the perception of Jesus has become relativised to the point that we pick and choose the Jesus who happens to suit our argument at any given point in time.  We forget that Jesus is not only this all-loving, all-forgiving God; but that he is also a God who expects something from us.
Jesus expects us to follow him.  And to follow Jesus means we put everything else to the side.  He expects us to put him first, others second, and ourselves third.  And he expects us to take his name to all people; to proclaim the truth and beauty of the Gospel everywhere we go.
These days there are too many 'fans' of Jesus and not enough 'disciples'.  There are not enough people working in the trenches trying to bring other souls to Christ.  Instead they satisfy themselves that they do enough and that anything else is either the job of someone else or that their failures will not be harshly judged by the Creator.  
We have lost our sense of true discipleship and our obligation to bring people to Jesus, putting our own souls in danger in the process.  Perhaps we think that discipleship is the job of our parish priest, that they are the real disciples of Jesus in today's world.  But this is simply not true.  Each and every one of us is called to be disciples and to take Christ and his message of love and mercy to the four corners of the earth.  We are all missionaries, called to sow the seed of Truth.
Let us spend a few moments today thinking about what we do to bring other people closer to Jesus.  Do we do enough?  Or are we often guilty of ignoring this obligation, focusing only on the qualities of Jesus that suit our own needs?  If we do then perhaps it's time for us to take some responsibility and be a bit more disciple like. 
/