Shopping Cart
Your Cart is Empty
There was an error with PayPal
Click here to try again
Thank you for your business!
You should be receiving an order confirmation from Paypal shortly.
Exit Shopping Cart
Calling Scotland's 841,000 Catholics to unite as one voice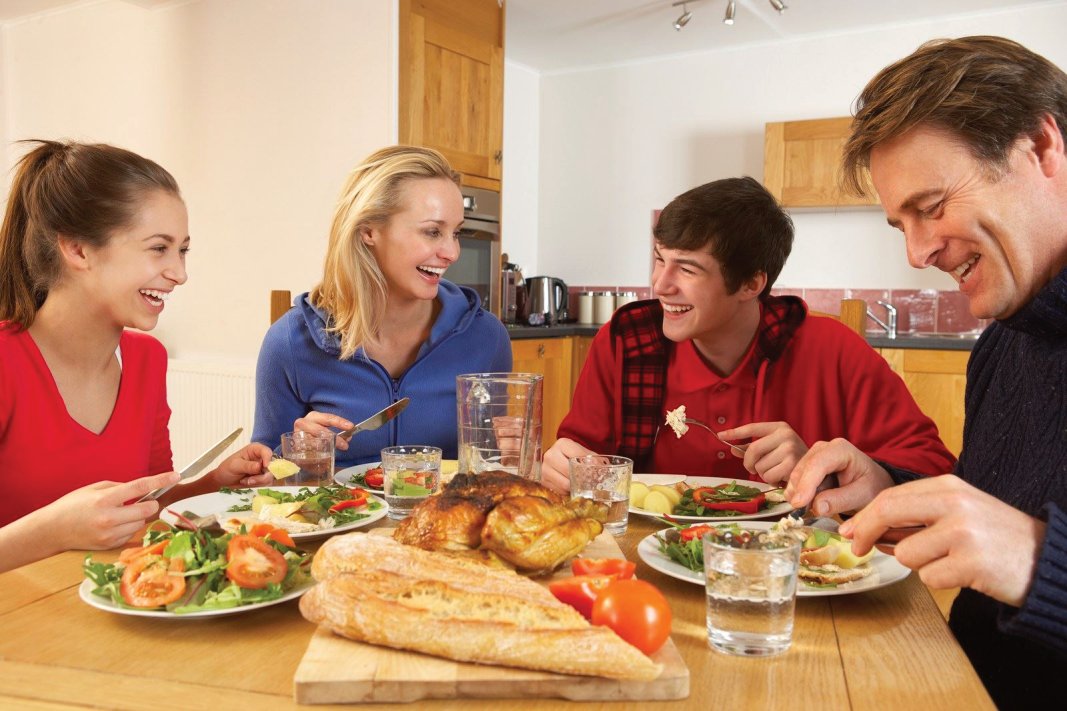 1. Eat
We Catholics like to celebrate with food!  This is why it is important to eat together as a family and to enjoy the delicious food gifted to us by God and prepared by the hands of our mother or father.  Mealtimes should be a time of great celebration and we should make an extra special effort to celebrate Sundays and Catholic feast days.  You may even want to consider celebrating important dates such as your anniversary, showing your children that your marriage is something that is important to you and that you delight in remembering that special day.  Why not bake a cake together for the occasion?
And remember, no mobile phones or tablets at the dinner table!  Encourage an environment free of technology, where everyone takes a turn to talk about the highs and lows of their day.  Let the dinner table be a forum for openness and honesty among all the family; a sacrosanct place where the family basks in the joys and rallies in the sorrows of each family member.
2. Pray 
Prayer can take many forms and prayer within the family unit is no different.  It is important that people pray as a family as best they can.  Praying the Rosary as a family is a beautiful way to express our faith and this is something that should be encouraged in every Catholic home.  You may want to make it more interesting for younger children by introducing images or pictures to go with the mysteries.  And if one of the kids kicks off, stop for a break, but remember to try and pick it up again another time.  And start small, especially with younger kids.  A few short prayers or a decade of the Rosary will likely suffice to begin with.
It's also very important to pray as a family before and after meals.  There are a number of simple prayers suitable for this but even a simple 'thank you Jesus' will do! 
And remember, it is important that children see their parents pray, so be prepared to set an example to your kids and make sure you take them to Holy Mass every Sunday and on Holy Days of Obligation.  Be an example to them by regular attendance at the Sacrament of Reconciliation, and consider becoming more active in the life of your Parish.  Children will respond positively to your active participation in the life of the Church and will see how important it is to you.
Be willing to talk about your faith and don't be embarrassed if one of the kids asks you something you don't know.  This is a great opportunity to learn as a family!  Learning can be a form of prayer too! So don't be afraid to pick up the Bible or the Catechism or to even search Google for an answer.  Let your children see just how interested you are to learn too. 
And above all, let them see just how much you love Jesus by your prayer!  
3. Be Merry
As Catholic people immersed in the love of Jesus Christ and with the sure and certain hope of eternal life, shouldn't we be immensely happy??  Our family life should be full of fun and games.  We should be unafraid to dance and to waste time with our children.  Just because God is at the very centre of our lives doesn't mean life has to be one big serious drag.  The fact that God is at the centre of our lives is the very reason we should be deliriously happy from the moment we wake in the morning until our head hits the pillow again the following night.  If those of us who are members of the Church established by Jesus Christ and who regularly gather in his presence at Holy Mass cannot be happy, then there is no hope for any of us!  No hope!  So let us rejoice, let us be happy.  Let's show our children that being Catholic is great fun!  And remember, don't complain or gossip about people and don't be too quick to criticise others.  Such an attitude creates a negative environment for children and leads to increased cynicism and scepticism; something they themselves will only be too happy to take on board!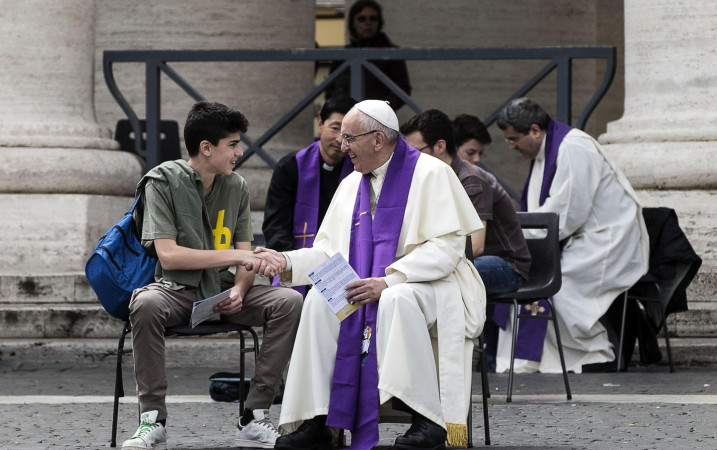 Pope Francis heard Confessions in the days leading up to the Mass
Pope Francis has given a lesson in love and freedom during his homily at the Jubilee Mass for Young People in Rome.
The Pope, speaking to thousands of youth in St Peter's Square, said that Jesus himself declared that Christians would be known "by the way they love one another."  The Pope continued saying, "love, in other words, is the Christian's identity card."
The Pope then tackled the meaning of love, stating that love is something you give.  He also added: "it [love] is caring for others, respecting them, protecting them, and waiting for them."
Francis then challenged the young people on the true meaning of freedom, stating that "freedom is not the ability to simply do what I want.  This makes us self-centred and aloof."
"Freedom" he said "is the gift of being able to choose the good: this is true freedom. The free person is the one who chooses what is good, what is pleasing to God, even if it requires effort, even if it is not easy."
He then called on the young people to grow in love and told them how they could do this: "the secret, once again, is the Lord: Jesus gives us himself in the Mass, he offers us forgiveness and peace in Confession."
The Pope's call to the young people can be summed up nicely in the term 'free love'.  He wants Christians to give themselves freely to others in love, and he wants us to choose to do this as it is pleasing to God.  He then tells us that the nourishment we need for this task can be found in the Holy Mass and in the Sacrament of Confession. 
Let us be under no illusions.  Our mission as Christians is to spread the love of Christ throughout the world.  We must let his Truth be known to all people and we must deliver this Truth in a spirit of love; a love that is freely given and that always has the other person's best interests at its core.  This message is not just for our young, but for all Christian people. 
The Christian message is one of great hope, mercy and peace for all people.  But, above all, it is a message of love.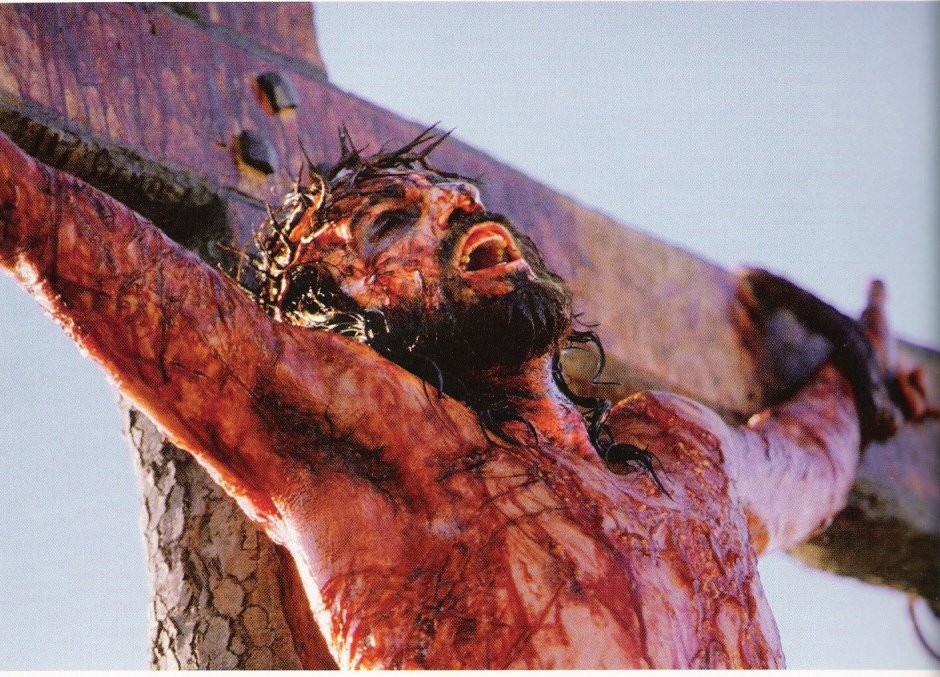 As we journey with Christ through his Passion and Crucifixion it is worth bearing in mind some of the little things we as human beings are drawn to but that are contrary to God's desire for our lives.
The intolerable pain and suffering taken on by Jesus as he was abused, spat upon, mocked, and beaten is something we must all think about over these next few days.  Having large nails driven into your hands and feet and being attached to a cross is something we simply can't imagine. 
Jesus' suffering and crucifixion was not some kind of crazy act designed to impress.  It was essential.  It was needed in order to reconcile each and every human being to God.  Each and every sin against God is represented by a drop of blood shed by Christ or by a nail driven into his bones.  Yet was it really worth it?  Do we really appreciate the freedom Christ gave us when he undertook this most loving, selfless act?   
Consider this…
Jesus didn't suffer so that I could hate.
Jesus didn't suffer so that I could be violent or persecute.

Jesus didn't suffer so that I could hold grudges.
Jesus didn't suffer so that I could gossip, complain or criticise.
Jesus didn't suffer so that I could lie and be unfaithful.
Jesus didn't suffer so that I would forget about him and never talk to him in prayer.
Jesus didn't suffer so that I would rather do something else than spend time with him at Holy Mass and the Sacraments.
Jesus didn't suffer for a select few.  He suffered for me.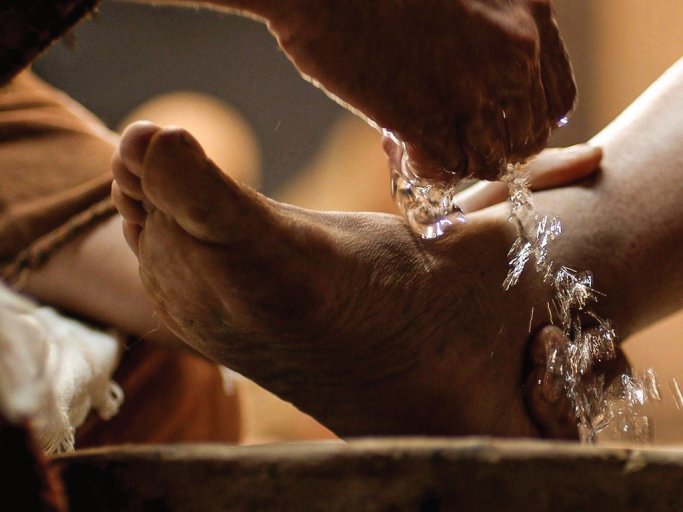 In today's Gospel we hear about the washing of the apostles' feet by Jesus.  Peter was very resistant to this as it seemed completely absurd to have Jesus do such a thing.  This was, after all, God made man, the Saviour of the world!  It should surely be the other way round would have been Peter's thinking.
Yet Jesus makes it clear that this is something he must do.  Firstly, he makes it clear that "unless I wash you, you will have no inheritance with me."  This is a clear link to our Baptism and its fundamental importance in our salvation.  It is also a link to the Sacrament of Reconciliation, where we are once again clothed in the white robe of our Baptism and brought to new life.  Our inheritance, it seems, is dependent on living in accordance with Christ's teaching, and this is achieved through our acceptance of and living in the Sacraments of his Church.
Christ's washing of the apostles' feet is also a sign that he is here to serve rather than be served.  It is also considered by many to be an important sign of the priesthood and its role in taking the love of God to all people.  And this is what I would like to focus on for a moment.  Despite being in the knowledge of the intolerable pain and suffering he was about to endure, Christ took time out to perform this simple but critical act of love.  And that is what we need to take from this special moment between Jesus and his apostles.  It was an act of selfless love; a visible sign of how man should treat man.  Jesus wanted to show this love to his apostles so that they would then do the same to others.
This Holy Week, are you prepared to wash the feet of those closest to you?  While we may participate in the washing of the feet during the Mass of the Lord's Supper we must also remember that our homes and families are small churches too.  So after tonight's Mass when you get home, consider washing the feet of your family and perhaps take turns doing so.  And while this is something that can be initiated by any member of the family, perhaps those of you who are fathers can take the lead.  Men are called to follow in the footsteps of Jesus and tend to their own flock in the same way that Jesus did.  And what better way to do this than to replicate Christ's actions and wash the feet of those closest to you?  While simple, this act of love carries with it an incredible power, the power of Christ who makes all things new.  And for those of you with children in your household, it will create a real sense of intrigue among them and they will no doubt want to learn more.  It's a great opportunity to explain to them, in simple terms and by action, just how much Jesus loves them and how much you love them too.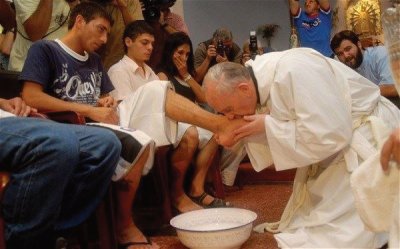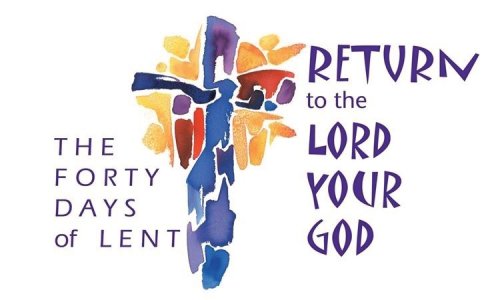 Lent is now upon us and we can all hopefully look forward to spending much time reflecting on our faith and our relationship with Jesus as we embark on a journey of prayer, fasting and almsgiving.
And while we have the option to develop our relationship with Jesus all year round, there is perhaps no better time than Lent to spend a little more time in the presence of Christ; one to one.  This Lent we are invited to get up and walk a while with our Saviour.  We are asked to pray more often than normal; to fast more; and to give more freely to those in need.  All of this can be achieved with the help of Christ.  If we take up his offer to walk with him he will give us the graces we need to make the most of this special season of Lent.
But what if you are far from the Church or have fallen away from the faith?  If this applies to you I would ask you to just consider taking a little time out this Lent to speak to Jesus.  It might be a prayer; it might be a question; it might be a concern or worry; or it might even be a simple hello!  The truth is….anything goes.  Jesus wants to give you the floor so that you can tell him everything that is on your mind.  The most important thing for Jesus is that you need him.  He wants to be the perfect friend; one who doesn't judge, who doesn't argue, and who doesn't impose any conditions on your friendship that you can't handle.   
Consider popping into a Church this Lent and spending some quality time with Jesus.  He is right there waiting for you in the tabernacle.  It's no illusion, no trick; he exists right there and he is waiting for you to come home to him.
And if your lack of faith relates to the Church, remember that the Church is a hospital for sinners not a club for saints.  If you feel disgruntled or even distrust towards the Church, remember that it is Christ who founded it and it is Christ who waits for you.  He is the most important element of our faith.  It is through him that we will learn to love God, to love one another, to become better people and, ultimately, to be united with the Father in Heaven. 
This Lent, as you give up chocolate or alcohol, consider spending some quality time with your Saviour.  He has so much love to give and this love has your name written all over it.  Nobody can give the perfect love and peace that Christ can.   
Make a special effort this Lent to attend a very special appointment in your local Church.  You may not know it but Jesus already has your name in his diary.  The only question is: will you turn up....?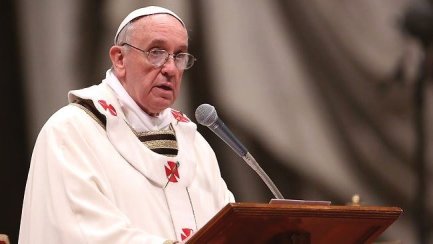 You may not have heard it on the news, but Pope Francis this weekend reaffirmed the truth of marriage as being between one man and one woman.  He also reaffirmed his conviction that all life is worthy of protection.
It's the kind of chat that will dampen the spirits of those who see so called 'progression' on these fundamental areas of Catholic doctrine.  It's also the kind of chat that will delight Catholics who hold true to their faith and who value marriage between one man and one woman as decreed by God Himself, and who value the sanctity of life from its very beginning.
It's too easy to read the mainstream media headlines and stories about Pope Francis and ignore the sources that really matter.  The Pope's affirmation of Catholic teaching on marriage and abortion outlined above didn't come on some flight aboard the papal plane or at a grandiose meeting with a political heavyweight but from the sanctuary during his homily at the Mass which heralded the opening of the secondpart of the Synod on the Family.
All too often we fail to listen when it really matters.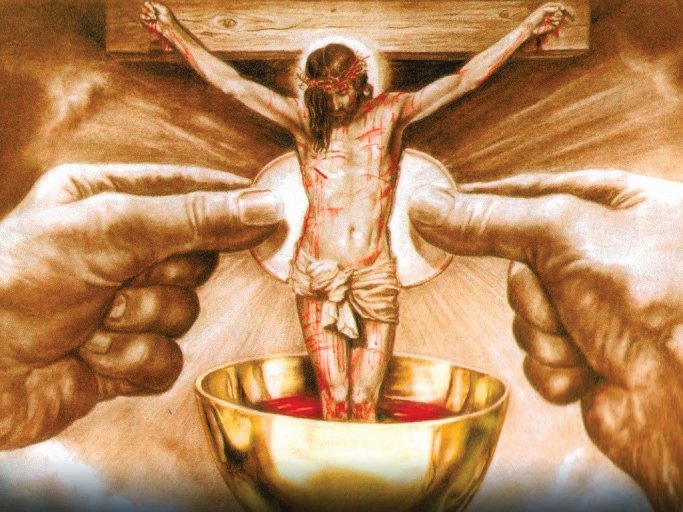 From Sunday's Gospel (John 6:24-35):
'Jesus answered:
'I tell you most solemnly,
it was not Moses who gave you bread from heaven,
it is my Father who gives you the bread from heaven,
the true bread;
for the bread of God
is that which comes down from heaven
and gives life to the world.'
'Sir,' they said 'give us that bread always.'
Jesus answered:
'I am the bread of life.
He who comes to me will never be hungry;
he who believes in me will never thirst.''
Reading this Gospel passage and, in particular, the words of Jesus leave us in no doubt.  He is the bread of life.  He is the way, the truth, and the life.  He is the only way to God.  Yes it is true!  In the Eucharist we receive Jesus Christ body, blood, soul and divinity!  Just as the bread came from Heaven in order to feed the Israelites so Jesus comes to us in the form of bread to feed, nourish and sustain us.
Jesus is offering himself to all of us.  He is offering us the chance of eternal life with him in Heaven.  Will we be like the disciples and say to Jesus: 'Sir, give us that bread always'?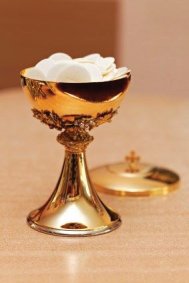 Sunday's Gospel (John 6: 1-15):
'Jesus went off to the other side of the Sea of Galilee – or of Tiberias – and a large crowd followed him, impressed by the signs he gave by curing the sick. Jesus climbed the hillside, and sat down there with his disciples. It was shortly before the Jewish feast of Passover.
Looking up, Jesus saw the crowds approaching and said to Philip, 'Where can we buy some bread for these people to eat?' He only said this to test Philip; he himself knew exactly what he was going to do. Philip answered, 'Two hundred denarii would only buy enough to give them a small piece each.' One of his disciples, Andrew, Simon Peter's brother, said, 'There is a small boy here with five barley loaves and two fish; but what is that between so many?' Jesus said to them, 'Make the people sit down.' There was plenty of grass there, and as many as five thousand men sat down. Then Jesus took the loaves, gave thanks, and gave them out to all who were sitting ready; he then did the same with the fish, giving out as much as was wanted. When they had eaten enough he said to the disciples, 'Pick up the pieces left over, so that nothing gets wasted.' So they picked them up, and filled twelve hampers with scraps left over from the meal of five barley loaves. The people, seeing this sign that he had given, said, 'This really is the prophet who is to come into the world.' Jesus, who could see they were about to come and take him by force and make him king, escaped back to the hills by himself.'
Did you know that a barley loaf was considered to be the bread of the poor?  God chose the food of the poor in order to satisfy the hunger of His created people.  He could have chosen to feed them with a grand banquet fit for a king but no, he chose a simple loaf of bread.
Yet this simple loaf represents something truly great; something more satisfying than a grand banquet.  It is the means by which God has chosen to come to us and to develop His relationship with us. 
Through a simple piece of bread God shows His great love for us and showers us with graces.  Why He decided to do this is a great mystery and it is a mystery that may well be revealed to us one day.  But the intricacies of this mystery is not something we need concern ourselves with right now.  Our concern must be the bread with which He feeds us….the Eucharist.  It is through the Eucharist, given to us in Holy Mass, that we are truly satisfied.  It is through the Eucharist that we receive the graces we need to live our daily lives. It is through the Eucharist that God comes to us in love, inviting us to an ever deeper relationship with Him, and encouraging us to never tire of trusting in Him.  And it is through the Eucharist that we will be saved; saved by the blood of Christ who sacrificed himself on a Cross so that we may live forever.
Yet even though we receive this great gift from God, there are still many basketfulls left over.  Our job, brothers and sisters, is to go out to the world and find a home for this bread.  God doesn't just want a few willing participants to come to Him and receive Him in the Eucharist.  He wants all of His created people to take part!  There are so many basketfulls of bread left over after we receive the Eucharist!  Let us find more homes for God to shine His great light in our world.  Let us be open to speaking highly of this great gift of God so that others may come to share in it.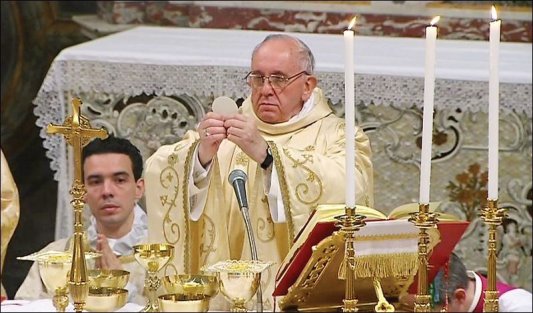 Millions flock to see Pope Francis
Around one million people turned out for the first papal Mass of Pope Francis' visit to Latin America yesterday.  The city of Guayaquil, Ecuador was the venue and it brought to mind the incredible scenes from World Youth Day 2013 in Rio, when approximately 4 million swamped the Copacobana to join the Holy Father for Mass.
It's quite an interesting fact that so many turn out to see the Holy Father and to celebrate Mass with him. Here in Scotland, when Pope Emeritus Benedict XVI said Mass in Glasgow in 2010, approximately 80,000 turned out; a healthy number when you consider the gradual decline in Mass attendance in Scotland in recent years.
And it's this point in particular which intrigues me.  I often wonder how many people going to see the pope celebrate Mass actually go to Mass in their own parish on a regular basis.  It may be that they all do, though I suspect the reality is that a number are simply turning up because it is the pope.  And that in itself is understandable to a degree.  He is, after all, a very high profile figure, and someone most people would love to see in the flesh. 
But is it right that some people pull out all the stops to see the pope and don't put in the effort to attend their parish for Sunday Mass?  I would have thought that it is not.  After all, it is Jesus we respond to when we attend Holy Mass, accepting his invitation to join him on Calvary and to share in his Passion and Resurrection.
By all means, we should rejoice when the pope comes to visit; he is a great holy man and an inspiration to all.  But at the end of the day it is Jesus who is our reason for attending Holy Mass.  It is Jesus who deserves our undivided attention for it is he who suffered and died for us.  It is Jesus who took on unimaginable pain for you and me so that we may live.  If we can't do it for Jesus who can we do it for?  Pope Francis would agree.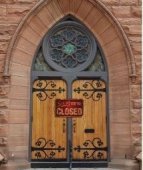 Archbishop Tartaglia, writing in this month's Flourish Newspaper, has confirmed that the preliminary phase of the process of planning for future parish provision is now complete.

 

 

The Archbishop said that he has "not found this reflection simple or easy" but feels that the preliminary phase was "successful in highlighting the challenge that faces us to make our parish communities sustainable into the future and in initiating a diocesan conversation about the issues involved."

 

 

The Archbishop suggests five questions for consideration:

 

1. Where are the people?

 

2. How many parishes do we need?

 

3. How many churches can we support?

 

4. How many priests and deacons will there be?

 

5. What kind of communities do we want?

 

 

While many people may be nervous about the future of their own parish in all of this there have been some encouraging words coming out of the latest meeting of the Council of Priests on 11th June.  The Council stated that it had "little appetite for a detailed plan of parish mergers or closures based on [the] current deanery configuration" and, as a result, "an approach based on clustering parishes may be more realistic and may bear better results."

 

 

While this doesn't necessarily mean there won't be mergers or closures in the years ahead, the words will offer much encouragement to parishes on the fringes who may have feared the sound of the wrecking ball coming up the street.

 

 

The Archbishop has confirmed that he now sees the planning process moving forward according the following strategy:

 

1. Solving issues of parish provision that require attention in the short term according to the dispositions of Canon Law

 

2. Finding suitable priests from wherever to provide pastoral care of the parish communities which we have

 

3. Proposing to parishes and deaneries the method of clustering as a new step towards preparing for future new communities – as soon as possible, therefore, a project of possible parish clusterings will be offered for consideration."

 

 

The Archbishop summed up his report by saying: "Evangelisation remains our one and only mission.  The spirit of the age is inimical to evangelisation but paradoxically also calls for it.  These are undoubtedly testing times for the Church.  In these circumstances, we need always to look with the eyes of faith to Jesus who tells us that we must not be afraid and who calls us to trust in him."

 

 

One thing is certain, this is not simply about the lack of priests.  It is also about the lack of numbers attending Mass and getting involved in the life of the parish and the wider community.  This, in turn, creates an economic imbalance meaning certain parishes cannot sustain themselves and they quickly become a drain on the provisions of the Archdiocese. 

 

 

Yes, it is crucially important that we pray hard for vocations to the priesthood and it is important that we are not afraid to encourage our young men to seriously consider this vocation.  But similarly, we need to be out there selling the faith to people and encouraging them to enter into a relationship with Jesus Christ.  We need to take our duty to save souls seriously so that as many people as possible rely on the love, mercy, and compassion of the Catholic Church.  The Church that Christ promised to be with until the end of time.

0

/