Shopping Cart
Your Cart is Empty
There was an error with PayPal
Click here to try again
Thank you for your business!
You should be receiving an order confirmation from Paypal shortly.
Exit Shopping Cart
Calling Scotland's 841,000 Catholics to unite as one voice
Catholic Answers' director of apologetics Tim Staples considers the question of women priests in the Catholic Church and reveals seven reasons why this is not possible.
The seven reasons are:
1. The Church has definitively declared it
2. The Church's constant Tradition for 2,000 years cannot err
3. The attitude of Christ
4. The practice of the Apostles
5. The permanent value of the attitude of Jesus Christ and the Apostles
6. The ministerial priesthood in the light of the mystery of Christ
7. The ministerial priesthood as illustrated by the mystery of the Church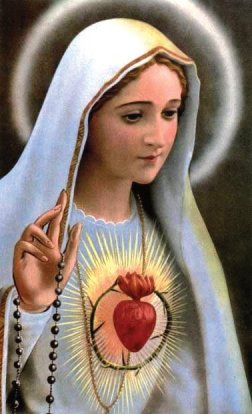 The First Saturday Devotion to the Immaculate Heart of Mary is an incredibly rich, and ultimately rewarding, devotion to Our Blessed Mother Mary. 
Please try to participate in this most incredible act of devotion and allow Jesus to pour his abundant graces upon you.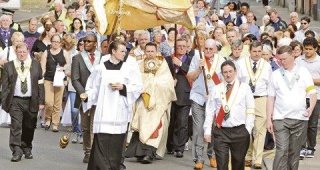 The West End Corpus Christi procession has grown in recent years
This Sunday the Church celebrates the great solemnity of Corpus Christi.  It is an occasion for us to celebrate the beauty and truth of the Eucharist; the real body and blood of our Lord Jesus Christ.
The solemnity is often marked by a procession led by the Blessed Sacrament and Catholics around the country are encouraged to join in.  In Glasgow the West End Corpus Christi Procession has become increasingly popular in recent years with hundreds participating.  This year the procession will leave from the University of Glasgow and travel to St Peter's, Partick.  Events start at 11.30am with Holy Mass in the University's Turnbull Hall. 
If you are unable to attend one of the larger processions please try to join in one in your local area.  Your parish might even be having one so check your bulletin or ask your parish priest.
The importance of the Eucharist cannot be overstated.  It is the centre of our faith.  It is Jesus, truly present among us.  Please try to support a Corpus Christi procession in your area this Sunday, and encourage others to do the same.  Let us be witnesses to our faith and let us be witnesses to Christ crucified, Christ risen, and Christ present in the Blessed Sacrament.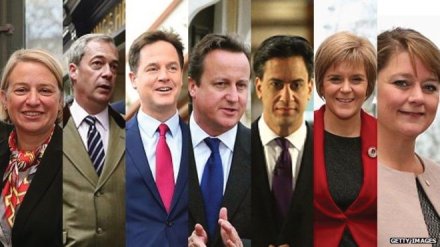 These people need our love and prayers too
It's not often you hear people standing up for politicians but that is precisely what I am about to do!  As the dust settles on last week's UK General Election the usual lampooning of political figures and parties has started up once again as we embark on another five year cycle of ridicule and abuse in the direction of those elected to lead our country.
As Christians our call is simple: to love one another and to keep God's Commandments.  Indeed, this was the call at Mass last Sunday for those blessed enough to be there to hear the Word of God. 
So, in light of this calling, is it okay to ridicule our politicians?  Is it okay to speak ill of them and to make fun of them?  Is it okay to abuse them?  The answer is quite simply no.  Of course it isn't okay to ridicule politicians; to speak ill of them; or abuse them.  We are called to love them!  God expects us to love our political leaders just as much as we love our own families. That's what brotherly and sisterly love 'God-style' is all about!  There are no exceptions. 
Yet this does not mean we cannot question our politicians and call them to account.  That is all part of the democratic process and indeed we, as Catholics, are expected to participate in that process in order to ensure God's Commandments are upheld in our country.  But we must be careful not to cross the line into the territory of abusing our politicians.  We shouldn't even be gossiping about them (remember Pope Francis' call to refrain from gossiping applies to all God's children, even those in political office).
So as we embark on this latest cycle of government with those newly elected and those elected to serve another term, let us pray hard for our political representatives, that they will serve the people of the United Kingdom with love, mercy, and compassion; and with justice at the heart of their policies.  They have a very difficult job and that job is made all the more difficult by a media constantly trying to undermine them and make mischief from their every move. Let us pray that our politicians will not be swayed by the traps set for them by the evil one and let us hope that moved by the Holy Spirit they will appreciate the importance of God's Commandments and that they will draw inspiration from the loving example of Jesus Christ as they lead our country.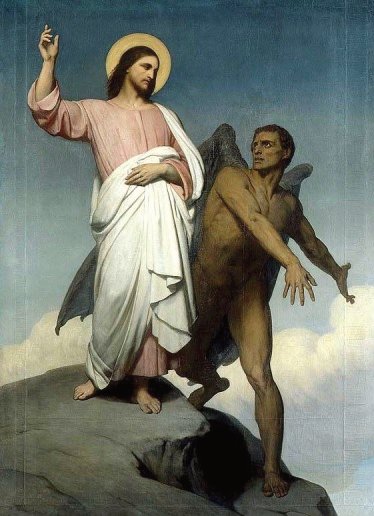 Sunday's Gospel (Mark 1:21-28):
'Jesus and his followers went as far as Capernaum, and as soon as the sabbath came he went to the synagogue and began to teach. And his teaching made a deep impression on them because, unlike the scribes, he taught them with authority.
In their synagogue just then there was a man possessed by an unclean spirit and it shouted, 'What do you want with us, Jesus of Nazareth? Have you come to destroy us? I know who you are: the Holy One of God.' But Jesus said sharply, 'Be quiet! Come out of him!' And the unclean spirit threw the man into convulsions and with a loud cry went out of him. The people were so astonished that they started asking each other what it all meant. 'Here is a teaching that is new' they said 'and with authority behind it: he gives orders even to unclean spirits and they obey him.' And his reputation rapidly spread everywhere, through all the surrounding Galilean countryside.'
It's not difficult to imagine evil in our world. It's all around us; wars, murder, violence, destruction.  Evil has enveloped our world and it can be experienced at almost every turn.  Yet,while it is easy to see evil and to experience it, do we really appreciate who is behind it?
While a willing human mind is perhaps necessary to carry out evil, it is the devil that is the source of evil; and he uses his power to force others to carry out his evil deeds in many different ways.  In today's Gospel passage he uses possession as a means to wreak havoc and to attack God.  In today's world possession by unclean spirits is still a reality and exorcisms occur throughout the world.  But the devil makes his presence felt in numerous other ways.  He destroys our love of life from the moment of conception until natural death by willing abortions and assisted suicide.  He chips away at the family by breaking it up and removing those critical elements of fatherhood and motherhood for every child.  He encourages gossip, cynicism, complaining and negativity among people.
The devil also comes to us in the most simple and innocent situations.  He encourages our laziness as we prepare for Mass on a Sunday; making us feel like the weekly trip to church is a chore rather than a joy.  He visits us in the evening just before we go to sleep and gently invites us to read another few pages of the latest thriller at the expense of our prayers.  He is not always forceful.  Indeed, his ways are often subtle and gentle; wooing us with a seeming beauty and elegance designed to capture our hearts and designed to thrill and excite.
The devil's intention is ultimately to come between us and God.  He is a fallen angel because he wanted to be God.  And given he cannot possibly be God he now wants to bring as much destruction to God's creation as he possibly can and the best way to do this is to turn God's own children against Him. 
However, he will never win as Christ has won the victory on the Cross.  Good has triumphed over evil and God can never be defeated.  But our hearts can still be won over by the devil and he is doing his very best to ensure that this happens to as many people as possible. As we prepare for our Lenten journey this year perhaps it would beuseful to try to discern the ways the devil tries to get at us.  If we can identify his evil habits then we can turn to Jesus and ask him to defend us so that our hearts are never won over by the devil and his destructive ways. We belong to God and to God alone. It is He who has given us life and it is to Him that we shall return at the end of time to be judged.  Make sure that judgement has a happy ending.  Don't let the devil have his way.  He wants you to fail so that you will be damned for all eternity.  Remember, you have Jesus on your side!  He is the only one who can save you from the devil's evil clutches. 
Keep your eyes fixed on Jesus and ignore the subtle temptations of the evil one.  Keep your heart fixed on Jesus and make sure that your destiny is Heaven, to be reunited with your Father who loves you more than you can ever imagine.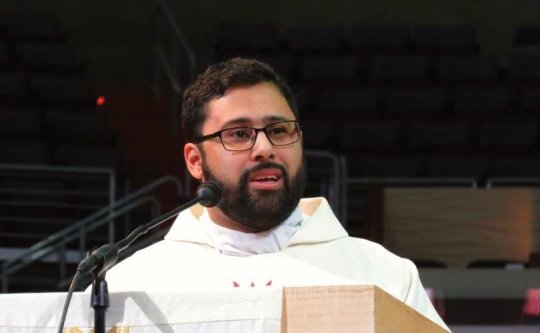 Father Mario Majano
Father Mario Majano, a 28 year old Catholic priest from Washington DC, recently brought a 15,000 strong crowd to its feet during the Verizon Centre Mass for Life event in the capital.  The Mass was a follow-on from last week's March for Life which attracted hundreds of thousands of people.
Father Majano's story is one which brought tears to many people in the huge audience, but it was the tears of one woman in particular which made the headlines.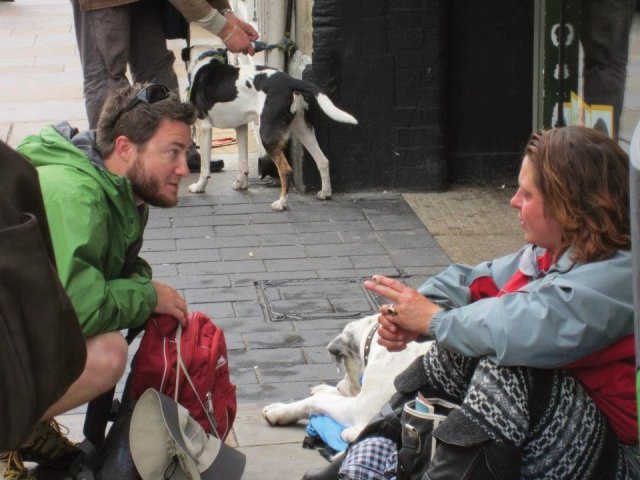 Sunday's Gospel (Mark 1:14-20):
'After John had been arrested, Jesus went into Galilee. There he proclaimed the Good News from God. 'The time has come' he said 'and the kingdom of God is close at hand. Repent, and believe the Good News.'
As he was walking along by the Sea of Galilee he saw Simon and his brother Andrew casting a net in the lake – for they were fishermen. And Jesus said to them, 'Follow me and I will make you into fishers of men.' And at once they left their nets and followed him.
Going on a little further, he saw James son of Zebedee and his brother John; they too were in their boat, mending their nets. He called them at once and, leaving their father Zebedee in the boat with the men he employed, they went after him.'
We are all called to be fishers of men, just as Simon Peter and Andrew were called byJesus.  And while it isn't a particularly easy task, it is one which requires our endeavour and commitment. 
Jesus never asks us to do anything that isn't worthy of the Kingdom of God.  Therefore, our need to evangelise is an important one and one we must take seriously. But as there are many different types of fish with different colours and coming in different shapes and sizes; so it is with people.  Every person has a distinct character which may make it easier or more difficult in encouraging them to follow Jesus.
There is no simple, exact science to evangelising.  There are many ways in which we can cast our nets out into the world in the hope of catching souls for God.  One may be a simple act of kindness to a poor person in the street; perhaps spending a little time with them.  A simple act like this may encourage that person to seek God and may even encourage others passing by to wonder why someone should commit such an act of kindness. That wonder may just lead them to think that God may have something to do with it.
Perhaps you are at work and colleagues start to gossip and bad mouth another colleague.  This is your chance to step up and discourage such behaviour!  Such a simple act may make your colleagues wonder why you would think that a bit of gossip could be wrong.  That wonder may just lead them to God.
The list of possibilities is endless when it comes to evangelising.  There are so many opportunities for us to evangelise and it doesn't always need to be the blindingly obvious.  While directly encouraging someone to pick up a Bible or to go along to Mass are other valid ways to evangelise, we need to be aware that there are a whole range of ways to bring people to God. 
And to be successful as a 'fisher of men' we don't need to achieve immediate results for our endeavours.  Rather, our job is often a case of throwing the seed of faith out there and letting the Holy Spirit do the rest.  If we can just tee things up for the Spirit to work its magic, we will be helping Jesus in his mission to bring people to God.
The Kingdom of God is indeed at hand, for the Kingdom of God is in your hands.  Go out and make disciples of all nations and be a fisher of men and women by your simple acts of love for others!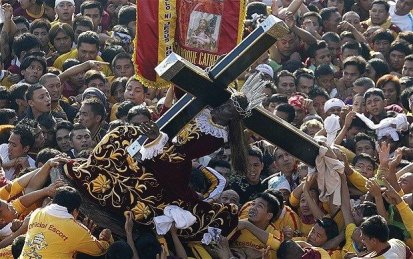 Filipinos just love being Catholic!
Pope Francis is on record as saying that "The Philippines bear witness to the youthfulness and vitality of the Church."
How true!  The Philippines is one of those nations where Catholicism is thriving because of an unconditional love and complete trust in the Catholic faith.
Unliek our own western and increasingly secular culture, the Filipinos rarely question their faith.  They are less inclined to be negative about the Church.  Quite the opposite!  They love it!  They adore it!  They cherish it and value it!  And best of all, they stand up for it!
And why wouldn't they?  It is Christ's Church after all!
They are also not afraid to hand it down, word for word, to their children.
A real example of faith and love for Christ.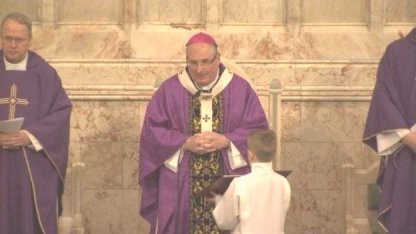 Picture: bbc.co.uk
The Archbishop of Glasgow, Philip Tartaglia, has encouraged the people of the city to turn to God in their grief as they come to terms with the tragic loss of six lives in Monday's road accident in George Square. 
The Archbishop presided over Mass at the city's St Andrew's Cathedral as government ministers, council executives and officials from other faith groups gathered to remember the dead. 
Archbishop Tartaglia, in referring to today's scripture readings, suggested that, despite all the sadness and suffering we are currently experiencing, we must remember that we are not alone.  He said: "Do not be afraid, God is with us.  Believe in Him and support our suffering people." 
The Archbishop also spoke of his time with the family of Erin McQuade, and Jack and Lorraine Sweeney, all members of the one family who lost their lives along with Stephenie Tait, Gillian Ewing and Jacqueline Morton. 
He said: "The distressed woman to whom I was speaking had seen her daughter and her own parents killed almost right in front of her. Can you imagine the horror?
"I tried to console them and comfort them. We spoke and we cried and we were silent before the abyss of their loss and the random meaninglessness of what had happened." 
Archbishop Tartaglia said the bereaved family "openly spoke of their faith, but their faith was sorely tried", adding: "I commended them silently to God that the Lord would find the way to bring them comfort."
The Apostolic Nuncio, Archbishop Antonio Mennini, sent his condolences to the families and the city and, speaking on behalf of Pope Francis, said that all can be certain of his continuing prayers at this difficult time.
The Mass, which was so well attended that it was eventually standing room only, was a beautiful offering to God of the lives of the six people who had died.  It was also a beautiful offering of the suffering being endured by those close to them and all those affected by the tragedy.  We must hope and pray that all is not lost in God's divine plan and that He, in His love and infinite mercy, will unite those families again in His heavenly kingdom.
Again, we pray...
Eternal rest grant unto them O Lord, and let perpetual light shine upon them, may the rest in peace. Amen.
May their souls and the souls of all the faithful departed, through the mercy of God, rest in peace. Amen. 
And for the bereaved, the injured and those suffering from witnessing the incident or from providing emergency assistance...
Hail Mary, full of grace, the Lord is with thee. Blessed art thou among women, and blessed is the fruit of thy womb, Jesus.
Holy Mary, Mother of God, pray for us sinners now, and at the hour of our death. Amen.
/