Shopping Cart
Your Cart is Empty
There was an error with PayPal
Click here to try again
Thank you for your business!
You should be receiving an order confirmation from Paypal shortly.
Exit Shopping Cart
Calling Scotland's 841,000 Catholics to unite as one voice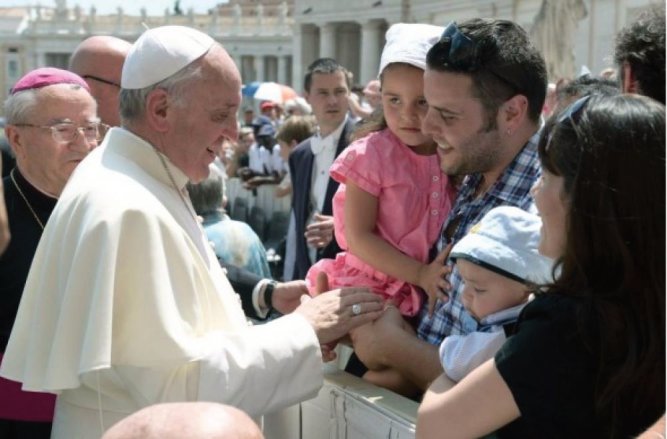 Tim Stanley, in his latest blog post, gets to the heart of post-Synod exhortation Amoris Laetitia, bypassing all the drama and criticism, and appreciating the document for what it truly is: 'a wise lecture on the meaning of love that is built entirely on Catholic teaching'.
He sums it up saying: 'there's an ideal family, there's a broken reality and the bridge between the two must be the Catholic Church'.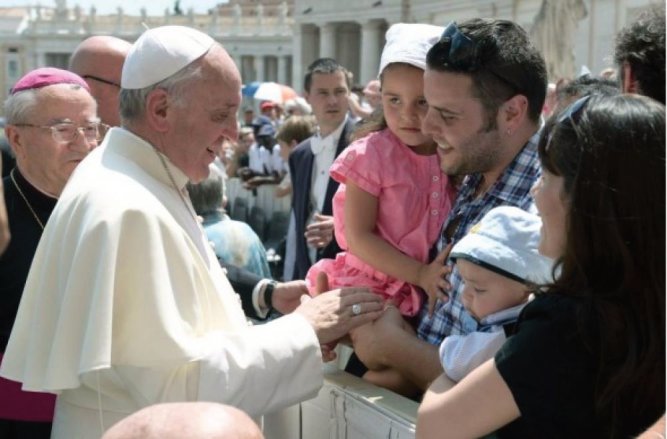 In his new exhortation,
Amoris Laetitia (The Joy of Love),
 Pope Francis has expressed the need to view the family unit as an opportunity rather than a problem, and has encouraged the Church to be more understanding and compassionate towards those who experience difficulties in family life.  There is a real sense of challenge in the document; a challenge to a deeper, less self-centred love towards all people, coupled with a deeper sense of humility.
The document, which runs to 264 pages, also speaks highly of the value of children and the need for married couples to be open to the prospect of new life.  It emphasises the need to see the family unit as a church and provides insight into the various reasons that have contributed to the breakdown of the family in our world today.  He was also critical of those who are narcissistic and irresponsible in relationships saying: "We treat affective relationships the way we treat material objects and the environment: everything is disposable; everyone uses and throws away, takes and breaks, exploits and squeezes to the last drop. Then, goodbye. Narcissism makes people incapable of looking beyond themselves, beyond their own desires and needs. Yet sooner or later, those who use others end up being used themselves, manipulated and discarded by that same mind-set."
As expected, the pope has not made any moves to change Church teaching and matters such as contraception, same-sex marriage, abortion and holy communion for the divorced and remarried have not been given the liberal treatment that many media outlets had hoped for.  This, of course, was never in doubt. 
However, Francis has encouraged the Church to give consideration to how it can best serve those who do not live in accordance with Church teaching, especially when it comes to reconciling them to God.  Bishops, priests and Catholic lay people are all being challenged to be the merciful face of Christ to those in difficult situations, while ensuring that the beautiful teaching of the Church is preserved.  There is also a challenge to be more positive about Church doctrine, to present it in a way that reveals its true beauty and goodness.
While we are not yet in a position to go into detail on the exhortation we will be posting a number of related content on our Facebook and Twitter feeds over the coming days.  We also expect to publish more posts here on our blog so please do check it regularly.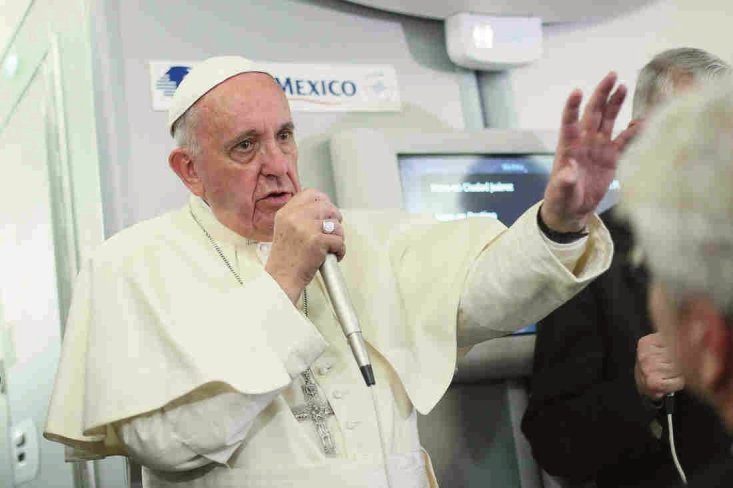 Pope Francis didn't just talk about Donald Trump's value as a Christian and contraception on his latest flight home to Rome.  There is so much more that the mainstream media has failed to cover.  So here it is....the stuff you probably haven't yet heard about:
Pope Francis on paedophilia in the Church and the part played by Pope Benedict XVI to eradicate it:
"First, a bishop who moves a priest to another parish when a case of pedophilia is discovered is a reckless [inconsciente] man and the best thing he can do is to present his resignation. Is that clear?
Cardinal Ratzinger deserves an applause. Yes, an applause for him. He had all of the documentation. He's a man who as the prefect of the Congregation for the Doctrine of the Faith had everything in his hands. He conducted all the investigations, and went on, went on, went on, until he couldn't go any further. But, if you remember, 10 days before the death of St. John Paul II, in that Via Crucis of Holy Friday, he said to the whole Church that it needed to clean up the dirt of the Church. And in the Pro-Eligendo Pontefice Mass, despite knowing that he was a candidate, he wasn't stupid, he didn't care to "make-up" his answer, he said exactly the same thing. He was the brave one who helped so many open this door. So, I want to remember him because sometimes we forget about this hidden works that were the foundations for "taking the lid off the pot."
And, the final thing I would like to say that it's a monstrosity, because a priest is consecrated to lead a child to God, and he eats him in a diabolical sacrifice. He destroys him."


Pope Francis on same-sex unions and adoption by same-sex couples:
"I think what the Church has always said about this. "
"On people of the same sex, I repeat what I said on the trip to Rio di Janeiro. It's in the Catechism of the Catholic Church."


Pope Francis on abortion:

"Abortion is not the lesser of two evils. It is a crime. It is to throw someone out in order to save another. That's what the Mafia does. It is a crime, an absolute evil.
Abortion is not a theological problem, it is a human problem, it is a medical problem. You kill one person to save another, in the best-case scenario. Or to live comfortably, no?  It's against the Hippocratic oaths doctors must take. It is an evil in and of itself, but it is not a religious evil in the beginning, no, it's a human evil. Then obviously, as with every human evil, each killing is condemned."


Pope Francis on the European Union:
"I like this idea of the re-foundation of the European Union, maybe it can be done, because Europe — I do not say is unique, but it has a force, a culture, a history that cannot be wasted, and we must do everything so that the European Union has the strength and also the inspiration to make it go forward. That's what I think."


Pope Francis on the reintegration into the Church of re-married persons:
"Integrating in the Church doesn't mean receiving Communion. I know married Catholics in a second union who go to church, who go to church once or twice a year and say I want communion, as if joining in Communion were an award. It's a work towards integration, all doors are open, but we cannot say, "from here on they can have Communion." This would be an injury also to marriage, to the couple, because it wouldn't allow them to proceed on this path of integration. And those two were happy. They used a very beautiful expression: we don't receive Eucharistic Communion, but we receive communion when we visit hospitals and in this and this and this. Their integration is that. If there is something more, the Lord will tell them, but it's a path, a road."

On Pope John Paull II's friendship with Ana Teresa Tymieniecka:
"In my own experience, including when I ask for advice, I would ask a collaborator, a friend, I also like to hear the opinion of a woman because they have such wealth. They look at things in a different way. I like to say that women are those who form life in their wombs — and this is a comparison I make — they have this charism of giving you things you can build with. A friendship with a woman is not a sin. [It's] a friendship. A romantic relationship with a woman who is not your wife, that is a sin. Understand?
But the Pope is a man. The Pope needs the input of women, too. And the Pope, too, has a heart that can have a healthy, holy friendship with a woman. There are saint-friends — Francis and Clare, Teresa and John of the Cross — don't be frightened. But women are still not considered so well; we have not understood the good that a woman do for the life of a priest and of the church in the sense of counsel, help of a healthy friendship."

And finally, what did the pope ask for in Guadalupe?
"I asked for the world, for peace, so many things. The poor thing ended up with her head like this (raises arms around head). I asked forgiveness, I asked that the Church grows healthy, I asked for the Mexican people. And another thing I asked a lot for: that priests to be true priests, and sisters true sisters, and bishops true bishops. As the Lord wants. This I asked a lot for, but then, the things a child tells his mother are a bit of a secret."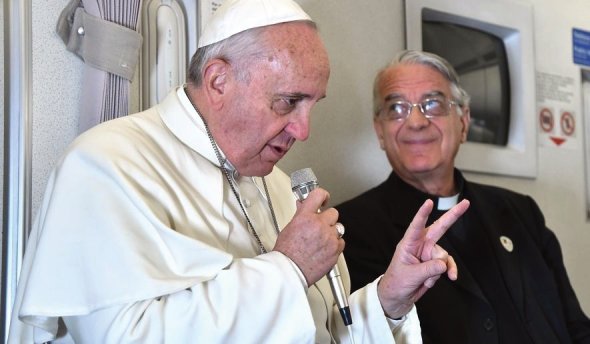 Another in-flight interview, yet another media frenzy.  It seems that every time Pope Francis takes to the skies there is more and more controversy, particularly from those who seem to have a strange interest in changing Church teaching.
This time one of the more interesting comments from the Holy Father was on the subject of contraception.  The pope was asked a question about the Zika virus and whether abortion [as the lesser of two evils] or avoiding pregnancy would be acceptable courses of action for women to take.  In response the pope stated that "Abortion is not the lesser of two evils. It is a crime. It is to throw someone out in order to save another. That's what the Mafia does. It is a crime, an absolute evil."  So that is pretty clear.
But it's what he then went on to say that may be a cause for concern for some.  He said: "Paul VI, a great man, in a difficult situation in Africa, permitted nuns to use contraceptives in cases of rape."  He added later: "avoiding pregnancy is not an absolute evil. In certain cases, as in this one, or in the one I mentioned of Blessed Paul VI, it was clear."  Francis is, of course, referring to Pope Paul VI, one of the greatest and most outspoken proponents of Catholic teaching on sexuality.  So is the pope suggesting that the use of contraceptives is okay? 
In order to tackle this question it is perhaps best to give due consideration to Church teaching on the matter.  Firstly, by referring to 'avoiding pregnancy not being an absolute evil' the pope isn't necessarily referring to contraception.  For some time the Church has accepted the use of natural family planning by married couples.  This is where a couple recognise their own pattern of fertility and use this knowledge to plan a family in order to give them the opportunity to raise their children in the best environment possible.  Natural family planning is not contrary to the teaching of the Church in the same way as contraception because, unlike contraception, natural family planning is still open to new life during each sexual encounter and the couple also give themselves completely to the other.  With contraception there is a clear barrier between the man and woman which prevents one giving him or herself completely to the other and there is also a distinct lack of openness to new life.          
As Catholics we are called to give ourselves completely to the other in marriage.  And as sexual union is part of our marriage then we must be prepared to give ourselves completely to the other each time we embrace that act. We have to be a gift to our spouse.  Totally and unconditionally.  If we do not do this i.e. by using contraception, then we are acting contrary to Church teaching.  This is why contraception is immoral. 
So what about the nuns in Africa?  In these cases there would have been no voluntarily act of self-giving on the part of the nuns.  The nuns did not desire to participate in this sexual encounter.  As a result the use of birth control in this instance is not viewed as being an immoral barrier between the self-giving love of one spouse to another with the accompanying openness to new life.  Rather it is seen as an act of self-defence on the part of someone upon whom a criminal act is being perpetrated.  Further, the sexual encounter in this case was not within the realm of marriage i.e. it was not conjugal.  Therefore, it actually falls outwith Church teaching on the issue (
an issue tackled by Jimmy Akin here
).  This, I expect, is why Pope Paul VI sanctioned their use in these circumstances.
This, of course, is entirely different from the situation surrounding the Zika virus.  Here we are talking about women who are voluntarily engaging in sexual relations but who are using contraceptives to prevent new life.  This is clearly immoral and contrary to Church teaching.  These women do, however, have recourse to natural family planning, which is very much in accordance with the Church and is not immoral.
Let's be clear, Church teaching on contraception is not about to change. 

Following a recent discussion on our Facebook page I thought it might be useful to draft up a short note on our Catholic faith and homosexuality.  It is intentionally brief.  For a more in-depth article on the matter please
click this link
.
Our Catholic faith tells us that homosexual acts are wrong. I think it's hard for us to hear this in such an abrupt way in today's world but this is what we are taught by faith. The reason such acts are wrong is that God has ordered us male and female for the authentic union that is marriage between man and woman and to be completely open to the precious gift of new life. Homosexual acts are not ordered in this way and are thus sinful. There are many sinful acts so this isn't necessarily a singling out of homosexual people. Consider sex outside marriage between a man and a woman, which is also wrong, as is the use of contraception.
It's absolutely critical to also bear in mind that having same-sex attraction is different to homosexual acts. Mere attraction is not of itself sinful. It is only when these feelings are acted upon where it is deemed to be wrong.  This is something that many people get confused about.
I think it's also important to see the positive side of the Church's teaching on homosexuality. It seeks to protect humanity by promoting the love between a man and a woman for the sake of giving new life to the world and raising this new life in marriage, which throughout history has been the best place for kids to thrive. The Church doesn't say a man can't love a man or a woman can't love a woman. Indeed, such a notion is completely contrary to Church teaching. It simply states that it is wrong to interfere with God's clear and natural plan for humanity.
It's not about hating homosexuals as many people wrongly think. It's actually about loving everyone and calling them all to live in accordance with God's plan. That too is a form of love though it is often hard for this society to see it in this modern age of relativism.  In my time running the Scots Catholic website and social media accounts I have often been corrected for straying out of line with respect to Church teaching.  I have learned so much in terms of my faith and I am grateful to those who have offered their generous help.  For me, they are simply doing God's work.  They are doing what Jesus did and are challenging me, and I shouldn't be afraid to be challenged.  
In fairness to anyone who abides by the teaching of Christ and his Church on this matter, they are simply trying to live out their lives as God intended and they are well within their rights to stay true to God no matter what the world may tell them.  Jesus and the Apostles were ridiculed and even put to death for going against the tide and remaining faithful to God's teaching. But they remained faithful. And we are called to do the same.
It is also very important to note that there are many, many gay people living out their Catholic faith chastely in the Church. Their call to chastity is no different to the call to chastity of single people in the Church.
And we must remember, the Church is open to all people and she loves all people, especially those of us who sin. That's why I'm a member.
Many people query whether the Church might change its stance with respect to homosexual acts. This is highly unlikely given the wrongs of homosexual acts is contained in scripture, the Word of God. It's also entrenched in nature itself and the ability of man and woman to procreate (something the Church wants to protect for the sake of the family). I appreciate this is a difficult teaching for some, especially in today's society, but the Church can't fit around the whims of society. First and foremost, the Church can't stray from the Truth it has protected for 2000 years. And secondly, it would be impossible to satisfy everyone all of the time.  The Church, like Jesus, is here to challenge us with the Truth.  It is not here so that we can abuse it for our own ends.
The Church is also here to bring God's mercy to us through the
Sacrament of Reconciliation
.  There is no sin we can commit that is too great that we can't reconcile ourselves to God.  He loves us like no other.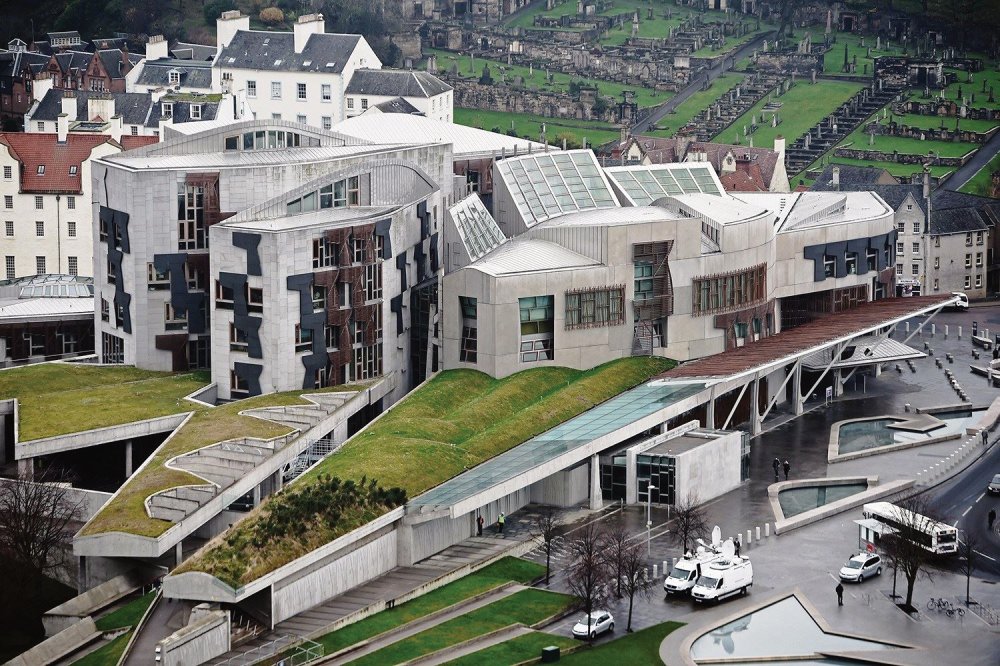 The petition will be debated in Holyrood
Scottish MSPs will today discuss a petition calling on the government to make incest legal between consenting adults over the age of 21. 
The petition, by Richard Morris, claims that the existing law is "inappropriate, unfair, ineffective and discriminatory" and suggests that public "prejudice and bigotry" about incest was caused by ignorance.  He has also apparently likened the issue to historical treatment of homosexuals.
The Catechism of the Catholic Church is clear on the matter of incest and states the following:
'2388Incest designates intimate relations between relatives or in-laws within a degree that prohibits marriage between them. St. Paul stigmatizes this especially grave offense: "It is actually reported that there is immorality among you . . . for a man is living with his father's wife. . . . In the name of the Lord Jesus . . . you are to deliver this man to Satan for the destruction of the flesh. . . . " Incest corrupts family relationships and marks a regression toward animality.'
We are left in no doubt by St Paul's words.  Incest is destruction of the flesh and is mortal sin.  Indeed all instances of sexual relations outside of marriage are sinful and must be avoided.  And look how St Paul uses the name of Jesus to hit home the severity of incest.  It is not in St Paul's name that an individual guilty of incest is to be delivered to the devil, but in the name of Jesus. 
It's interesting that the petitioner Mr Morris cites the treatment of homosexuals to support his case.  The Catholic Church's stance on homosexual acts is clear, and many people in the Church and indeed others who believe such acts to be wrong, have stated their concern that increased liberalism with respect to homosexuality will open wider the floodgates of a deeply disturbing and increasingly sickening new sexual revolution in our society.  I believe Mr Morris's petition is evidence of this.
Our Blessed Mother Mary, when she appeared to the children in Fatima in the early twentieth century, stated that more people go to hell for sins of the flesh than for any other sin.  That's the Mother of God speaking.  It's not the view of some radical religious nut, or priest, or bishop.  It's not even a pope speaking.  It's Mary, the Mother of our God and Queen of Heaven.
So let us pray that Mary's voice will be heard and that our MSPs decide to reject this petition and retain existing laws on incest in our country.

Following on from Bishop Thomas Olmstead's exhortation document
Into the Breach
, a short film has been produced to encourage men to be real men, following in the footsteps of Christ and sacrificing everything for others.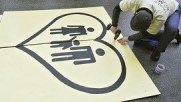 Slovenia voted to protect the family
Slovenia has rejected same-sex marriage following a referendum.  Around two thirds of those who voted rejected a bill which proposed to redefine marriage as being between two consenting adults.

Ales Primc, from the group Children at Stake, said that "this result presents a victory for our children".  The country's conservative groups were also reportedly backed by Pope Francis who urged Slovenians to "back the family as the structural reference point for the life of society".
While the more liberal, secular nations across Europe have had no difficulty in redefining marriage, it is clear that there are still a number of nations resistant to any change.  Indeed the vast majority of countries across the globe continue to embrace marriage as being between one man and woman.
It's important that marriage (between one man and one woman) be protected for the sake of the family.  Marriage is a critical public interest structure for the common good of society.  It is the only structure capable of procreating and bringing about new life.  Without it, none of us would exist.    

Catholics are becoming increasingly liberal on important moral issues
A YouGov poll carried out in the summer has revealed that Catholics are split on the issue of same-sex marriage.  While 40% of the 863 Catholics polled said that they opposed same-sex marriage, a significant 50% said that they supported it.  Given the Church's clear teaching on homosexual acts this should be quite surprising, yet set against the backdrop of an ever increasing aggresive liberal relativist and anti-religious society where many Catholics are losing sight of the faith, the results are not really that much of a shock.
The poll also revealed that while 48% of Catholics were opposed to euthanasia, 42% of Catholics support it.  Again, the teaching of Christ and the Church appears to have fallen on deaf ears.
Finally, in terms of abortion, 69% of Catholics polled said that there needed to be more restrictions with regard to the procedure, while 17% said that there was no need for further restrictions. 
If we, as Catholics, are being true to Christ and true to his Church these figures should be very straightforward.  It should in essence read that 100% of Catholic oppose same-sex marriage; 100% of Catholic oppose euthanasia; and 100% of Catholic are in favour of more restrictions when it comes to abortion(actually, 100% of Catholic should support a complete ban on abortion).
We need to start being true to Christ and to the Church he founded above all else.  The figures revealed by this poll are nothing short of despicable.  We need real leadership from our Bishops and priests, but perhaps more importantly we need authentic Catholic witness from parents and families across the Catholic community.  We are all charged with upholding the Truth and encouraging others to do the same, for we will all be answerable to the Lord.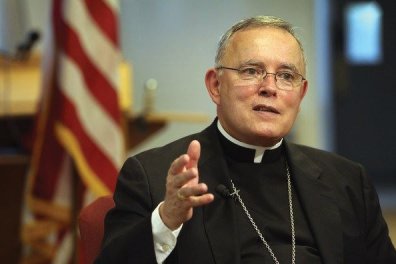 Archbishop Charles J Chaput
Archbishop Charles J Chaput speaking about the Synod on the Family:
"Truth without love is bitter and can drive the wounded away; and love without truth isn't love at all, but a comfortable form of lying.
"There can be no real mercy, since mercy is an expression of love, without first grounding it in the truth about God's will for humanity.  His will includes marriage and the family.  And the source for understanding his truth in God's own Word and the Chuch his Son founded."
/