Shopping Cart
Your Cart is Empty
There was an error with PayPal
Click here to try again
Thank you for your business!
You should be receiving an order confirmation from Paypal shortly.
Exit Shopping Cart
Calling Scotland's 841,000 Catholics to unite as one voice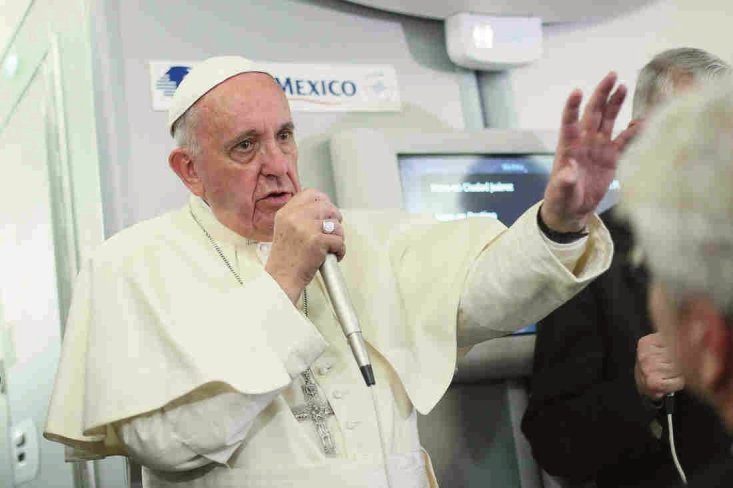 Pope Francis didn't just talk about Donald Trump's value as a Christian and contraception on his latest flight home to Rome.  There is so much more that the mainstream media has failed to cover.  So here it is....the stuff you probably haven't yet heard about:
Pope Francis on paedophilia in the Church and the part played by Pope Benedict XVI to eradicate it:
"First, a bishop who moves a priest to another parish when a case of pedophilia is discovered is a reckless [inconsciente] man and the best thing he can do is to present his resignation. Is that clear?
Cardinal Ratzinger deserves an applause. Yes, an applause for him. He had all of the documentation. He's a man who as the prefect of the Congregation for the Doctrine of the Faith had everything in his hands. He conducted all the investigations, and went on, went on, went on, until he couldn't go any further. But, if you remember, 10 days before the death of St. John Paul II, in that Via Crucis of Holy Friday, he said to the whole Church that it needed to clean up the dirt of the Church. And in the Pro-Eligendo Pontefice Mass, despite knowing that he was a candidate, he wasn't stupid, he didn't care to "make-up" his answer, he said exactly the same thing. He was the brave one who helped so many open this door. So, I want to remember him because sometimes we forget about this hidden works that were the foundations for "taking the lid off the pot."
And, the final thing I would like to say that it's a monstrosity, because a priest is consecrated to lead a child to God, and he eats him in a diabolical sacrifice. He destroys him."


Pope Francis on same-sex unions and adoption by same-sex couples:
"I think what the Church has always said about this. "
"On people of the same sex, I repeat what I said on the trip to Rio di Janeiro. It's in the Catechism of the Catholic Church."


Pope Francis on abortion:

"Abortion is not the lesser of two evils. It is a crime. It is to throw someone out in order to save another. That's what the Mafia does. It is a crime, an absolute evil.
Abortion is not a theological problem, it is a human problem, it is a medical problem. You kill one person to save another, in the best-case scenario. Or to live comfortably, no?  It's against the Hippocratic oaths doctors must take. It is an evil in and of itself, but it is not a religious evil in the beginning, no, it's a human evil. Then obviously, as with every human evil, each killing is condemned."


Pope Francis on the European Union:
"I like this idea of the re-foundation of the European Union, maybe it can be done, because Europe — I do not say is unique, but it has a force, a culture, a history that cannot be wasted, and we must do everything so that the European Union has the strength and also the inspiration to make it go forward. That's what I think."


Pope Francis on the reintegration into the Church of re-married persons:
"Integrating in the Church doesn't mean receiving Communion. I know married Catholics in a second union who go to church, who go to church once or twice a year and say I want communion, as if joining in Communion were an award. It's a work towards integration, all doors are open, but we cannot say, "from here on they can have Communion." This would be an injury also to marriage, to the couple, because it wouldn't allow them to proceed on this path of integration. And those two were happy. They used a very beautiful expression: we don't receive Eucharistic Communion, but we receive communion when we visit hospitals and in this and this and this. Their integration is that. If there is something more, the Lord will tell them, but it's a path, a road."

On Pope John Paull II's friendship with Ana Teresa Tymieniecka:
"In my own experience, including when I ask for advice, I would ask a collaborator, a friend, I also like to hear the opinion of a woman because they have such wealth. They look at things in a different way. I like to say that women are those who form life in their wombs — and this is a comparison I make — they have this charism of giving you things you can build with. A friendship with a woman is not a sin. [It's] a friendship. A romantic relationship with a woman who is not your wife, that is a sin. Understand?
But the Pope is a man. The Pope needs the input of women, too. And the Pope, too, has a heart that can have a healthy, holy friendship with a woman. There are saint-friends — Francis and Clare, Teresa and John of the Cross — don't be frightened. But women are still not considered so well; we have not understood the good that a woman do for the life of a priest and of the church in the sense of counsel, help of a healthy friendship."

And finally, what did the pope ask for in Guadalupe?
"I asked for the world, for peace, so many things. The poor thing ended up with her head like this (raises arms around head). I asked forgiveness, I asked that the Church grows healthy, I asked for the Mexican people. And another thing I asked a lot for: that priests to be true priests, and sisters true sisters, and bishops true bishops. As the Lord wants. This I asked a lot for, but then, the things a child tells his mother are a bit of a secret."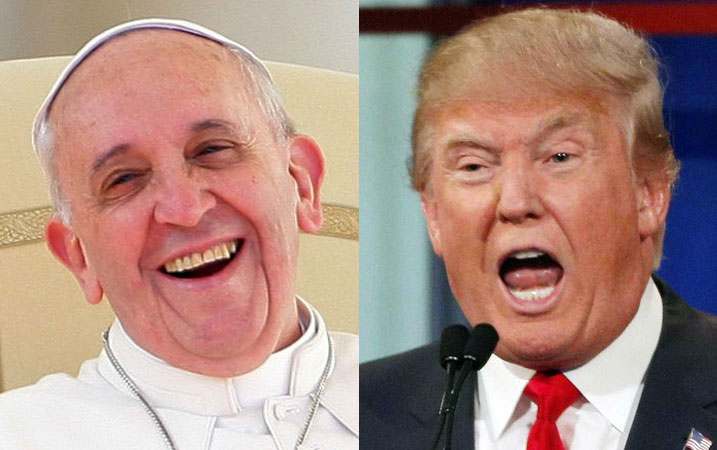 Some people may well believe that there is some sort of war of words brewing between Pope Francis and the outspoken Republican Presidential hopeful Donald Trump.  Trump hasn't shied away from criticising the pope's recent visit to Mexico, suggesting that the pope doesn't appreciate the problems of an open border between the United States and Mexico.  He has also claimed that the pontiff is becoming a "political person".
What Trump doesn't appreciate is that, while the pope may not appreciate the perceived difficulties Trump has with the lack of a concrete wall between Mexico and the US, he does appreciate the need for unity over division, even when this means we may lose a little as a result.  Pope Francis has already expressed caution about division when asked about the potential
independence of Catalonia, La Padania and Scotland in 2014
, stating that: "You have to study each case individually. There will be cases that are just and others that are unjust, but the secession of a nation without a history of forced unity has to be handled with tweezers and analysed case by case."  At the end of the day, as a man of Christ, Pope Francis wants unity.  He is not stupid enough to think that unity can be achieved in all cases.  He admits that much.  But in most cases unity will be the sensible option and I believe that this is the case with Mexico and the United States.  And while they may be two distinct countries, the building of some kind of grand concrete monstrosity between them seems archaic and almost childlike.  It's the type of kingdom building you expect to see in an X-box game, not in real life.
In terms of the pope as a "political person".  The pope must be politically astute as must the Church, especially in an increasingly secular relativist world where God is being increasingly pushed to the sidelines and beyond.  The pope must also have an opinion on political matters where the ideologies of our politicians threaten the good of humanity and our world.  Abortion is an example of this, as is unnecessary division between peoples, as is the case here.
While the pope hasn't to my knowledge directly referred to Donald Trump there is no doubt he has ruffled the businessman's feathers.  But then who hasn't?  Trump may well become the most powerful man in world politics and he may even fulfil his dream of building a wall between Mexico and his own land of the free (ironic isn't it?).  But so long as the Church established by the master of unity himself, Jesus Christ, is still in existence Mr Trump's divisive playground tactics will always be scrutinised and put firmly in their place.  As the pope said: ""a person who thinks only about building walls... and not of building bridges, is not Christian".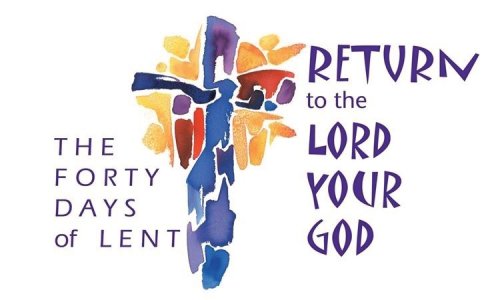 Lent is now upon us and we can all hopefully look forward to spending much time reflecting on our faith and our relationship with Jesus as we embark on a journey of prayer, fasting and almsgiving.
And while we have the option to develop our relationship with Jesus all year round, there is perhaps no better time than Lent to spend a little more time in the presence of Christ; one to one.  This Lent we are invited to get up and walk a while with our Saviour.  We are asked to pray more often than normal; to fast more; and to give more freely to those in need.  All of this can be achieved with the help of Christ.  If we take up his offer to walk with him he will give us the graces we need to make the most of this special season of Lent.
But what if you are far from the Church or have fallen away from the faith?  If this applies to you I would ask you to just consider taking a little time out this Lent to speak to Jesus.  It might be a prayer; it might be a question; it might be a concern or worry; or it might even be a simple hello!  The truth is….anything goes.  Jesus wants to give you the floor so that you can tell him everything that is on your mind.  The most important thing for Jesus is that you need him.  He wants to be the perfect friend; one who doesn't judge, who doesn't argue, and who doesn't impose any conditions on your friendship that you can't handle.   
Consider popping into a Church this Lent and spending some quality time with Jesus.  He is right there waiting for you in the tabernacle.  It's no illusion, no trick; he exists right there and he is waiting for you to come home to him.
And if your lack of faith relates to the Church, remember that the Church is a hospital for sinners not a club for saints.  If you feel disgruntled or even distrust towards the Church, remember that it is Christ who founded it and it is Christ who waits for you.  He is the most important element of our faith.  It is through him that we will learn to love God, to love one another, to become better people and, ultimately, to be united with the Father in Heaven. 
This Lent, as you give up chocolate or alcohol, consider spending some quality time with your Saviour.  He has so much love to give and this love has your name written all over it.  Nobody can give the perfect love and peace that Christ can.   
Make a special effort this Lent to attend a very special appointment in your local Church.  You may not know it but Jesus already has your name in his diary.  The only question is: will you turn up....?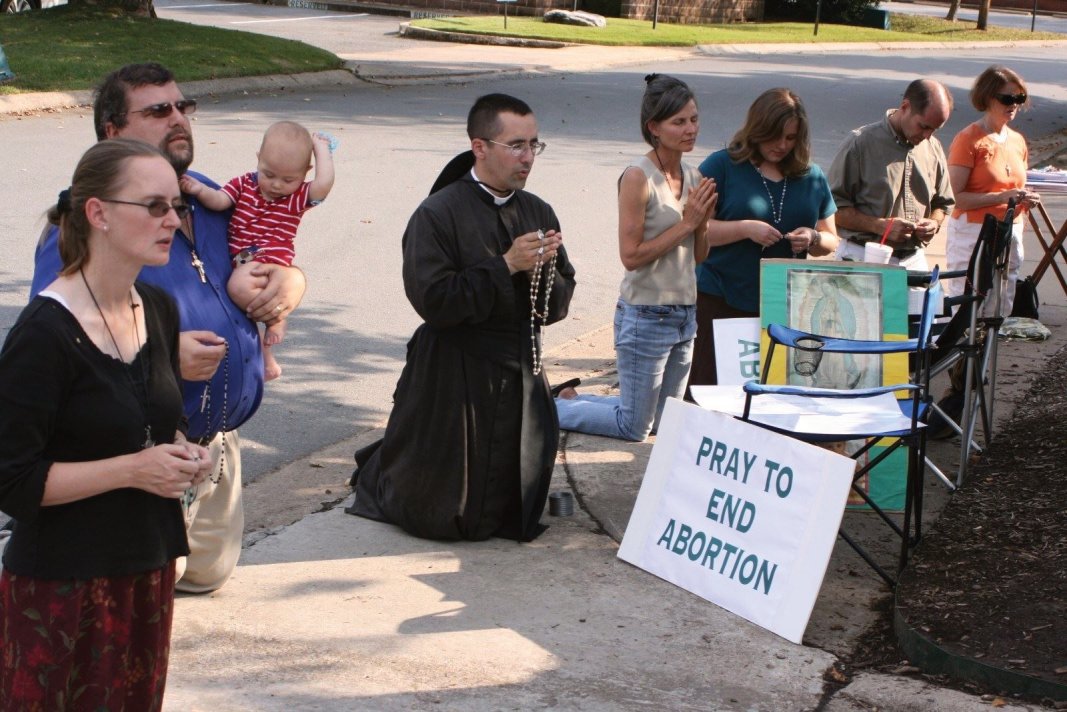 40 Days for Life is coming to Scotland
As we prepare to participate in 40 Days for Life for the first time here in Glasgow it is important to bear in mind a few home truths.  Some sections of the media and other groups in favour of abortion have had their say on the event in recent days and, not surprisingly, their view on 40 Days for Life is extremely negative.  
I would be careful not to take too much note of the negativity expressed by these groups and individuals.  Remember that their interest in this matter is the polar opposite of ours.  They believe that abortion should remain legal and that any individual or group claiming otherwise needs to be silenced.  That has been their tactic for a long time and it continues to be their tactic.  But we must not be put off and we must remember why we are doing this. We are doing this because we want to stop the killing of innocent, defenceless children and we want to help young women cope with the life changing reality of a new child.
And despite reports to the contrary we must be careful to remember that this will be a peaceful, prayerful vigil.  It will not be a violent protest with hecklers screaming from the rooftops, shouting at young women as they enter hospital grounds.  While it would be correct to say that there have been incidents involving over-zealous pro-life supporters in the United States, these reports have been significantly over inflated by those in favour of abortion.  The idea is that pro-life supporters will be put off attending the event, preferring to steer clear of perceived fundamentalism.  They want to paint a picture of nasty, violent religious fanatics who want to push their beliefs onto others.  It is another classic tactic of the pro-choice lobby.    
But there is hope!  The lies are coming thick and fast and this can mean only one thing: the pro-choice lobby is worried. I have long wished for this day; the day that the abortion debate would really come to the fore in Scotland, propelling itself into the public square and the public mind. It's now happening and I pray fervently for the strength and the faith to persevere in what will be a tough debate. But we must never lose sight of who this is really for. The time for the little ones to have a fair hearing in our country has come. 
And remember, you don't need to worry too much about changing the hearts and minds of the biased media and the vociferous pro-choice activists you may see at counter protests. Their minds will not be changed. But the minds of the huge silent majority can be changed.  These are the people who don't get involved in the public debate but who, from afar, can appreciate the need to protect all life and who can appreciate true equality.  It is they who will be watching us as we pray in silence for the innocents, and for their mums, dads and grandparents.  By our peaceful, prayerful actions we can be a witness to the indisputable beauty of life.
While millions of Scotland's sons and daughters have perished through abortion since it was made legal in 1967, their deaths need not be in vain.  Let their untimely and needless deaths be the catalyst for a new era of true equality of life for all in our country.  If we desire to make Scotland a welcoming place for Syrian refugees, we can surely make Scotland a welcoming place for each and every one of her own precious children.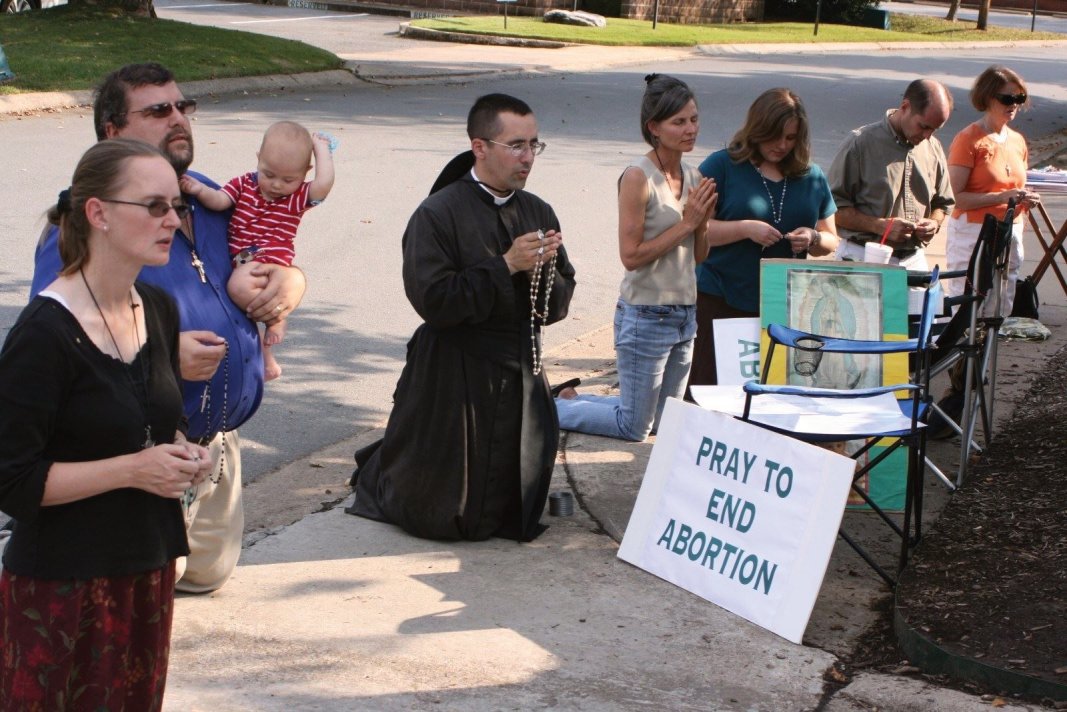 40 Days for Life vigil in Little Rock, US
The 40 Days for Life initiative is coming to Glasgow!  Between 10th February and 20th March (during the season of Lent) pro-life advocates and supporters are invited to commit to a prayerful vigil outside the Queen Elizabeth University Hospital, where abortions are known to take place. 
The vigil will be one of quiet, peaceful prayer, without graphic imagery and without any attempts to approach people, unless they approach us.
The initiative, which started in the United States in 2005, has helped a reported 10,000 women to choose life over abortion and has witnessed the closure of over 60 abortion centres.  It is now in operation across 25 countries worldwide, with Scotland being the latest addition to the ever increasing list.
This opportunity cannot be overstated.  It is a phenomenal opportunity for a public witness to the sanctity of all human life and a very real opportunity to change the hearts and minds of women seeking abortion. 
Please spare an hour (or possibly more) between 10th February and 20th March to join us in this beautiful witness to life.  You can commit to a slot by clicking the image, below: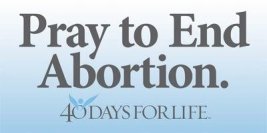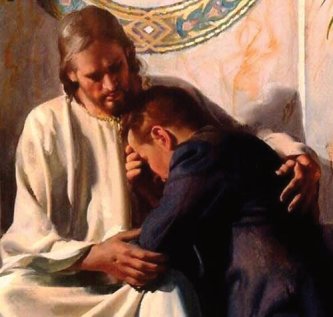 Jesus is waiting to embrace each and every one of us
"Come to me, all you who labour and are burdened, and I will give you rest" (Matthew 11:28).
It's often hard as human beings to admit we are tired or weary.  We have an in-built pride that means we often brush aside any notion of weakness and soldier on.  But sometimes we have to stop and appreciate that we do have limitations and that we do need help.
In the scripture passage above Jesus is giving us the option of going to him for that help.  You see, we all have the choice to go to the very top when we are feeling tired, weary, sad, upset, or lonely.  And it's an option that is free of judgement or hate, and full of love, mercy and compassion.  Nobody loves us like Jesus loves us.  And he is always there, waiting for us.
That's why we are so incredibly blessed this Christmas to have recently witnessed the start of the Jubilee Year of Mercy in the Catholic Church.  It presents an excellent opportunity for us to seek that offer of help from Jesus.  The Church doors are open and the Saviour is home.  He is waiting to spend time with each one of us, to hear our concerns, worries, anxieties and to pour out his mercy upon those who seek it.
This Christmas and beyond be sure to think about that invitation from Jesus.  Give it some consideration and decide if you want to take up his offer.  Unlike your new ipad, his love and mercy will never run dry.  It is eternal.  And it is completely free!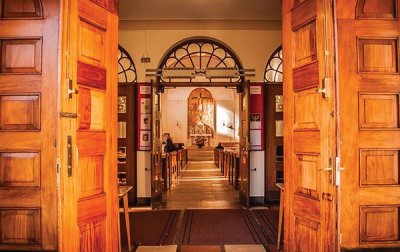 The door to God's house is open
For those of us who haven't entertained our faith for a while or who maybe aren't Christian perhaps this Christmas time is an opportunity to do something radical.  Maybe it's time to break free from the shackles of modern living, even just for an hour or so, and enter God's house where Jesus waits for us with open arms.  What have we to lose?  The truth is: we have absolutely nothing to lose and everything to gain.  And by everything we mean to feel valued, to feel special, to feel loved, and to feel part of something big.  Jesus can give us everything.  There is nothing he cannot do for us.  He can even give us eternal life!
This Christmas let's open ourselves up to the greatest present imaginable.  Let us receive the gift of the loving arms of Christ and the comfort of knowing that in him we will find our true home.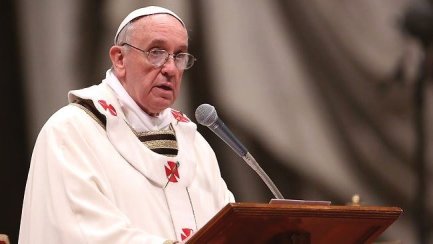 You may not have heard it on the news, but Pope Francis this weekend reaffirmed the truth of marriage as being between one man and one woman.  He also reaffirmed his conviction that all life is worthy of protection.
It's the kind of chat that will dampen the spirits of those who see so called 'progression' on these fundamental areas of Catholic doctrine.  It's also the kind of chat that will delight Catholics who hold true to their faith and who value marriage between one man and one woman as decreed by God Himself, and who value the sanctity of life from its very beginning.
It's too easy to read the mainstream media headlines and stories about Pope Francis and ignore the sources that really matter.  The Pope's affirmation of Catholic teaching on marriage and abortion outlined above didn't come on some flight aboard the papal plane or at a grandiose meeting with a political heavyweight but from the sanctuary during his homily at the Mass which heralded the opening of the secondpart of the Synod on the Family.
All too often we fail to listen when it really matters.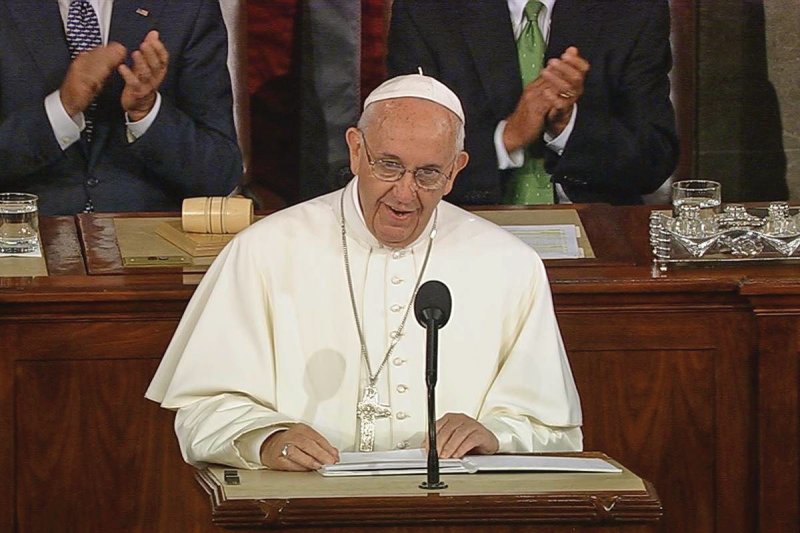 The pope received several standing ovations in Congress
Pope Francis, in his historic address to US Congress, has urged the world to follow Christ's Commandment of love.  The pope used the opportunity to tackle critical issues such as the dignity of human life, the death penalty and the refugee crisis.  He also addressed recent attacks on marriage and family life, and his concerns that the very basis of the family and marriage is being called into question. 
Here are the main quotes from the pope's address to USC ongress this afternoon:
Pope Francis on the golden rule:
"Let us remember the golden rule: do unto others as you would have them do unto you."
On the dignity of human life:
We must "protect by means of the law, the image and likeness fashioned by God in every human life."
We must recognise the "transcendent dignity of the human being".
"The golden rule [to do unto others as you would have done unto you] also reminds us of our responsibility to protect and defend human life at every stage of its development."
On the family:
"The family should be a recurrent theme….how essential the family has been to the building of this country.  I cannot hide my concern for the family which is threatened, perhaps as never before from within and without.  The very basis of the family and marriage is being called into question."
"I can only reiterate the importance and, above all, the richness and the beauty of family life."
"I would like to call attention to those family members who are most vulnerable, the young.  Their problems are our problems.  Our young people are precious."
"We live in a culture that threatens young people not to start a family."
On the death penalty:
"Let's abolish the death penalty here and everywhere. No punishment should exclude hope or the possibility of conversion."
On politics and society:
"Preserve and defend the dignity of your fellow citizens in pursuit of the common good."
"We are all worried by the disturbing social and political situation of the world today."
"It can be no more us vs them. We must confront every kind of polarisation. Our response must be hope and healing, peace and justice."
"Safeguard religious freedom, intellectual freedom, and individual freedom.  We must be specially attentive to every type of fundamentalism."
"Politics must be used to build the common good."
"It's my duty to build bridges and help all men and women to do the same."
"We have to ask ourselves: why are deadly weapons being sold to those who plan to inflict untold suffering on individuals and society?"
"It is our duty to confront the problem and stop the arms trade."
On the elderly:
The elderly are the "storehouse of wisdom".
On the refugee crisis:
"We must view them as persons, seeing their faces, listening to their stories, and try to respond as best we can."
On poverty:
"The fight against poverty and hunger must be fought constantly and on many fronts, especially in its causes."
On business:
"Business is a noble vocation, especially in its creation of jobs to the common good."
On the environment:
"I'm convinced that we can make a difference, I'm sure."
"We have an obligation to our future generations. The time is now."
/