Shopping Cart
Your Cart is Empty
There was an error with PayPal
Click here to try again
Thank you for your business!
You should be receiving an order confirmation from Paypal shortly.
Exit Shopping Cart
Calling Scotland's 841,000 Catholics to unite as one voice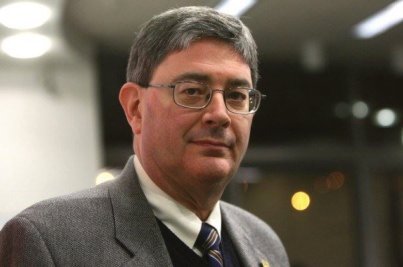 George Weigel, the Distinguished Senior Fellow of the Ethics and Public Policy Center, has claimed that democracy is likely to become brittle, crack and fail unless society consists of "men and women committed to the dignity of the human person as the first principle of just governance and dedicated to the pursuit of the common good." 
Weigel, in response to the assertion that those who believe that truths about the human person and human community are essential to democracy are actually on an authoritarian mission, says: "it is the radical moral relativists for whom there is no "truth," but only expressions of personal preference and will, who are busily enforcing their judgments on society in the name of "tolerance"."
At 7pm on Tuesday October 4th, George Weigel is speaking at St Mary's Metropolitan Cathedral in Edinburgh on the topic of "Converting the Culture: The New Evangelisation and the Future of the West". 
Read the full article in The Scotsman here: http://www.scotsman.com/news/opinion/is-faith-the-missing-ingredient-that-can-make-western-democracy-work-1-4240413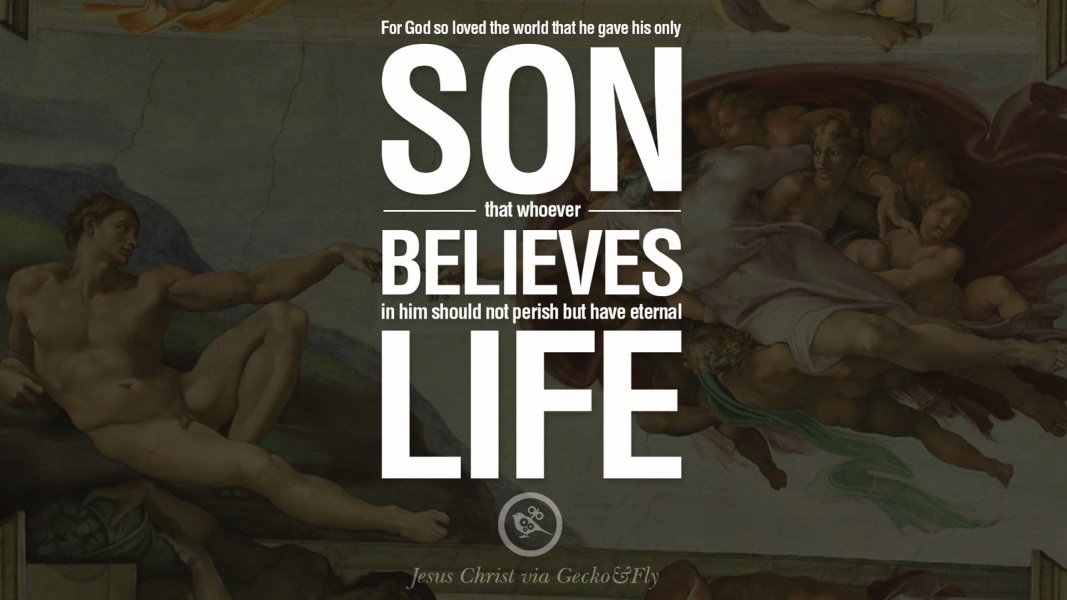 'You will shine in the world like bright stars
because you are offering it the word of life.' (Ph2:15-16)
Today's Gospel acclamation is a beautiful summary of our mission as Christians.  At a time when Christianity - despite being on the rise worldwide - is gradually being eroded across the western world, this little piece of scripture is a timely reminder of our call to evangelise. 
By evangelising and spreading the Gospel, as instructed to by Christ himself, we aren't simply passing on a simple historical message in order to preserve it and keep it going for as long as possible.  By evangelising and spreading the Gospel we are offering people life.  The Word of God is life itself and if we allow it to penetrate our lives and the lives of those around us the world will have life.  And it won't be a temporary life that is over all too quickly.  Rather, it is an eternal life.  And this eternal life is not something that is reserved for the select few.  It is for everybody, and God wants every single human being to share in this great gift. 
So why doesn't God just guarantee everybody eternal life from the get go?  In a way He has, but He still expects something in return.  He wants us to use our free will to turn to Him and to accept His gift.  This is something that should be very natural for those of us raised as Christians.  But what about those who are not so fortunate?  How will they ever come to know about this gift?  This, brothers and sisters, is why Jesus selected disciples and established a Church.  His Church is charged with guarding the message of eternal life, and it is charged with sharing that message with everyone, taking it to all four corners of the earth.  And what is the Church?  It is me, and it is you. 
Brothers and sisters, let us live out our mission as disciples for Christ; taking the Gospel to all people. Let us leave no stone unturned and no person untouched by the beauty and goodness of God's most incredible gift….the gift of eternal life.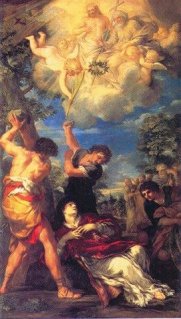 Sunday's First Reading (Acts 7: 55-60)
'Stephen, filled with the Holy Spirit, gazed into heaven and saw the glory of God, and Jesus standing at God's right hand. 'I can see heaven thrown open' he said 'and the Son of Man standing at the right hand of God.' At this all the members of the council shouted out and stopped their ears with their hands; then they all rushed at him, sent him out of the city and stoned him. The witnesses put down their clothes at the feet of a young man called Saul. As they were stoning him, Stephen said in invocation, 'Lord Jesus, receive my spirit.' Then he knelt down and said aloud, 'Lord, do not hold this sin against them'; and with these words he fell asleep.'
While sitting at my desk at work earlier this week a conversation about religion was struck up among my colleagues.  Religious chat is generally taboo these days and where it does exist it tends to take the form of an attack on whatever religion happens to be in the spotlight.  This time it was the Catholic faith; my faith.  I was asked to explain the Catholic Church's belief in the Eucharist.  No easy task in a very secular environment I can assure you.  But I tried my best to explain it in terms acceptable to the ears of my audience.
My colleagues listened to what I had to say and once I had finished a stony silence followed.  This was followed soon thereafter by a change of subject, diverting away from the ridiculous notion that a piece of bread and a cup of wine could be turned into the body and blood of a two thousand year old Jew.  The truth is, my colleagues probably felt not only confused but also a little uncomfortable by all the body and blood chat.  And I can assure you that I most certainly felt uncomfortable with having to explain it to a cynical crowd. 
Yet our discomfort at explaining our faith can never match the discomfort that must have been experienced by the Christian martyrs.  In today's first reading St Stephen shows incredible courage as he stands before a cynical crowd and tells them that he has seen 'heaven thrown open' and that he has also seen 'the Son of Man sitting at the right hand of God'.  Despite knowing that such words would likely lead to his death he was still not afraid to speak them.  And he even echoed the words of Christ on the Cross when he begged God to forgive those who were killing him.  Like any human being in that situation he would have been absolutely terrified, but he never once denied his faith in order to save his earthly life.
It's not easy to talk about our faith to others.  We can feel embarrassed, afraid, and even silly.  But thankfully the UK is not like the world St Stephen lived in.  It is a place where, despite some arguments to the contrary, people are generally free to talk openly about their faith.  We must not be afraid to use this freedom, but to do it sensibly and proportionately.  Our world needs a message of love, mercy and peace; a message that was so profoundly illustrated in the words and actions of St Stephen just before his death.  We can give the world hope with our message; a message that comes in the shape of one man….Jesus Christ.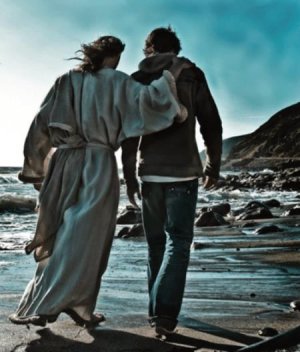 Accompaniment.  Could this be one of the most important words in the life of the Church today? 
One thing above all else struck me in reading Pope Francis' recent exhortation Amoris Laetitia.  It is the call to accompaniment.  While we are well aware of our call to love and to be merciful towards all people, do we know how to achieve this?  Think about those who live in ways or relationships that do not entirely accord with God's divine plan, such as same-sex unions, cohabitation and the divorced and remarried.  Pope Francis refers to these ways/relationships as 'irregular' and he suggests a need for accompaniment for people in such situations.  Not just the need to love and be merciful; but the need to commit to actual one-to-one accompaniment. 
I don't intend going into the fine detail of Amoris Laetitia as there have been numerous commentaries on the document and many different views expressed.  For me, I would sum up the document as being insightful in many ways, but especially when it comes to the love we are expected to show our spouse and our children.  I found it incredibly helpful, directing me towards being more patient and understanding in family life.  It is in many ways a challenge to live a holy and wholesome home life. 
But like a fine thread running through the document, there is this call to accompaniment.  The Pope isn't advocating anything that is contrary to the teaching of the Church.  There is no call to change doctrine and this is confirmed in the Pope's own words: ""To show understanding in the face of exceptional circumstances never implies dimming the light of the fuller ideal, or proposing less than what Jesus offers to the human being."  Quite simply, Church doctrine continues to stand strong and will always do so.  But perhaps the Pope's call to "show understanding" is something we should dwell on for a moment.
The Church has always called its people to be loving, compassionate and merciful; to understand the difficulties experienced by others.  It is after all a hospital for sinners.  So, in that sense, there is nothing new here.  The truth is, we should already be accompanying people in their difficulties and bringing them to Christ. 
Sadly, however, the reality is somewhat different.  Too often the Church (that is, the Catholic people) is seen as being judgmental, lacking compassion with a tendency to take the moral high ground.  We are often quick to go on the defensive, preferring to argue rather than listen.  Whether these accusations are justified is not something we should waste our time arguing about.  The important thing is to focus our minds on accompanying all people, whatever their circumstances, and to show them the loving face of Jesus.  We need to stop being defensive and, instead, be positive.  If we come across someone in an irregular situation; be it a same-sex union, or perhaps someone who is divorced and remarried, we are first and foremost called to show that person what it is like to meet the loving Christ, to feel the closeness of his endless love and his unfailing mercy.  We must accompany them.
Only by imitating the love of Christ and accompanying our brothers and sisters can we hope to bring them ever closer to Christ and his teaching.  In essence we are offering them an alternative to what the world offers them.  The world, with all its riches and ill-thought-out 'freedoms' offers people what they want, whenever they want it, seemingly satisfying every desire they could ever wish for.  Yet this is never the case.  People always want more.  Always.  The truth is this: people are never satisfied with what the world can give them.
Our patient, loving accompaniment may offer an alternative to the world's failure to satisfy.  By understanding the difficulties experienced by people and walking with them as Christ would we can bring them closer to the One who can satisfy the longings of each and every heart.
Our mission as Disciples of Christ is to bring people to know him and to know his Truth.  If we want to succeed in this we must first and foremost accept and act on our call to accompaniment.  That must be our first step.  Only then, once we have established a loving, trusting relationship, can we hope to change hearts to acknowledge and perhaps even accept the Truth; a truth that brings real love, real mercy, and ultimately, real freedom. 
If we want to build God's Kingdom in our world today, we must take people by the hand and walk with them.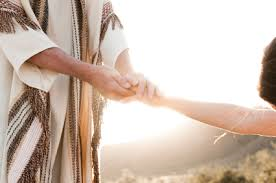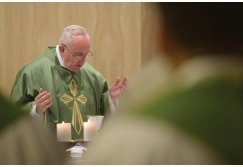 Pope Francis has urged people to more consistent in their faith, even to the point of martyrdom.  During his morning homily at Casa Santa Marta on Thursday the pope described the true Christian witness as someone who is "consistent" in what he says, what he does, and what he has received, namely the Holy Spirit. 
He continued: "It is the witness of our martyrs today – so many! – chased out of their homeland, driven away, having their throats cut, persecuted: they have the courage to confess Jesus even to the point of death.  It is the witness of those Christians who live their life seriously, and who say: 'I can't do this; I cannot do evil to another; I cannot cheat; I cannot lead life halfway, I have to give my witness'.  And the witness consists in saying what has been seen and heard in faith, namely the Risen Jesus, with the Holy Spirit that has been received as a gift."
The pope then went on to say that the Church today "needs witnesses, martyrs.  These are the witnesses, that is, the saints, the saints of everyday, of ordinary life, but life [lived with] consistency; and also the witness 'to the end', even to death.  These are the lifeblood of the Church; these are the ones that carry the Church forward, the witnesses who attest that Jesus is risen, that Jesus is alive, and they bear witness through the consistency of their life, with the Holy Spirit they received as a gift."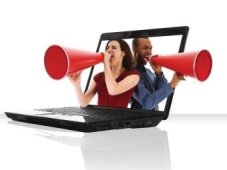 Do you speak openly about your faith to others?  Are you not afraid to be frank about how your religion shapes your moral code?  Do you even go as far as to try to bring others round to your way of thinking on social media sites such as Facebook and Twitter?
In the New Evangelisation just a few years back, Pope Benedict XVI encouraged us to get out into the world to preach the Good News of Jesus Christ.  And he wanted us to use every available platform at our disposal in order to do this.  He used the humble but powerful image of a mustard seed from the Gospel, suggesting that if used effectively a small seed of faith has the potential to bring people to God.  His words were: "I have a mustard seed, and I'm not afraid to use it".  In today's age we are blessed to have social media forums like Facebook to speak more openly about our faith and to tap into a seemingly infinite knowledge base.  While social media can often be a curse there is no doubt it has opened up new avenues of opportunity for spreading the Gospel.
Yet, while some people seem content to do this, many more are not.  In today's secular relativist world it is undoubtedly a big challenge for people to spread their faith by means of social media.  There is fear of criticism and mocking.  There is also fear of offending people or of compromising long-held friendships.  It is a significant problem for our faith and our Church.  And it is an even bigger problem for Jesus. 
While new age beliefs are thrust onto social media at an astounding rate, somehow managing to gather almost unanimous support in the process, Jesus is left to feed off the few scraps that are left.  People would rather post and read quotes about being true to oneself and looking after number one rather than the horrific thought of making love of God and neighbour our priority.  Quotes from famous authors or even the Dalai Lama have the potential to be of untold worth, but their value often pales in comparison to the Word of God or quotes from the Saints.
The Christian message is a tough one because it asks us to put ourselves in third place, behind God and all those around us.  It also asks us to take up our cross on a daily basis and follow Jesus, accepting the suffering that this will inevitably bring.  It also expects us to toe the line on controversial issues such as abortion and same-sex marriage.  It is, in all respects, a challenge of great proportions.  But it is not without its rewards.
And as if this challenge wasn't difficult enough we are also expected to take Jesus' message of love and mercy to all people.  Not just one or two, but to everyone.  Had Jesus not called the Disciples to his side and taught them his message, what hope would there be?  Had the Disciples not then taken that message of Jesus to others, what hope would we have today? 
You see our faith is a faith of action, full of energy and enthusiasm, drenched in positivity and hope.  We can't just settle for our own evangelisation or the evangelisation of those closest to us.  This is not the Christian way.  We must be prepared to carry Jesus and his Gospel message to as many people as we possibly can through our life.  We need to put Christ at the centre and be his voice to all nations, all peoples.  To be truly Christian we must do as the disciples did and carry Jesus and his message to all people, be it on social media, the internet, on the phone, or in person.  Had the disciples failed to do this we would have no Jesus in our lives.  Imagine how empty that life would be? 
Remember, your duty to spread the message of Jesus Christ is not just limited to the people close to you.  In fact, it isn't just limited to the entire human population of our world in your lifetime.  Like the disciples, your witness will hopefully carry the message of Christ well into the future so that another 2000 years from now people are talking about the great disciples of this time and how without their powerful witness the faith would be dead. 
Jesus told the apostles to "Go into the whole world and proclaim the Gospel to every creature".  We need to be disciples for Christ in today's world.  Let the future generations rave about your willingness to speak up for Jesus and how you never shied away from openness and honesty about his loving and merciful message.  Let your children and grandchildren see you stand up for something that will bring eternal life to millions and millions of people!  And remember, you don't need to be a great orator or writer to evangelise.  As Pope Francis has said:  "We evangelise not with grand words, or complicated concepts, but with the joy of the Gospel, which fills the hearts and lives of all who encounter Jesus".  So don't worry, let the joy of the Gospel speak for itself!
The phrase 'do not be afraid' appears often scripture.  It is a strong, powerful message from God about how we must feel when it comes to our faith.  In doing Christ's work and spreading his message we have no need to be afraid.  He is on our side!
Here's the challenge: let your life be a life of evangelisation.  Don't be afraid to share Christ's message with other people.  Let your work reverberate down through the generations where it has the potential to bring millions of lives to eternity with God.  Don't keep good news to yourself.  Use your mustard seed.  Evangelise.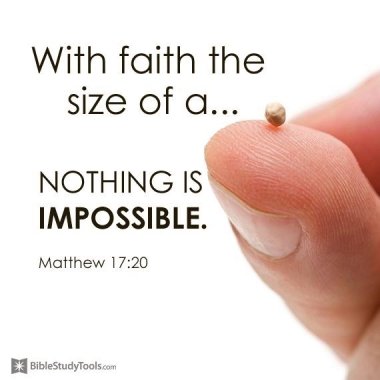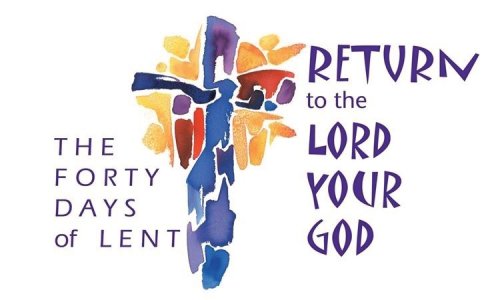 Lent is now upon us and we can all hopefully look forward to spending much time reflecting on our faith and our relationship with Jesus as we embark on a journey of prayer, fasting and almsgiving.
And while we have the option to develop our relationship with Jesus all year round, there is perhaps no better time than Lent to spend a little more time in the presence of Christ; one to one.  This Lent we are invited to get up and walk a while with our Saviour.  We are asked to pray more often than normal; to fast more; and to give more freely to those in need.  All of this can be achieved with the help of Christ.  If we take up his offer to walk with him he will give us the graces we need to make the most of this special season of Lent.
But what if you are far from the Church or have fallen away from the faith?  If this applies to you I would ask you to just consider taking a little time out this Lent to speak to Jesus.  It might be a prayer; it might be a question; it might be a concern or worry; or it might even be a simple hello!  The truth is….anything goes.  Jesus wants to give you the floor so that you can tell him everything that is on your mind.  The most important thing for Jesus is that you need him.  He wants to be the perfect friend; one who doesn't judge, who doesn't argue, and who doesn't impose any conditions on your friendship that you can't handle.   
Consider popping into a Church this Lent and spending some quality time with Jesus.  He is right there waiting for you in the tabernacle.  It's no illusion, no trick; he exists right there and he is waiting for you to come home to him.
And if your lack of faith relates to the Church, remember that the Church is a hospital for sinners not a club for saints.  If you feel disgruntled or even distrust towards the Church, remember that it is Christ who founded it and it is Christ who waits for you.  He is the most important element of our faith.  It is through him that we will learn to love God, to love one another, to become better people and, ultimately, to be united with the Father in Heaven. 
This Lent, as you give up chocolate or alcohol, consider spending some quality time with your Saviour.  He has so much love to give and this love has your name written all over it.  Nobody can give the perfect love and peace that Christ can.   
Make a special effort this Lent to attend a very special appointment in your local Church.  You may not know it but Jesus already has your name in his diary.  The only question is: will you turn up....?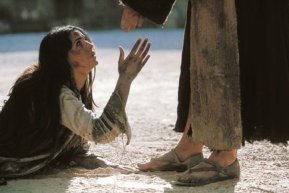 Jesus was compassionate but firm in the Truth
Pope Francis, during his Sunday Angelus, has spoken about the importance of Baptism and the role it plays in our lives.  Having earlier baptised 26 baby girls and boys at morning Mass, the pope was keen to impress upon the gathered faithful the critical nature of this sacrament.
The pope said that in Baptism the Holy Spirit "burns and destroys original sin, returning to baptism the beauty of divine grace."
The pope then stressed the importance of following Jesus and being obedient to the Truth whilst remaining true to Christ's qualities of tenderness and humility.  And here, I think, is the critical issue for us Christians today.  While we must speak the Truth we must do it in a spirit of tenderness and humility.  But similarly, while we must be tender and humble in our approach, we can never stray from the Truth.  It's not a balancing act because that would suggest compromising one or both aspects.  Instead we are called to deliver the Truth in its fullness and to do this in a fully humble and completely tender way.
In my experience people tend to be more inclined to do one more than the other.  For example, some people may reject certain elements of Christ's teaching with the aim of showing more compassion and tenderness to people.  This is because some elements of teaching are difficult to accept, especially set against the backdrop of an increasingly liberal and relativist society.  Others may be more determined to stick rigidly to the Truth but seem to lack that tenderness and humility, especially when they see a threat to Christ's teaching.
Ultimately we need to be firm in both elements.  We need to be firm in our faith, in the same way that Christ was and in the way that God calls us to be.  Jesus' disciples died unimaginable deaths because they were firm in their faith and didn't go along with the popular views of society.  They stuck to their beliefs even though everybody mocked them and thought they were talking nonsense.  They refused to reject the truth of Christ and the Church he established, preferring to invest their lives in being the men Jesus called them to be with the sure and certain hope of an eternal reward.  Similarly, we need to be firm in our tenderness and humility.  Jesus had an uncanny knack of being firm but also loving, gentle and kind.  When he prevented the prostitute from being stoned by the scribes and the Pharisees he was careful to tell her to "go and sin no more".  But he did this while telling her that he didn't condemn her.  He wanted her to stop sinning, to stick to the Truth.  But he also wanted her to know that she was loved and that mercy would be shown to her.
It's important for us to remain true to both aspects when it comes to our faith.  We must be true to Christ and his teaching and we must be tender and humble in remaining faithful to that teaching.  The Truth is what it is and it doesn't change.  It can be found in your copy of the
Catechism of the Catholic Church
.  And the tenderness and humility we need in order to take that Truth to others can be found in the loving person of Jesus Christ.
So, is it possible to be both faithful to the Truth and be tender and humble?  Yes.  Just look to the example of Jesus and in him you will find the perfection of fulfilling both aspects.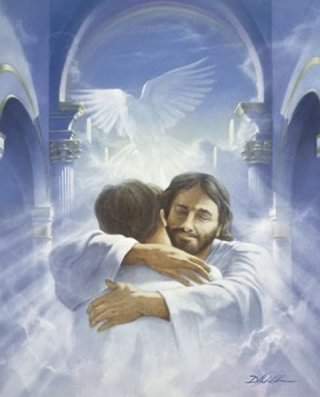 This guy really, really loves you!
Sunday's Second Reading (Hebrews 4:14-16):
'Since in Jesus, the Son of God, we have the supreme high priest who has gone through to the highest heaven, we must never let go of the faith that we have professed. For it is not as if we had a high priest who was incapable of feeling our weaknesses with us; but we have one who has been tempted in every way that we are, though he is without sin.
Let us be confident, then, in approaching the throne of grace, that we shall have mercy from him and find grace when we are in need of help.'
It's hard to admit that we did wrong and to apologise to the person we have wronged.  It's also hard to ask other people for help.  But while this may be the case in our day-to-day dealings with the average joe on the street, this needn't be the case when it comes to Jesus.  St Paul, in this letter to the Hebrews, is urging us to be confident when we approach Christ for forgiveness and help.
You see, we aren't dealing with your run-of-the-mill human being when it comes to Jesus.  We are dealing with a God brimming with infinite mercy and compassion. He is the Creator of all things and He loves you like nobody else does.  There is no hidden agenda, no points to be scored, and no harsh judgements.  He desires and wants to forgive you and help you in every which way possible. He is a God who has experienced the temptations, trials and troubles of every day life just like us, so He knows how difficult life can be. 
He is the ultimate best friend and he will always be there for us when we need him. Can you spare five minutes today to let him show you just how much he loves you and how much you matter to him?  Call out to him and he will respond.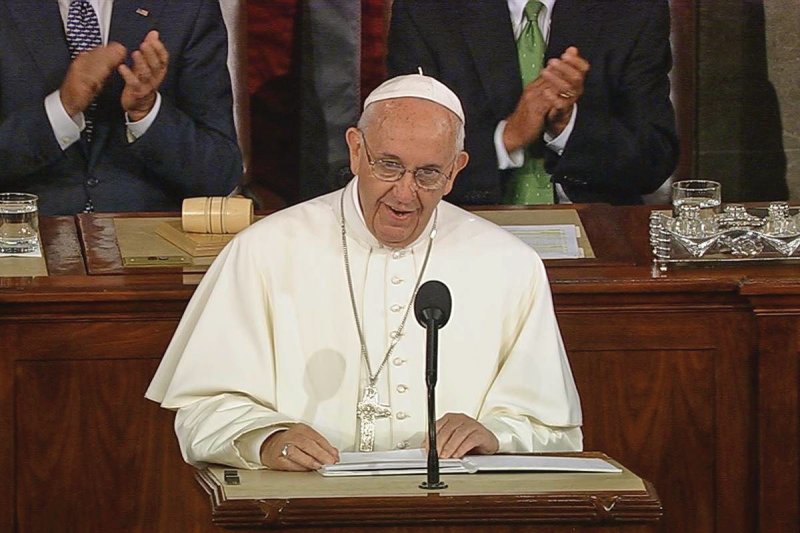 The pope received several standing ovations in Congress

 

Pope Francis, in his historic address to US Congress, has urged the world to follow Christ's Commandment of love.  The pope used the opportunity to tackle critical issues such as the dignity of human life, the death penalty and the refugee crisis.  He also addressed recent attacks on marriage and family life, and his concerns that the very basis of the family and marriage is being called into question. 

 

Here are the main quotes from the pope's address to USC ongress this afternoon:

 

Pope Francis on the golden rule:

 

"Let us remember the golden rule: do unto others as you would have them do unto you."

 

 

On the dignity of human life:

 

We must "protect by means of the law, the image and likeness fashioned by God in every human life."

 

We must recognise the "transcendent dignity of the human being".

 

"The golden rule [to do unto others as you would have done unto you] also reminds us of our responsibility to protect and defend human life at every stage of its development."

 

 

On the family:

 

"The family should be a recurrent theme….how essential the family has been to the building of this country.  I cannot hide my concern for the family which is threatened, perhaps as never before from within and without.  The very basis of the family and marriage is being called into question."

 

"I can only reiterate the importance and, above all, the richness and the beauty of family life."

 

"I would like to call attention to those family members who are most vulnerable, the young.  Their problems are our problems.  Our young people are precious."

 

"We live in a culture that threatens young people not to start a family."

 

 

On the death penalty:

 

"Let's abolish the death penalty here and everywhere. No punishment should exclude hope or the possibility of conversion."

 

 

On politics and society:

 

"Preserve and defend the dignity of your fellow citizens in pursuit of the common good."

 

"We are all worried by the disturbing social and political situation of the world today."

 

"It can be no more us vs them. We must confront every kind of polarisation. Our response must be hope and healing, peace and justice."

 

"Safeguard religious freedom, intellectual freedom, and individual freedom.  We must be specially attentive to every type of fundamentalism."

 

"Politics must be used to build the common good."

 

"It's my duty to build bridges and help all men and women to do the same."

 

"We have to ask ourselves: why are deadly weapons being sold to those who plan to inflict untold suffering on individuals and society?"

 

"It is our duty to confront the problem and stop the arms trade."

 

 

On the elderly:

 

The elderly are the "storehouse of wisdom".

 

 

On the refugee crisis:

 

"We must view them as persons, seeing their faces, listening to their stories, and try to respond as best we can."

 

 

On poverty:

 

"The fight against poverty and hunger must be fought constantly and on many fronts, especially in its causes."

 

 

On business:

 

"Business is a noble vocation, especially in its creation of jobs to the common good."

 

 

On the environment:

 

"I'm convinced that we can make a difference, I'm sure."

 

"We have an obligation to our future generations. The time is now."

0

/