Shopping Cart
Your Cart is Empty
There was an error with PayPal
Click here to try again
Thank you for your business!
You should be receiving an order confirmation from Paypal shortly.
Exit Shopping Cart
Calling Scotland's 841,000 Catholics to unite as one voice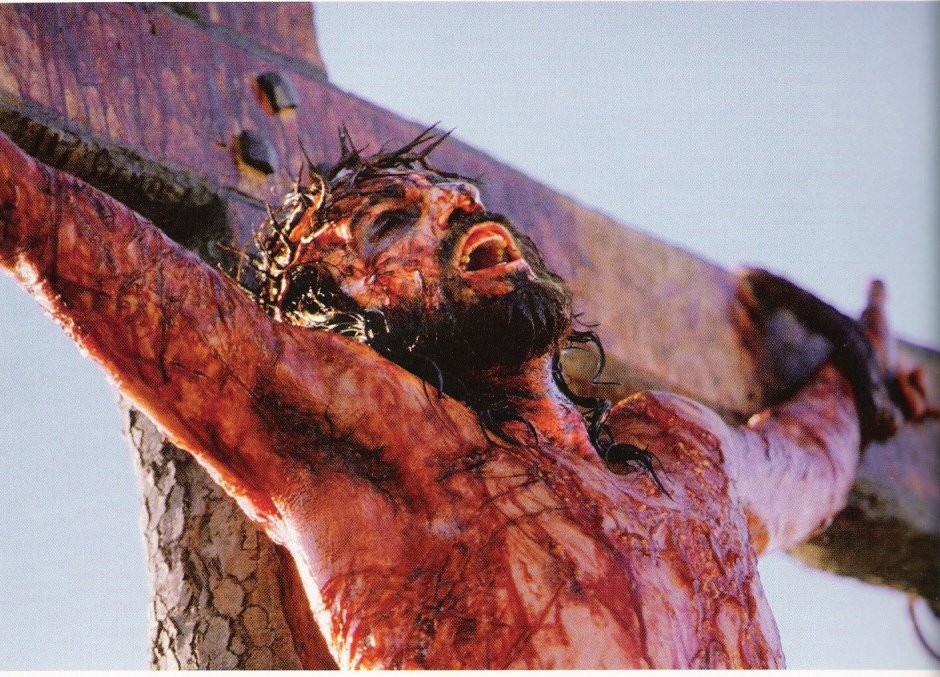 This is what you call 'real love'
Sunday's Second Reading (Ephesians 4:30-5:2):
'Do not grieve the Holy Spirit of God who has marked you with his seal for you to be set free when the day comes. Never have grudges against others, or lose your temper, or raise your voice to anybody, or call each other names, or allow any sort of spitefulness. Be friends with one another, and kind, forgiving each other as readily as God forgave you in Christ.
Try, then, to imitate God as children of his that he loves and follow Christ loving as he loved you, giving himself up in our place as a fragrant offering and a sacrifice to God.'
Ever think that to be a Christian in today's world is hard?  Are you often accused of living in the past and being intolerant of the views of others?  Do people suggest that the Christian message is one of a harsh God who wreaks havoc on anyone who doesn't believe in Him? 
If this is your experience then perhaps this short passage from St Paul's letter to the Ephesians is the most appropriate response to these accusations.  The Christian way is to 'never have grudges against others'. The Christian way is to never 'lose your temper' or 'raise your voice to anybody'.  The Christian way is to never 'call each other names or allow any sort of spitefulness'.  The Christian way is to 'be friends with one another, and kind, forgiving each other as readily as God forgave you in Christ'.
The Christian way is to love. And if ever there was an example of how great this love is and how we as Christians are expected to love, just look to the battered, bruised, bloodied, sacrificial body of Jesus Christ on the Cross. That, brothers and sisters, is Christian love. 
In a world where life has increasingly little value (consider abortion, euthanasia, and the devastating havoc wrought by ISIS), people are crying out for the Christian message of love.  It is our message of love that can bring peace to the world.  Don't be fooled into thinking that we can achieve peace without Christ.  We can't.  Christ is our only hope. 
Let us never be afraid to spread the Christian message of love to the four corners of the world, and let us continue to pray hard that the hearts of all people will be touched by the love of Christ.  Only love, the Christian way, will bring true peace.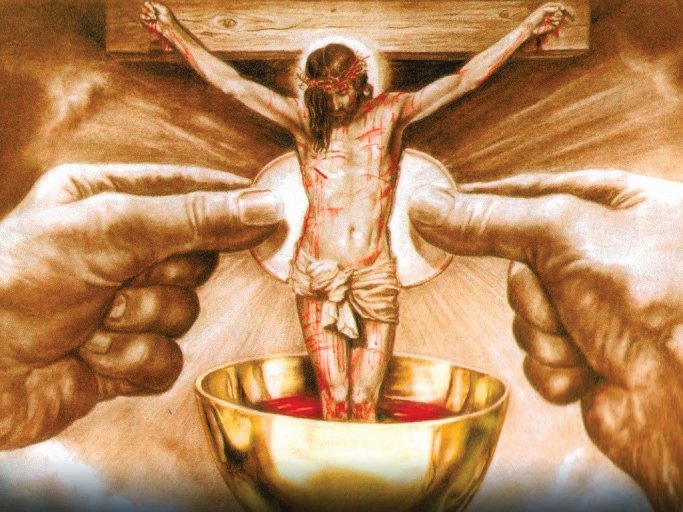 From Sunday's Gospel (John 6:24-35):
'Jesus answered:
'I tell you most solemnly,
it was not Moses who gave you bread from heaven,
it is my Father who gives you the bread from heaven,
the true bread;
for the bread of God
is that which comes down from heaven
and gives life to the world.'
'Sir,' they said 'give us that bread always.'
Jesus answered:
'I am the bread of life.
He who comes to me will never be hungry;
he who believes in me will never thirst.''
Reading this Gospel passage and, in particular, the words of Jesus leave us in no doubt.  He is the bread of life.  He is the way, the truth, and the life.  He is the only way to God.  Yes it is true!  In the Eucharist we receive Jesus Christ body, blood, soul and divinity!  Just as the bread came from Heaven in order to feed the Israelites so Jesus comes to us in the form of bread to feed, nourish and sustain us.
Jesus is offering himself to all of us.  He is offering us the chance of eternal life with him in Heaven.  Will we be like the disciples and say to Jesus: 'Sir, give us that bread always'?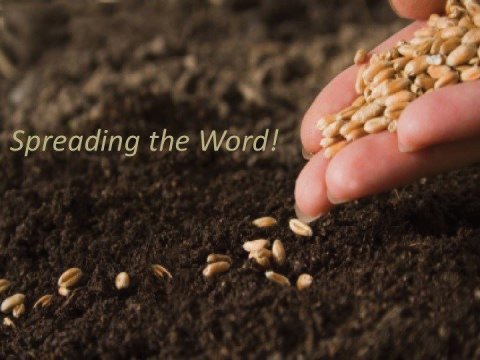 We are all obliged to spread the Word of God
Isn't it true that you often hear people saying things like 'Jesus would do this' and 'Jesus would do that'?  Indeed, such statements are often used by secularists to backup their argument that religion is intolerant, or by liberal Catholics who claim that a loving Jesus would allow for a departure from the Truth of Church teaching.
Yet isn't it rare to hear someone say 'Jesus would do this' or 'Jesus would do that' when it comes to spreading the Gospel or proclaiming the Truth of the Kingdom of God? 
For many people, including many Catholic people, the perception of Jesus has become relativised to the point that we pick and choose the Jesus who happens to suit our argument at any given point in time.  We forget that Jesus is not only this all-loving, all-forgiving God; but that he is also a God who expects something from us.
Jesus expects us to follow him.  And to follow Jesus means we put everything else to the side.  He expects us to put him first, others second, and ourselves third.  And he expects us to take his name to all people; to proclaim the truth and beauty of the Gospel everywhere we go.
These days there are too many 'fans' of Jesus and not enough 'disciples'.  There are not enough people working in the trenches trying to bring other souls to Christ.  Instead they satisfy themselves that they do enough and that anything else is either the job of someone else or that their failures will not be harshly judged by the Creator.  
We have lost our sense of true discipleship and our obligation to bring people to Jesus, putting our own souls in danger in the process.  Perhaps we think that discipleship is the job of our parish priest, that they are the real disciples of Jesus in today's world.  But this is simply not true.  Each and every one of us is called to be disciples and to take Christ and his message of love and mercy to the four corners of the earth.  We are all missionaries, called to sow the seed of Truth.
Let us spend a few moments today thinking about what we do to bring other people closer to Jesus.  Do we do enough?  Or are we often guilty of ignoring this obligation, focusing only on the qualities of Jesus that suit our own needs?  If we do then perhaps it's time for us to take some responsibility and be a bit more disciple like.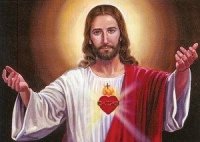 Only this man has the power to save us
Sunday's First Reading (Acts 4:8-12):
Filled with the Holy Spirit, Peter said: 'Rulers of the people, and elders! If you are questioning us today about an act of kindness to a cripple, and asking us how he was healed, then I am glad to tell you all, and would indeed be glad to tell the whole people of Israel, that it was by the name of Jesus Christ the Nazarene, the one you crucified, whom God raised from the dead, by this name and by no other that this man is able to stand up perfectly healthy, here in your presence, today. This is the stone rejected by you the builders, but which has proved to be the keystone. For of all the names in the world given to men, this is the only one by which we can be saved.'
Only Jesus Christ can save us.  Only Jesus Christ can save us. Only Jesus Christ can save us. Only Jesus Christ can save us…. 
Has it sunk in yet?? It's quite incredible to think that each one of us can be saved from sin and death and brought to eternal life.  It's even more incredible to think that all this is achieved through one man!  Can you imagine being that one man?  Can you imagine if you were the key to Heaven; the key to eternal life?  Wouldn't it be quite a responsibility?  It certainly would; but it would be worth all of that responsibility to see wave after wave of people coming back to you because they trust in you and because they believe in you and believe in the Church you founded. Yet conversely, wouldn't it be so sad to know that not all of your created people are coming back to you?  Wouldn't it be sad to be rejected by your very own creation?  Rejected despite coming to earth to spread the message of a perfect love; rejected despite performing miracle after miracle to help the poor and the needy; rejected despite suffering greatly at the hands of your oppressors who humiliated you and abused you before nailing you to a cross; rejected despite rising from the dead and revealing yourself to those close to you who then took that great news to the ends of the earth.  After all of that and still you are rejected!  How breathtakingly sad must that be for Jesus? 
It would seem that no matter how often we are told Christ is the only way to God and the only way to salvation, we still don't quite take it in.  Even Jesus himself told us that he was the way, the truth and the life and that nobody can get to the Father except through him; yet many still doubt.  So here is St Peter, the rock upon which Christ's Church is built, telling us once more that Christ is the only one who can save us. 
So, are we prepared to really let this sink in?  And even more importantly, are we prepared to take this message to the ends of the earth no matter what?  You see, we can't possibly just keep this to ourselves or within the confines of our families and close friends.  An increasingly aggressive secularism tells you to keep it to yourself, but Jesus tells you to take it to the ends of the earth!  So let's get out there and tell the world that Jesus is the only way!  It is Jesus Christ, the most perfect, most beautiful, most glorious, most incredible man who ever walked this earth who can give us the gift of eternal life.  It is the most precious Jesus, that man who took on unbearable pain on our behalf, who is the key to our salvation.  Trust him, love him and surrender to him.  And encourage others to do the same.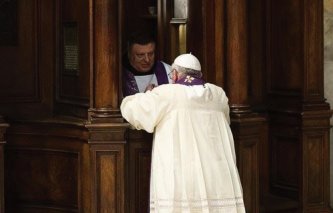 From Sunday's First Reading (Acts 3:13-15,17-19):
'Now you must repent and turn to God, so that your sins may be wiped out.'
Peter, in the short passage from Sunday's first reading, gives a clear and incredibly simple instruction to the people who put Christ to death.  He tells them to repent of their sins and turn to God; and the result of this according to Peter?  Their sins will no longer exist.  It's very simple stuff!  It's also incredibly merciful when you consider what the people did to Jesus; how they ridiculed him, abused him, spat on him and beat him.  Yet here is one of Jesus' most trusted friends telling them that all is forgiven, if they just say they are sorry. 
But is there anything more we can add to this instruction from Peter?  Let's consider Sunday's second reading from St John:
Sunday's Second Reading (1 John 2:1-5):
'I am writing this, my children,
to stop you sinning;
but if anyone should sin,
we have our advocate with the Father,
Jesus Christ, who is just;
he is the sacrifice that takes our sins away,
and not only ours,
but the whole world's.
We can be sure that we know God
only by keeping his commandments.
Anyone who says, 'I know him',
and does not keep his commandments,
is a liar,
refusing to admit the truth.
But when anyone does obey what he has said,
God's love comes to perfection in him.'
Here John puts a little more meat on the bones of Peter's instruction to repent and turn to God.  He gives a similar instruction to turn to Christ if we should sin.  But it is the next part which is the challenge and it is along similar lines to Jesus' call to the woman at the well to "go and sin no more".  Here John the Evangelist tells us that we must keep God's Commandments, and he also states that keeping God's Commandments is the only way to 'know God'.  But what does it mean to 'know God'?  The clue is in the last sentence of the passage.  God's love will come to perfection in us if we keep His Commandments; that is, the perfect love of God will shine through us and out of us to the world if we do as He says.  We will become beacons of love, mercy, peace and hope for all.
This is in keeping with the recent
Papal Bull of Indiction
where Pope Francis revealed a jubilee Year of Mercy from 8 December 2015 (the Solemnity of the Immaculate Conception).  Our call is to go out to the world and to show mercy to everyone.  No exceptions.  But in order to be a merciful people we first need to receive God's mercy and we must keep His Commandments.  Only if our own house is in order will we be in a fit and proper state to administer to others.  Think of a doctor or a lawyer.  Professionals in these fields need to satisfy annual training requirements and receive an annual certificate authenticating their ability to practice.  If they don't fulfil these requirements they are not considered to be fit and proper persons with respect to their work and they cannot diagnose patients' ills or advise clients on legal problems.  They are essentially deemed unfit and incapable of carrying out their job.
And so it is with God.  Unless we first seek His forgiveness for our own wrongdoings and thereafter keep His Commandments, we are deemed unfit to administer to those around us.  Only God gives us true love, true mercy, true peace and true hope.  And if we want to care for those around us and give them a real and proper love, unconditional mercy, perfect peace and a sure and certain hope, we must seek God in the Sacrament of Reconciliation, because it is in that Sacrament where we will find all of these things and much more besides.  And it is this Sacrament which gives us the graces we need to go forth into the world with God's Commandments firmly in heart and mind, to bring God's perfect love, mercy, peace and hope to all people. No exceptions.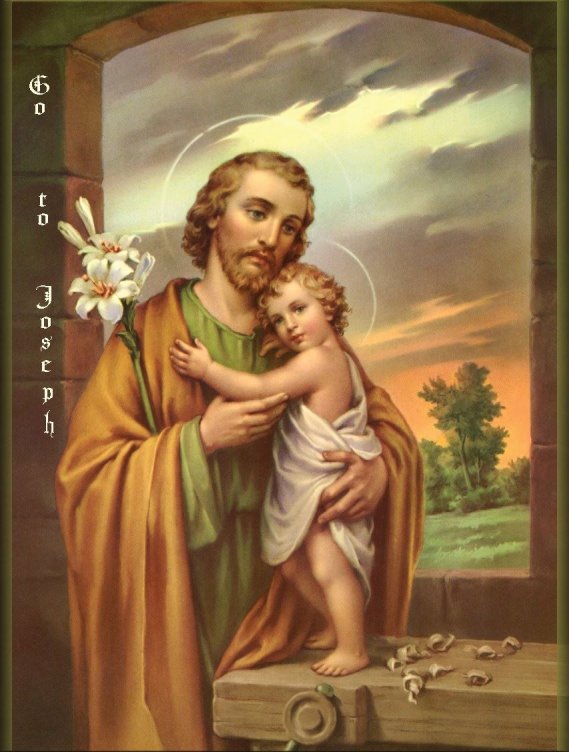 As we celebrate the Solemnity of St Joseph Scots Catholic is kickstarting a year of prayer for Catholic fathers. 
Our aim is to discover what it truly means to be a Catholic father and the role we play in the lives of our families and wider society.
And what better day to kick things off than the solemnity of St Joseph, step-father to Jesus Christ?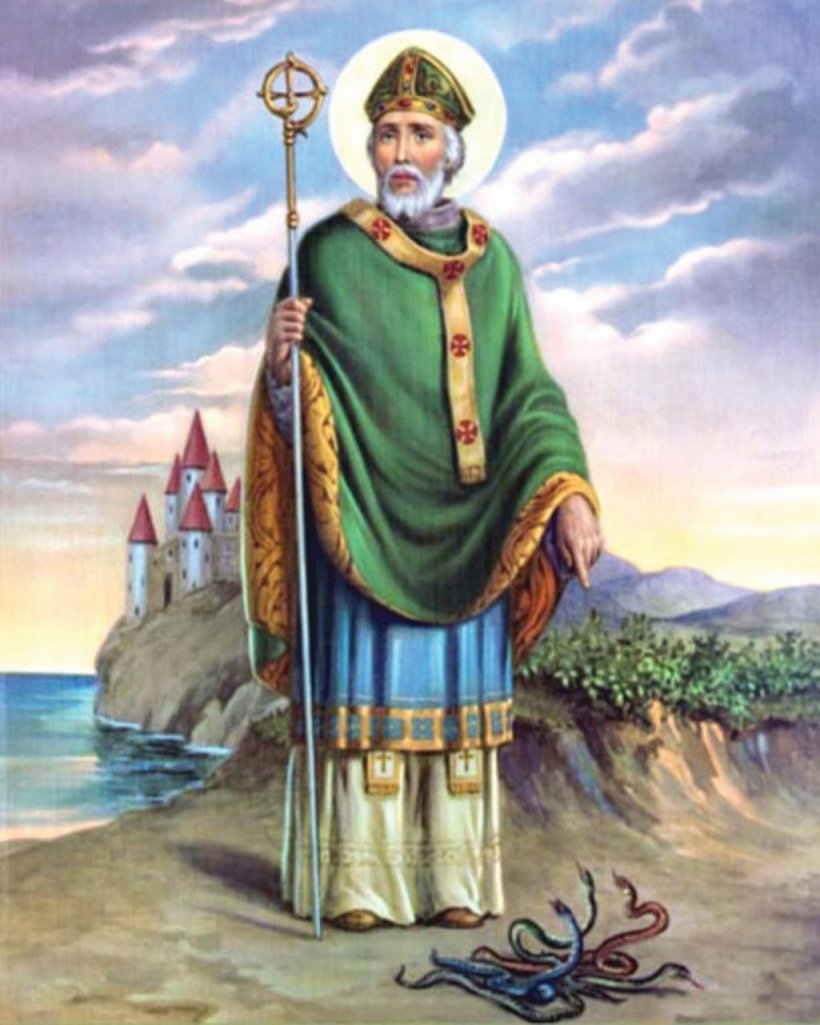 St Patrick, perhaps one of the most celebrated Saints in the world, was born in 387 in the little town of Kilpatrick near Dumbarton in Scotland.  He died in 461, aged 74, in Saul, Downpatrick, Ireland.
At the tender age of fourteen Patrick was taken from his family in Scotland to be a slave in Ireland, the country he would ultimately become patron saint of.  And it was during this time of captivity that he turned to God, praying fervently day and night and seeking the comfort of his heavenly Father.
At age twenty, Patrick had a dream in which he was told to go to the coast to escape his captors. He would heed this call, and by the grace of God some sailors picked him up and took him home to Scotland so that he could be reunited with his family.
However, he had another dream not long after, where he experienced the people of Ireland calling him back to them.  Not one to shy away from God's call, young Patrick once again set off, and it wasn't long before he set out on the road to the priesthood, eventually being ordained by the Bishop of Auxerre in France.  He returned to Ireland as a Bishop in 433 and settled in Slane, County Meath.  Patrick then preached the Gospel throughout Ireland for forty years, converting many to the Christian faith.  He worked many miracles throughout his life and he always put his love of God first in everything he did.  He was completely devoted to God and put all of his trust in Him. 
So what would St Patrick do today?  What would his reaction be to all of the excitement generated by his Feast day?  While he would undoubtedly enjoy some of the celebrations which take place in his honour, he would never have lost sight of the real meaning of the day.  St Patrick would have put God first before anything else.  So while he might enjoy a little celebratory dance with friends, he wouldn't do this until after he had spent some time praying to God.  He might even enjoy a little tipple, but again, he would only do it after spending sometime with God. 
If St Patrick walked among us today as we celebrate his Feast he would, without a shadow of a doubt, want us to celebrate his day; but he would want us to praise God for it. And what better way to give praise to God than to enjoy the gift of His Son Jesus Christ in the Eucharist at Holy Mass?  This is the kind of celebration St Patrick would want.
And while St Patrick is clearly a remarkable man, the truth is….he shouldn't be.  Why?  Because we are all called to be like St Patrick.  We are all called to be holy, to love God, to put God first at all times, and to take the Gospel message to the four corners of the earth.  To be holy should be the rule not the exception. Yet St Patrick is remarkable because he is very much the exception in today's world.  But we can change this.  We can be just like him if we are prepared to put God first at all times and trust completely in His love for us.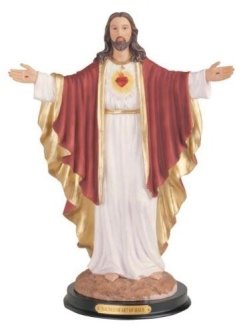 Wouldn't this look nice in your front window?
From Sunday's First Reading (Exodus 20:1-17):
'God spoke all these words. He said, 'I am the Lord your God who brought you out of the land of Egypt, out of the house of slavery.
'You shall have no gods except me.
'You shall not make yourself a carved image or any likeness of anything in heaven or on earth beneath or in the waters under the earth; you shall not bow down to them or serve them. For I, the Lord your God, am a jealous God and I punish the father's fault in the sons, the grandsons, and the great-grandsons of those who hate me; but I show kindness to thousands of those who love me and keep my commandments.''
This first Commandment of God is quite apt considering the content of
Friday's blog
when we considered the dangers of Buddhism and its apparent rise in popularity across western culture. 
As stated in the blog, it is not uncommon to see Buddhist statues and ornaments in homes and gardens today.  Walk down the street and you are bound to see evidence of Buddhism in at least one or two homes.  Yet it is clear from today's first reading that God has an issue with this.
While it may all seem a bit harmless for a Christian household to have a little Buddhist artefact sitting by the window; what kind of message does this send to others about our faith?  Would God not prefer to see a statue of his precious son on display? Would such a gesture perhaps allay any possibility of God becoming jealous, something He Himself said He is quite willing to do if we should bow down to other 'gods'? 
If someone were to walk into your house right now, what would they think?  Would they think that this person has nice wallpaper or a nice carpet?  Would they think that this person likes Buddha?  Or would they walk in and think straight away that this person loves Jesus?  There is no embarrassment in showing the world that you love God and that you love your faith.  You never know, you might even save a soul or two by your witness.
/