Shopping Cart
Your Cart is Empty
There was an error with PayPal
Click here to try again
Thank you for your business!
You should be receiving an order confirmation from Paypal shortly.
Exit Shopping Cart
Calling Scotland's 841,000 Catholics to unite as one voice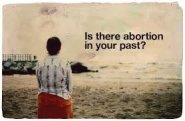 There are some fascinating facts about pregnancy which, if more widely known, could provide help and healing for countless people affected by abortion.
Fetal cell microchimerism is not particularly well known yet it is a medically accepted biological process.  Essentially, it means that a mother carries cells from every child she ever conceives.  Therefore, a mother has biological knowledge of every one of her children, even if they are aborted or miscarried.
Research also shows that cells from aborted or miscarried children also pass to other offspring.
This little known biological process is only just starting to become more widely known, despite having been accepted by medics for some time.  The Scientific American carried an article on it in 2008 (Your Cells Are My Cells by J Lee Nelson).
Project Rachel founder Vicki Thorn has looked into the process in great detail and, in a recent appearance on the 
Catholic Answers
podcast, Vicki explained how she has used it to bring healing to people affected by abortion.  The hope is that mothers and fathers will draw comfort from the fact that  a part of their child lives on and that this will help them in their healing process and also make the memory of that child more real.
Vicki has also tackled the idea of society downplaying the role of fathers and reports that 80% of men experience what is known as 'courade' in the presence of their pregnant partner.  This means that the father experiences symptoms of pregnancy along with his partner, and may even mean the father becomes aware of the pregnancy before the mother.  Therefore, the father is more attached to the pregnancy process than many may think and he too is greatly affected by abortion.
Vicki also speaks about the affect abortion has on the various parties involved; commenting that only 30% of marital relationships survive an abortion loss.  The principal reason for this would appear to be a loss of trust, mostly because there are fears that another pregnancy may lead to another abortion.
Men and women who have suffered abortion losses often have difficulties in subsequent pregnancies and a British study has found that women with an abortion loss were 33% more likely to give birth prematurely with an even greater chance of extreme prematurity. 
We can only hope and pray that one day every person in our world will hold true the intrinsic value of every human life.  However, while this is not the case, we must do what we can to bring comfort to those who have been affected by abortion and let them know that all is not lost.  Fetal cell microchimerism ensures that all is not lost and that every child lives on with their mother, father, sisters and brothers.  No family ever forgets its children.
Please also visit our own page on abortion which details places where you can seek help if you have been affected by abortion or are considering having an abortion. 
Click here to visit the page
.
An all night prayer vigil will be held on Friday 13th March at the Tyburn Benedictine Convent in Largs in order to pray for the sanctity of human life.  The event will be from Friday at 8pm through to Saturday at 8am.
Please note that this event is men only (in accordance with convent rules), however, anyone interested in an all-female vigil can use the contact details, below, to express an interest.
Westminster has today voted to allow for three parent babies in the UK.  The vote, in the House of Commons, was by a majority of 382 to 182.
The matter will now go to the House of Lords where it will be further debated.
Keep praying that all life will be protected, including the most vulnerable in society.  It is the most vulnerable who appear to be at greatest risk, and who are being pushed further and further into the margins of society.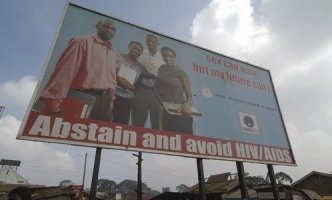 In the face of increased sexualisation and increased use of contraception across the world, some African nations are resorting to more traditional means of disease control.
In 2002, a
Harvard University Study
revealed how the east African nation of Uganda managed to significantly decrease the number of people suffering from the AIDS virus, and all because of abstinence.
The country started a programme in the late 1980's aimed at tackling AIDS through abstinence and the preservation of sexual relations for marriage.  The results were astounding.  By 2001, only 6.2% of pregnant women were infected with the virus.  This compared to 21.2% when the program started in the late 80's.
Compare this to other nations which sought to tackle the AIDS crisis by use of contraception.  In Botswana for example, where condoms were promoted as the answer to the AIDS crisis, 38% of pregnant women were found to be infected in 2001.  The success rate of contraception, as you would expect, lags miles behind the success rate of abstinence.
More recently, in Ghana, the Salesian movement (a Catholic movement founded by St John Bosco) has sought to encourage young people to live chaste lives and commit to abstinence until marriage.  And, despite what many western governments, secular groups and the media may say, the young people of Ghana are apparently hungry to become involved.  A Nigerian woman who took part in a recent
Catholic Answers
podcast, said that on a recent visit to Ghana to promote this project she was inundated with requests for pledge cards so that the youngsters could commit to live a chaste life.  It would appear that these young people are desperate to achieve a higher level of living rather than simply subscribing to western secular ways of 'putting a plaster on the problem'.
All of this is of course contrary to the contraception programme being supported by the United Nations and some western governments.  Increased contraception, it would seem, is the western world's way of alleviating hunger and controlling population in Africa.  This coupled with Melinda Gates (wife of Bill Gates) pledging $4.5 billion for contraception reveals just how shallow the west can be when it comes to issues of poverty, disease and deprivation in other countries.  Just spend a whole load of money on a whole load of condoms and that will soon fix it.  Fools.
As Patrick Coffin, host on Catholic Answers radio so eloquently put it: 'it's more a case of mouths to feed than hearts to love.'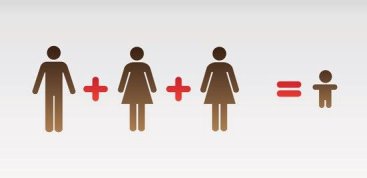 Later today, the UK Parliament will vote on whether to introduce laws to allow the creation of 'three parent babies'.  It is a move that must be resisted for a number of reasons and it is sincerely hoped that MP's will vote overwhelmingly against allowing the procedure.
While proponents argue that it will help root out certain conditions, including some disabilities, we should not be fooled into thinking this is a simple exercise in making the human race better.
Science is going into the unknown and we can in no way be certain of the consequences.  Further, there are weighty ethical arguments against such a procedure which many people have failed to consider.
Think about disabled people.  We are going down a road which may mean nobody is born with a disability.  Is this because we think there is something wrong with disabled people and that they have less value than others?  If we are going to eradicate disabled people through this procedure then the only logical explanation for allowing it is because those who are disabled are somehow of inferior value.  That, for me, simply is not right.
Our governments in the UK and Scotland are taking us down a dangerous road to what they perceive to be 'human perfection'.  Abortion already allows unwanted babies to be rooted out of society.  Assisted suicide, which is currently under consideration in Scotland, will allow for the rooting out of people with disabilities and serious ill health; people who supposedly have little to offer society.  Three parent babies is just the next step in that rooting out of the seemingly 'imperfect' among us.
I don't know about you, but I believe every single human being brought into existence has value.  And that's not necessarily anything to do with being religious.  Basic human perception should lead us to appreciate the value of every single human life.  This, for me, is what equality is all about.  After all, if we don't have equality in terms of the value of life, we simply cannot have equality.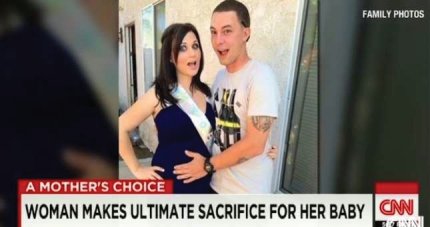 Ashley Caughey and partner Jonathan
A young pregnant American woman has shown incredible courage in the face of pain and adversity by continuing with her pregnancy and eventually giving birth to her baby daughter, despite being diagnosed with cancer.  For many, the potential for chemotherapy causing damage to the child would be enough for them to abort, but Ashley Caughey had different ideas.  Indeed Ashley decided that, rather than risk damage to her baby, she would delay cancer treatment until the baby was born.
Ashley says: 'It wasn't a choice to me. It was like this is what needs to be done. She's first. I'm not going to kill a healthy baby because I'm sick. There's nothing wrong with her. Her life is just as important as mine if not more important. I mean as a mother my job is to protect my kids.'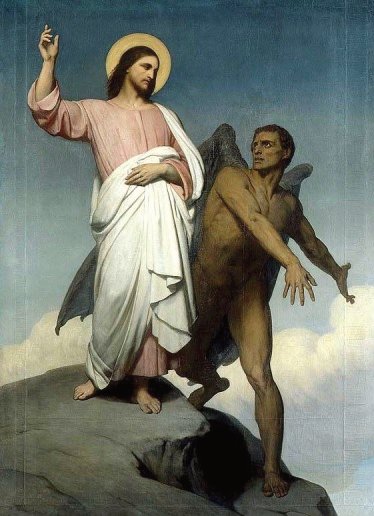 Sunday's Gospel (Mark 1:21-28):
'Jesus and his followers went as far as Capernaum, and as soon as the sabbath came he went to the synagogue and began to teach. And his teaching made a deep impression on them because, unlike the scribes, he taught them with authority.
In their synagogue just then there was a man possessed by an unclean spirit and it shouted, 'What do you want with us, Jesus of Nazareth? Have you come to destroy us? I know who you are: the Holy One of God.' But Jesus said sharply, 'Be quiet! Come out of him!' And the unclean spirit threw the man into convulsions and with a loud cry went out of him. The people were so astonished that they started asking each other what it all meant. 'Here is a teaching that is new' they said 'and with authority behind it: he gives orders even to unclean spirits and they obey him.' And his reputation rapidly spread everywhere, through all the surrounding Galilean countryside.'
It's not difficult to imagine evil in our world. It's all around us; wars, murder, violence, destruction.  Evil has enveloped our world and it can be experienced at almost every turn.  Yet,while it is easy to see evil and to experience it, do we really appreciate who is behind it?
While a willing human mind is perhaps necessary to carry out evil, it is the devil that is the source of evil; and he uses his power to force others to carry out his evil deeds in many different ways.  In today's Gospel passage he uses possession as a means to wreak havoc and to attack God.  In today's world possession by unclean spirits is still a reality and exorcisms occur throughout the world.  But the devil makes his presence felt in numerous other ways.  He destroys our love of life from the moment of conception until natural death by willing abortions and assisted suicide.  He chips away at the family by breaking it up and removing those critical elements of fatherhood and motherhood for every child.  He encourages gossip, cynicism, complaining and negativity among people.
The devil also comes to us in the most simple and innocent situations.  He encourages our laziness as we prepare for Mass on a Sunday; making us feel like the weekly trip to church is a chore rather than a joy.  He visits us in the evening just before we go to sleep and gently invites us to read another few pages of the latest thriller at the expense of our prayers.  He is not always forceful.  Indeed, his ways are often subtle and gentle; wooing us with a seeming beauty and elegance designed to capture our hearts and designed to thrill and excite.
The devil's intention is ultimately to come between us and God.  He is a fallen angel because he wanted to be God.  And given he cannot possibly be God he now wants to bring as much destruction to God's creation as he possibly can and the best way to do this is to turn God's own children against Him. 
However, he will never win as Christ has won the victory on the Cross.  Good has triumphed over evil and God can never be defeated.  But our hearts can still be won over by the devil and he is doing his very best to ensure that this happens to as many people as possible. As we prepare for our Lenten journey this year perhaps it would beuseful to try to discern the ways the devil tries to get at us.  If we can identify his evil habits then we can turn to Jesus and ask him to defend us so that our hearts are never won over by the devil and his destructive ways. We belong to God and to God alone. It is He who has given us life and it is to Him that we shall return at the end of time to be judged.  Make sure that judgement has a happy ending.  Don't let the devil have his way.  He wants you to fail so that you will be damned for all eternity.  Remember, you have Jesus on your side!  He is the only one who can save you from the devil's evil clutches. 
Keep your eyes fixed on Jesus and ignore the subtle temptations of the evil one.  Keep your heart fixed on Jesus and make sure that your destiny is Heaven, to be reunited with your Father who loves you more than you can ever imagine.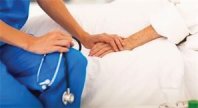 It's not as if we didn't know this was coming.  Belgium has, after all, already legalised the euthanizing of children.  But now the reality of assisted suicide for those who suffer from mental ill health and those who are disabled is becoming a reality, with increasing numbers of people using the option to take their own lives, and with considerable ease.
There are reported cases of a transgender man who struggled with mental illness from a childhood trauma and who was killed 'with dignity' as proponents of assisted suicide like to say.  There is the case of twins who were euthanized because they were going blind and because it was felt they had nothing to live for.  This is the reality of assisted suicide.
Life is being destroyed all around us.  It started with contraception and abortion and now we have people telling us that killing should be even more widely available. They suggest it should stretch to any vulnerable person who feels they would be better off dead.  The sense of caring and the responsibility to love one another has been consigned to the modern day secular dustbin.  Love, it seems, is a tired concept.  Survival of the fittest and the strongest would appear to have won the day in countries like Belgium. 
For Catholics, there simply is no way other than love.  Jesus calls on all of us to love our neighbour and to love life.  Our life is from the very moment of our conception until the day we die in accordance with the will of God.  We are not entitled to take control of our lives out of God's hands. We cannot play God.  Remember, the devil wanted to be God.  It does not pay to meddle with God-given life.  Please, please, if you haven't already done so, read our recent post on assisted suicide in Scotland and make sure you write to your MSP and sign the 'Care Not Killing' petition.  You can find everything you need by
clicking this link
.
This is a hugely significant battle, a battle which is, for some, a matter of life and death.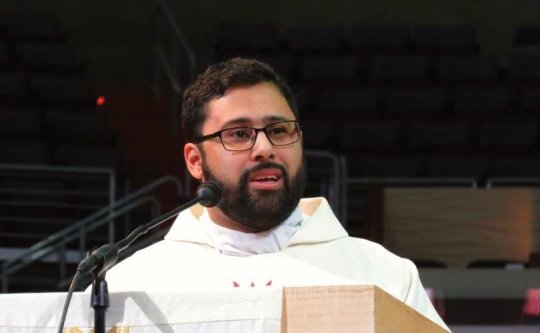 Father Mario Majano
Father Mario Majano, a 28 year old Catholic priest from Washington DC, recently brought a 15,000 strong crowd to its feet during the Verizon Centre Mass for Life event in the capital.  The Mass was a follow-on from last week's March for Life which attracted hundreds of thousands of people.
Father Majano's story is one which brought tears to many people in the huge audience, but it was the tears of one woman in particular which made the headlines.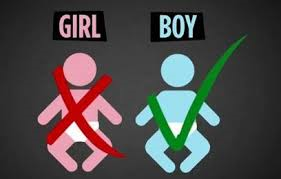 An amendment to the Serious Crime Bill has been tabled which will make sex-selective abortion illegal in the UK.  Please click the link, below, to email your MP urging them to support the amendment (it's a pre-filled form and is very simple to do and literally takes seconds!).
While we will continue to pray and fight for an end to all abortions, we must ensure that abortion in our country isn't taken to the next level whereby a child is killed in the womb simply because of their gender.
/